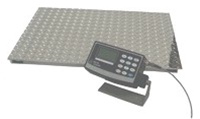 The Occupational and Safety Health Administration Office of the US Department of Labor regulate environments with a high volume of flammable or explosive substances.
Because these materials introduce a risk of explosion into a work area, OSHA has created a system that safeguards businesses, protects employees and mitigates this risk.
As with most other equipment used around these materials, industrial scales must also be specially designed to prevent ignition and rigorously tested to ensure compliance with OSHA standards.
The National Electric Code (NEC) is a document that classifies various hazardous environments and sets forth guidelines for the installation and operation of the electrical equipment used therein.
Sources of Ignition
The National Electric Code highlights three different ways electrical equipment can become a source of ignition in a hazardous environment.
1.    Arcs and Sparks: These are created by everyday equipment like motor starters, contactors and switches
2.    High Temperatures: Created by heat-producing equipment like lamps and lighting fixtures that exceed the ignition temperature of the explosive material. Any fixture that runs over 100oC (212oF) must be clearly marked.
3.    Electrical Failure: Terminal shorts, blown out lamps and power outages can cause an explosion
Explosion Tests
A nationally recognized testing laboratory, such as FM Approvals, must test all equipment proposed for use in a classified hazardous location.
The equipment tested must be able to either contain an explosion within the device or not produce sparks with sufficient energy to produce an explosion. Additional standards must also be met in a variety of tests.
A device will pass inspection only when the equipment meets OSHA's rigorous standards and prevents ignition in the environment where it's intended for use.
Hazardous Location Classifications
There are three categories into which a hazardous location is classified — type, condition and nature, which are based on the flammable characteristics of similar substances.
Hazardous Location Types: Class I, II or III
Whether a location is classified as Class I, II or III depends on the type of hazard present.
Class I hazards include flammable gases and vapors. Any location with a high concentration of these substances poses a risk is identified as Class I. The most common Class I locations are:
•    Distilleries
•    Petroleum refineries
•    Areas where gasoline is stored or dispensed
•    Utility gas plants
Class II locations produce combustible dust. Many people are surprised to learn that these materials can cause an explosion just as powerful as one in a petroleum refinery. Common Class II locations include:
•    Flour and feed mills
•    Grain elevators
•    Plants that manufacture, store or use magnesium or aluminum powders
•    Plastic, medicine and firework manufacturers
•    Starch or candy manufacturers
•    Spice grinding, sugar and cocoa processing plants
•    Plants that prep coal and other carbon handling / processing areas
Class III locations produce sawdust or flyings. These materials can collect on the floor near machinery, lighting fixtures and other areas where a heat source could ignite them. Common Class III locations include:
•    Textile mills
•    Cotton gins
•    Cotton seed mills
•    Flax processing plants
•    Factories that shape, pulverize or cut wood
Hazardous Area Conditions: Division I or II
Each of these three Classes is further classified into Division I or II, based on the conditions under which the hazardous material is present.
Division I indicates that the material is present during normal operational activities or when repair or maintenance activity is frequent.
Division II indicates that the material is usually contained and will only be present in unusual circumstances, such as an accidental rupture or breakage of a storage container, equipment failure or faulty operation.
Hazardous Substance Natures: Groups A – G
Substances identified as Class I or Class II are broken down into one of seven groups based on the nature of the substance, regardless of Division. The following properties are just some of the items considered when determining the likelihood and severity of a possible explosion:
•    Flame temperature
•    Minimum ignition energy
•    Upper and lower explosive limits
•    Molecular weight
ArlynGuard Explosion Proof Scales Are Intrinsically Safe
Our ArlynGuard line of explosion proof scales features bench, cylinder, platform and floor models in a variety of capacities and platform sizes that can be customized to meet your unique needs.
Our ArlynGuard B, C, F, and P scales have one or more components that have been tested and approved to be Intrinsically Safe for use in an impressive range of hazardous locations including:
•    Intrinsically safe for use in Class I, II, III; Division I; Groups A through G
•    Non-incedive for use in Class I; Division II; Groups A through D
•    Suitable for use in Class II; Division II; Groups F & G
•    Suitable for use in Class III; Division II
Each ArlynGuard scale is equipped with one or more of:
•    Model MKE-5-IS(-C) Digital Weight Indicator System
•    Load Cell Models 620-300-IS, 620-100-IS, 620-50-IS, 620-25-IS, 620-10-IS, 520-10000L-IS, 520-5000L-IS, 520-5000IS, 520-2500-IS, 520-1250-IS, 320-500-IS and 320-250-IS
which are FM Approved components as per Approval Standard 3600, 3610, 3611 and 3810.
All scales are manufactured with best of class components including:
•    Stainless steel load cells for additional stability, accuracy and ruggedness
•    Durable welded construction for strength and durability
•    A large graphical display and intuitive user menu for easy viewing and operation
As a direct manufacturer, we can even work with you to design weighing components or instrumentation for an OEM system intended for use in a classified hazardous location.
Safety and Quality Come First
Whether you choose a standard explosion proof scale or need a custom weighing system, our solutions are always created with the safety of your workers, the longevity of your equipment and the accuracy of your measurements in mind.
Order your explosion proof ArlynGuard scale now or contact us today with questions or for help choosing the right ArlynGuard scale for you needs.