Custom Scales Applications
Custom Scale Applications
Arlyn Scales actively seeks new applications that require any aspect of weighing, batching, mixing, instrumentation, controlling, recording and reporting. We help design, test and manufacture a wide range of OEM and specialized technologies for incorporation into a variety of customized equipment.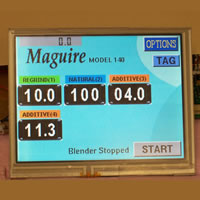 Specialty and Custom Weighing Sensors, Load Cells and Ultra Precision Sensors
Load cells are available from many sources. But Arlyn Scales designs, develops and produces rugged industrial grade load cells, generally manufactured from stainless steel. The format and size may be modified to fit new or existing devices. Our current design portfolio includes load cells from 2 lb capacity to more than 20,000 lb.Many applications require accuracy levels that are not obtainable with traditional strain gauge load cells. ArlynOs patented Ultra Precision load cells are TEN TO TWENTY TIMES MORE ACCURATE.Virtually every application needs some sort of electronic instrumentation. We offer a large portfolio of designs, including simple 4-20 ma amplifiers, or low cost, full featured digital indicators. Many of our newer designs incorporate surprisingly inexpensive Android based color touch screen instruments. All of these designs may be modified to exactly meet your specification. Almost any type of communication interface is available, such as Ethernet, WiFi, USB, Bluetooth and RS-232.
Specialty and Custom Industrial Scale and Weighing Solutions
We have developed a range of custom weighing equipment for a variety of specific industries. In many cases, this equipment is accompanied by custom software applications. Arlyn's technology can run conveyors, operate feeders, batch and mix a number of ingredients, and operate sensors and valves. The software can be cloud based and run on the web, or direct readings to a local PC spreadsheet or database. Here is an abbreviated list of some customized applications: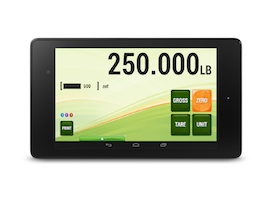 Laundry Cart Weighing Kits
Built in weight sensors determine the amount of laundry in the cart. Readings are sent by Bluetooth to an Android Table.
Parts Counting for Inventory Control
Multiple bins on shelves are monitored to determine the number of parts in inventory. A WiFi connection communicates this data to a website. Low inventory levels trigger automatic e-mail messages. Systems from around the world can be monitored anywhere there is internet access.
High Speed Check Weighing
ArlynOs Ultra Precision load cells can programmed to provide extremely fast measurements. When adapted to a conveyor, industry best speeds and accuracy can be obtained.
Gas Cylinder Levels
The quantity of liquified gas in a cylinder can not be determined by gas pressure. Cylinders are placed on scales, which may then be monitored to provide alarms when levels are too low.
Explosive and Flammable Environments
Specially approved weighing platforms can be used in those industrial situations which prohibit regular equipment.
Batching Mixers
Ultra Precision load cells can be used to very accurately mix paints, chemicals and other ingredients.
To Get Started Cal Toll Free: 800-645-4301