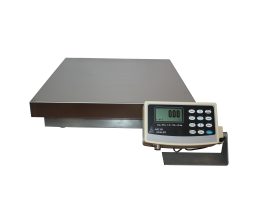 When it comes to mixing industrial and automotive paints, precision is the key to quality reproduction and accurate colorations. The stakes of strong manufacturing practices in this context are extremely visible, and no contractor, painting company, hardware store or individual will accept a mismatched color when they are expecting a duplicate of a former coat.
No one wants to buy a brand new Candy Apple Red Ford Mustang and discover a faded, peeling, or poorly mixed paint job. This applies for a number of less distinct automotive paints, which can wear out faster or become damaging if they are made incorrectly. In order to save your industry money, and prevent losses due to unusable goods, use ultra precision scales from Arlyn Scales.
What to Know About the Ingredients in Industrial Paints
Matching paint colors is never an easy job, especially when the original mix is unknown. Even the slightest mistake will become evident to the naked eye. Just one paint can include a number of complicated pigments and extenders like talc, silica, calcium carbonate or clay.
The purpose of these ingredients vary as well. Some are there to provideprotection against harsh sunshine or other environmental factors. Other materials are there to control the thickness and volume of the paint. Binders are there to let the pigments adhere to the chosen surface- in this case, an automotive hull. Without the proper ratio or amount of these ingredients, you can find the paint comes out too thick, to thin, too sticky, or not adhesive enough. Binder tends to be a type of resin, such as polyester, epoxy, oil, acrylic, polyurethane, solvents and other additives.
What to Know About Mixing Industrial Paints
Ratios are one of the most important factors in the process of mixing binders, pigments, and any other materials that go into the process of mixing industrial automotive paints. Unlike cooking, in which it is common to measure ingredients by volume, this method doesn't work because of the varying viscosity of the materials used. Some may be powders, others fluids, others slurries. This means that you can obtain a greater level of consistency by using measurements of weight.
While some ingredients are merely a small percent of the overall volume, they still have an outsized and extremely visible impact on the final product. This particularly tends to be the case with pigments. If we may return to the example of the Candy Apple Red Ford Mustang, the amount of red pigment used has to be extremely consistent. This, and many similar tasks can be achieved with Ultra Precision Scales by Arlyn Scales.
Our industrial scales have the capacity needed to weigh gigantic batches of paint without compromising the resolution needed to get an extremely precise measurement of the pigments and any other micro-ingredients. Whether a drum, bench or platform scale will be most effective depends mostly on the amount of any given material used. Most electronic scales won't be suitable for paint mixing. The common strain gauge scale, while certainly in common use, is not adequate to the task of mixing paints due to its limited capacity for accuracy.
A standard bench or platform scale might have a resolution of .02 pounds for every 100 pounds. Some of the best units available may bump this resolution up to .01 pounds. Often automotive paints will need a measurement of pigment at a higher degree of resolution than this.
Arlyn Scales is proud to offer 100-pound capacity scales that offer a degree of resolution of .001 pounds, thanks to our use of Surface Acoustic Wave technology. Using a semiconductor transducer, our Ultra Precision Scales provide about 20 times the resolution of a strain gauge scale.These scales come in capacities ranging from 5 to 200, or even up to 1000 pounds. These scales can deliver the measurements automotive paint specialists need to manufacture quality paints that hold to their surface, and look great.
For an even more mechanical, and possibly faster method of weighing materials, you can automate the process for dispensing different amounts of products. This can guarantee consistency, and improve your overall work process in terms of both time and money.
Extra Durability by Arlyn Scales
Sudden impact, such as that caused by a heavy paint container accidentally dropping on the weighing platform of the scale, can cause damage and overload to common scales. Arlyn's Ultra Precision Scales overload 250% of the scale's capacity.
This is due to the more durable nature and design of Surface Acoustic Wave Technology (SAW). The inside of each ultra precision scale by Arlyn contains two SAW transducers. These transducers are installed at a set distance apart beneath the weighing platform of the scale. When an object that must be weighed is placed on the platform, the distance increases between the transducers, and the new distance corresponds with the weight of the load on the platform.
These transducers are a vital and indispensable part of the weighing process in Ultra Precision Scales. One transducer serves as the transmitter, while the other one acts as a receiver. The transmitting transducer sends a wave to the receiving transducer when there is a weight on the platform. The receiving transducer accepts the wave and amplifies it before sending it back to the first transducer. This travel time is measured because it changes based on the weight placed on the platform.
The overall benefits of this technological approach include greater durability and the precision needed for mixing automotive paints.
Contact Arlyn Scales to Learn More
Arlyn Scales has helped numerous manufacturers apply precision measurements of weight to their production process for fantastic results. When working in a field like mixing automotive paints, where precision and accuracy cannot be compromised, use our durable, high-resolution ultra precision scales to achieve the quality reproduction you need. We are happy to learn about the specific needs of your industry, and how we can develop a weigh system that works best for you. Call us at 800-645-4301 or visit our website. We are ready to work with you.