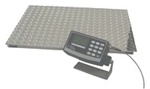 The manufacturing processes that require the use of flammable products such as gases or liquids of chemical compounds are carefully orchestrated. It is a distinct possibility that they could ignited at any time during the application. There are many potential combustible weighing situations that require the use of an intrinsically safe balance. Arlyn Scale's Explosive Environment Scales Intrinsically Safe scales that are built with one or more components rated for hazardous applications.Our commitment to detail is apparent in the choice of materials and sub-assemblies that comprise our scales. As a factory direct manufacturer, we can guarantee our scales from the inside out. With our exceptional engineers, we can revise any component of our scales to specifically suit your application.
The Inside Out
Arlyn Scales has been manufacturing scales for over thirty years. Our prominent position in the scale industry is based on our uncompromising use of select, high grade materials. With the price of aluminum and its ready availability, it is easy to understand why most companies chose to implement aluminum load cells. As they are easy to tool, cost is much lower than the high grade of stainless steel with which we manufacture. With so many companies operating from their bottom line, the popularity of this lower cost load cell is soaring.However, buyer should beware. Aluminum load cells are suitable for some applications, but not suitable for flammable applications in industrial environments.Our stainless steel load cells provide the durability and ruggedness factor that is intrinsic to a safe balance for weighing flammables. Our methodology entails choosing four precision matched stainless steel loads cells and drilling machine pocketed holes in the four corners of our welded aluminum frame. This kind of housing protects the scale against shock, overload, and corrosion damage. The additional silicone coatings protect the load cells from moisture damage. To further improve the performance of our load cells, we heat treat them. This unrivaled method has proven to produce reliable and dependable scales for even the most demanding applications.Our selection of the load cells and their careful placement removes the need for a summation board. Because of the balanced output, there is no need for any moving parts which adds to longevity of the scale.
Capacity and Accuracy
The art of weighing has certainly come along way. From the scale's inception thousands of years ago in the Indus River Valley, accuracy has always been prized. But it is only in very recent times that the slightest variation can yield not only an inaccurate accounting of weight but also unusable or unstable products. To contribute to the completely accurate and precise weight readings, it is imperative to choose a scale with the proper capacity. There is no purpose to over estimating and purchasing a scale beyond the capacity of your weight load. This will only decrease the accuracy factor.In keeping with industrial standards, we manufacture several types of scales suited to the weighing of flammables.
Safe Bench Scales
Continuing with the high quality stainless steel material of choice, we fabricate our platforms from the highest industrial grade of stainless steel. This non-flammable surface is rated for multiple applications.Our twelve-inch by sixteen-inch platform sized bench scale is the smallest of our explosive environment scales. ArlynGuard B is offered in six weight capacities to cover most of all sensitive applications.Our five-pound Guard B has a resolution of one thousandth of a pound. This represents the smallest unit of weight that can be discerned on the scale indicator. Our ten-pound model has a resolution of two thousandths of a pound. The twenty-five pound capacity scale has a resolution of five thousandths of a pound. Our B 50 model tops out at a capacity of fifty pounds with a resolution of one hundredth of a pound. Our B 100 scale rounds out at one hundred pounds with a resolution of two hundredths of a pound and lastly our B 150 scale has a capacity of one hundred and fifty pounds, with five hundredths of a pound resolution.
Intrinsically Safe Cylinder Scales
ArlynGuard C Scales are rated to weigh cylinders of flammable gas or liquid content. With capacities of sixty, three hundred and four hundred pounds, users have the option to select the proper capacity.
Selected Areas of Operation
All of our ArlynGuard scales have one or more components that have been tested and approved to be Intrinsically Safe for use in an impressive range of hazardous locations including:
•    Intrinsically safe for use in Class I, II, III; Division I; Groups A through G
•    Non-incedive for use in Class I; Division II; Groups A through D
•    Suitable for use in Class II; Division II; Groups F & G
•    Suitable for use in Class III; Division II
Each ArlynGuard scale is equipped with one or more of:
•    Model MKE-5-IS(-C) Digital Weight Indicator System
•    Load Cell Models 620-300-IS, 620-100-IS, 620-50-IS, 620-25-IS, 620-10-IS, 520-10000L-IS, 520-5000L-IS, 520-5000IS, 520-2500-IS, 520-1250-IS, 320-500-IS and 320-250-IS
which are FM Approved components as per Approval Standard 3600, 3610, 3611 and 3810.
The areas of proper usage are specified as follows: Class I, II and III which pertains to the type of flammable materials, Division 1, which pertains to the fact that flammable substances are always present, and groups A, B, C, D, E, F and G, which represents the grouping of gases according to their explosive properties. The valuable rating of Class I, Zone 0 indicates that the scale is operable under the constant presence of flammable gases, liquids and vapors for lengthy periods of time under normal operating procedures. The Class I, Division 2 rating specifies that under the duress of a hermetically sealed environment, the scale remains non-incendive, meaning that although it can spark, the spark would not be strong enough to ignite.In the presence of combustible dusts and ignitable fibers, when flammable substances are not present but can accidentally be exposed, these scales continue to perform in a non-incendive manner.
The Power Safety Factor
In order to maintain the high level of safety, we designed both the Arlyn Guard B and C scales to operate with one 3800mah NiMH C cell battery, one of which comes with the scale. We supply an optional recharger with two spare batteries. Arlyn Scales employs the best technical advisors who are at the ready to guide you in your search for an intrinsically safe balance to weigh flammables. Our team of weight specialized engineers are capable of creating a customized version of our Arlyn Guard B and Arlyn Guard C Scales to your required specifications. We guarantee the best quality scale for the best price.Contact Arlyn Scales for more information using our convenient online form or by calling us at (800) 645.4301.