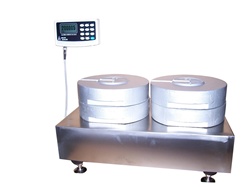 ArlynScales makes a line of ultra precision scales utilizing our own Surface Acoustic Wave technology, and built rugged enough for industrial use. In terms of ruggedness, our industrial scales are made of welded stainless steel and other highly durable materials. In addition, these scales have no moving parts. This adds to the life of any scale that has to bear heavy industrial use, because there are no extra pieces that could be damaged, thereby causing the whole scale to become unbalanced. A permanently unbalanced scale will yield inaccurate weight readings and require constant calibration. Since an industrial setting could include anything from dropping heavy packages to forklift loading, it is advantageous to not have any moving parts. In terms of precision, we have developed a technology that is so sensitive; it represents a huge leap forward in scale technology. If you need an extremely accurate, high resolution scale for your industrial application, we have a solution for you. The best news is that since we developed this technology ourselves and we manufacture all the ultra-precision scales we sell, you can get this technology at factory direct prices. There is no middle man between us and you. SAW technology can yield you the same resolution and accuracy of measurement that magnetic force transducers give for a fraction of the cost. We utilize our Surface Acoustic Wave load cells to measure the amount of displacement that occurs as the load is placed on the scale's surface, giving much greater accuracy to the measurement. Our SAW series of ultra-precision scales will perform better for you every time because:
They have 20 times the resolution of regular scales.
They have an accuracy of 0.005 %
They have a display resolution of up to 1 part in 200,000
They have an internal resolution of 1 part in 2 million
On top of these high precision capabilities, our scales feature easy to see digits on a large LCD display, so there's no guessing on the measurement. It will come with a zero function and the ability to weigh in many different units of measurement; can perform zero tracking, parts counting, and stability control. We can also enable it to transmit data wirelessly to a company computer or even to a printer so that you don't have to double your work when recording weights. If you need a rugged, high precision scale that will stand up to years of industrial use and complete weighing tasks that will save you time and money, contact ArlynScales today.