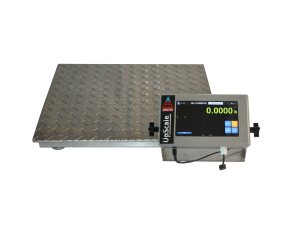 Platform scales are one of the most commonly used scales in a variety of industries based on their versatility and ease of use. For medium to large loads, no other scale is as useful as the platform scale.
For use in an industrial environment, you want a platform scale that is versatile and easy to use, but also rugged, accurate and durable. At Arlyn Scales, you'll find the design and technology you need.
Industrial Platform Scales for Heavy Duty Applications
In order to meet the requirements for accuracy, durability and performance, Arlyn Scales Series 3200 platform scales use the best of class components available for the job. These include solid stainless steel load cells for heavy-duty use, welded frames to provide ruggedness and withstand abuse, and advanced digital algorithms for superior accuracy and precision.
With intuitive instructions on a large graphics screen, the series 3200 is easy to use and allows users to easily select among metric, imperial, gross, net and many other functions. Scale platforms are available in many sizes including: 20" by 27", 22" by 44", 27" by 60", 30" by 30", 36" by 36" and 48" by 48".
These platform scales are easy to connect to a wide variety of available communications options, which include: USB, RS-232, WiFi and ethernet.
The Series 3200, 320M-30 platform scale has a platform size of 30" by 30" with a height of 1 7/8" for easy loading and unloading of heavy items. This scale has a capacity of 1,000 pounds and a resolution of 0.2 pounds.
Its options for construction materials include either aluminum or stainless steel, depending on your application. Solid stainless steel load cells provide great protection from overload and shock loading conditions.
Do You Need an Explosion-Proof Scale?
Among the specialized items that Arlyn Scales designs and manufactures are scales for use in hazardous environments where standard scales cannot be used due to the risk of explosions. In these situations, choosing equipment that is intrinsically safe can mean the difference between a hazardous explosion and a safe working environment.
Our intrinsically safe scales feature load cells made from a special heat-treated stainless steel, along with platforms that are constructed using welded aluminum or optional stainless steel for additional ruggedness and robustness.
These scales are designed tor use in hazardous environments and are guarded against flammability, explosion and other hazardous conditions. The design of these scales makes them safe for use within these environments, including many hazardous area classes, divisions and groups. If your situation requires this safeguard, you can find it at Arlyn Scales.
ArlynGuard P, P10: This series of platform scales has capacities of 1,000 pounds with resolutions of 0.2 pounds. Six platform sizes are available on these units including 20" by 27", 20" by 27" stainless steel, 22" by 44", 27" by 60", 30" by 30" and 36" by 36". As you can see, there are many different sizes available to suit any needs you may have. Internal resolution of the scales is 1 part of 500,000.
Platform Size Scales for Veterinary Use
Veterinary scales are much the same as platform scales only used for animals in a veterinary office or livestock setting rather than industrial chemicals. At Arlyn Scales, we build our veterinary scales the way we construct our industrial scales, for better durability, precision and accuracy compared to most veterinary scales on the market.
These scales include a large and easy-to-read graphical display on which weights are easily captured, even with the most uncooperative animal. Our "Weight Average and Hold" function is designed to provide accurate measurements even for an animal that will not stay still through
For a lightweight yet strong platform, Arlyn Scales uses a welded frame that is easy to store, easy to move around the office, and easy to transport. In order to allow animals to easily step onto the scale, the platform height is only 1 7/8", so that even smaller animals can be weighed with ease.
Additionally, since the scale is used with animals, a rubber gasket seals the housing and provides moisture protection for the unit. In addition, load cells have additional protection against contaminants and water.
Finally, for the best overload capacity and shock load capability, these veterinary platform scales use a special alloy of stainless steel for the load cells, which are then embedded into the welded frame for greater protection and durability. We believe these scales are so well made that we've extend our normal warranty to three years on these veterinary models.
Veterinary Scales Series 320 and 620: These highly accurate scales come in platform sizes of 20" by 27", 22" by 44", 27" by 60" and 12" by 16" for many small to large animal veterinary uses. Capacities for these scales range from 10 pounds with a 0.002 pound resolution, to 500 pounds with a 0.1 pound resolution.
Arlyn Scales: Great Service for More than Platform Scales
Arlyn Scales provides exceptional customer service and knowledgeable advice when you are choosing the right platform scale for your needs, but we also have much more when it comes to weighing equipment. Along with platform scales, we carry top-of-the-line bench, cylinder, drum and floor scales to suit any needs you may have.
Arlyn Scales has been a leading designer and manufacturer of high quality scale technologies for over 30 years. With the latest technology, superior quality and utmost value for our customers Arlyn Scales is the go-to turn for scales in many industries.
Our dedicated service professionals can be easily reached by phone locally in Long Island, NY at 516-593-4465, or toll free at 1-800-645-4301. If you prefer to send in your questions via email you can fill out our contact form and one of our team members will respond as soon as possible. Contact us now to start your journey towards finding the right scale for your needs.