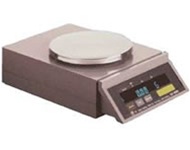 Find the right portable gram scale for your business. Scales used for commercial and industrial purposes are available in a wide variety of different sizes, weight capacities, and configurations. Some can handle additional weight and deliver consistent results with proper weight calibration. In the case of smaller devices, tinier gram scales are often known as compact scales or pocket scales.
For scientific and medical purposes, as well as in the food production industry, portable gram scales are often used. Pocket scales can be found in small pocket sizes for portability. Alternatively, they can be considerably more involved in precision analytical balances depending on the need and the application.
These scales are weighing instruments that are made small enough to be handheld or to fit into a pocket or satchel for portability. They have a low learning curve to weigh easily and measure accurately. These scales are generally intended for weighing very small items, and the maximum weighing capacity for many is only 500 grams.
Pocket scales have a wide variety of uses that make them ideal. Depending on their specifications, they can also vary considerably when it comes to price. While most pocket scales are quite inexpensive, they are also not very accurate. Informing yourself of benefits and tradeoffs can help you find a great price.
Manual Versus Digital Grams Scales
Most of these scales are digital in nature. Digital scales are generally capable of providing a much greater level of reliability and accuracy in comparison to manual scales. They are also better at data storage and confidentiality.
Manual Compact Pocket Scale Drawbacks
Manual scales are generally capable of losing calibration more quickly. The results that they provide are also subjective since there is not a clear digital readout of the resulting weight. They may, however, cost less money and prove helpful for simpler readings. Always check your budget before making a purchase, in case you have simple problems to solve.
Why Choose A Digital Pocket Scale
Most digital portable gram scales may be powered by a battery. Many offer a number of customizable features so that they can meet the demands of a number of different industries. They may offer improvements in the LCD display, customizable expansion trays, and bowls, platforms made from durable materials such as stainless steel, and many other customizations based on industry and application.
Consider the industry and your potential savings, mixed with industrial needs. The characteristics that are needed by a jeweler who is weighing precious metals and gems will differ from those necessary for chemical weighing or weighting components in food manufacturing.
A Flip Pocket Scale's Guarantee
Another type of scale often used in the jewelry industry is a flip pocket scale. These are very small scales with digital functionality. They are capable of weighing in different modes, accounting, or facets. Depending on your unit preference, the scale may be capable of ounces, troy ounces, and pennyweight in addition to being able to weigh grams.
Helpful Upgrades For Measures
These scales are also capable of offering a number of additional features, including an auto-off function, auto-calibration feature, stainless steel measuring surface, and even a protective pouch for transport. You can implement a reset system to account for a calibration weight. Some of these pocket-sized scales are rechargeable by means of a docking station. As a result, the design makes charging easy when the scale is not in use.
These scales may also provide other benefits and features, including interchangeable weighing platforms or bowls, liquid crystal display (LCD) improvements, and more. Features should not be sacrificed for quality, durability, or accuracy when it comes to gram scales. Always consider your budget and the measurements you need. Consider your options, compared with those of different carrying capacities.
When a portable gram scale is purchased, calibration should be checked and set immediately in order to ensure that precise measurements are being taken. A scale that does not maintain its calibration well will be troublesome in the future, so sacrificing quality and accuracy for the sake of features is not always the best choice to make.
Invest In Your Ideal Digital Grams Scale And Other Equipment At Arlyn Scales
From gram scale digital pocket options to a stainless steel platform scales, Arlyn Scales has it all. We believe in manufacturing quality devices that have balance, weight calibration, consistent measurement, and durability. That's why we know when to add LCD displays or a heavy duty load cell body, depending on our client's industries and weighing needs.
To find out more about the equipment you can purchase, and the deals you can get on specialty calibration weights, please reach out to us today. Arlyn Scales knows the importance of accurate measurements with a great value on a great durable scale. Find your ideal unit, paired with the appropriate tare button or savings on high-quality loading equipment.