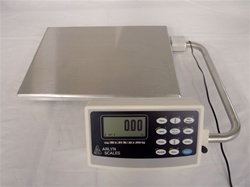 In today's technological world, portability is imperative. The need for the digital transference of information continues to grow in importance and with that expectation is the requirement that retrieval of data be instantaneous. Because technology is continually changing, updating, and upgrading, the requirements of most industries are continually changing, too. This is why Arlyn Scales manufacturers our own scales and subassemblies Ð we're able to stay on top of the latest technological trends and incorporate them into our scales. This is why we offer the most options for digital connectivity.In keeping with the standards imposed by the computer industry, Arlyn Scales offers USB, Ethernet and Wi-Fi connectivity options on our high performance scales.
Known for their high levels of accuracy, precision, durability and ruggedness, our scales now feature a variety of ways to transmit and store data.With the USB option, which is the standard interface on computers, and our Remote Indicator Software, data can be sent to a Window's based software for collection purposes.When you choose our Ethernet connectivity option, you can also choose wireless capability. This makes it possible to access and operate a scale from any location within your facility, or if necessary, anywhere in the world.
Cutting Edge Device
This focus on creating instruments that meet industry standards for connectivity produced our 32-bit RISC based high-resolution programmable indicator. This LCD Series MKE-5 is encased in water resistant, shock absorbent plastic and is available in a corrosive resistant stainless steel model as well. It provides automatic calibration and seven built in unit conversions.The beauty of this unit is that it can be mounted on a nearby wall, a bench top, or anywhere you need it. The capacity of up to one hundred memory locations means that you will never run out of space to hold formulas or tare specifics. Our free Remote Indicator Software gives you the option of operating your scale from your computer with the screen image of the indicator's keypad. With the simple menu-driven interface, information such as time and date along with weight, group and item information can be accumulated and transferred to a computer, printer or a programmable logic controller using our standard RS-232 serial port.
This and the RS-485 protocol allow for bi-directional interface to and from the scale, which makes it possible to access and operate the scale remotely. The RS-485 protocol produces an enhanced long distance field of operation of up to four thousand feet. Additionally, with the USB interface, it becomes a multi-drop protocol, which allows you to the tether up to ten scales to form a single network that can be controlled by one computer.
Input and Output
For the process of translating data in the computer via Microsoft's Excel, Access, LIMS, MMIs, Medical Systems or any Windows application, we offer Winwedge Data Collections Software. This software gathers your weight data from the scale and organizes, filters and formats the data according to your set up. Additionally, prompts and commands can be transmitted to control the scale. This indispensable software is exactly what is needed to coordinate data for organized filing and reports.
Portability Benefits
There will be times when it is not possible to connect to a computer workstation. Perhaps the operation is taking place out in the field and electricity is not available. Perhaps the server is down and the weighing part of the production schedule must continue to be adhered to. Or perhaps, it is more suitable for the operator to simply catalog data on a portable hard drive known as a thumb drive or flash drive. For these applications, we have provided an uncomplicated solution. Simply plug in the thumb drive into the optional USB port on the scale's indicator, allow the scale to store data on the drive, and when necessary, take the USB port out and plug it into your computer to view, store, and analyze data.With this flash drive, you can capture the weight data along with time and date.
You have the option of entering item and group information into the scale's indicator and this too can be captured by the flash drive. Having this capability makes for easier data recollection at a later time and date from a computer workstation. The data is automatically formatted into CSV, or comma separated values, data format which makes reading it on a Window's based software, such as Excel, a simple proposition.We have accommodated large amounts of data storage by providing four Gigabyte thumb drives. The four Gigabytes translate to a million bytes or four thousand and ninety six megabytes. This means you can store millions of readings which will make your time spent in the field stress and worry free. All of your data will be there when you need it.
Operation Battery
To complete the portable profile of our weighing scales, we offer rechargeable batteries. Our battery pack comes with six cell NiMH or Nickel-Metal Hydride batteries that operate for about twenty hours on a four-hour peak charge. Having this option makes portability a complete reality especially when coupled with our option of datalogging through a USB port.
Our Strong Suit
Arlyn Scales has been manufacturing scales and our own subassemblies for over thirty years. We know what it takes to stay ahead of the curve, listening to our clients feedback and researching trends. Our team of engineers is at the ready to customize any aspect of the scale that requires change to accommodate all the specifics of your application. Customization is our strong suit. We provide all of the necessary interface options to connect your scale's data with the Internet, your workstation, your laptop or a portable thumb drive. Avail yourselves of our highly knowledgeable team of sales associates who will guide you through the process of adding on the optional custom weighing data collection software and hardware. Our out of the box, precalibrated, customized scales can provide the accurate and precise weighing data that your operation needs to run smoothly.
With the precise software and hardware, your data can remain safe and sound for years to come.Last but not least, our ability to manufacture and sell our scales ourselves means that there are no middlemen and no increased costs. It is for this reason that our prices are lower than our competitors. We pass the savings on to our customers for a price that can't be beat. For further information or to order, contact us through our online form at www.arlynscales.com or by calling us at (800) 645-4301.