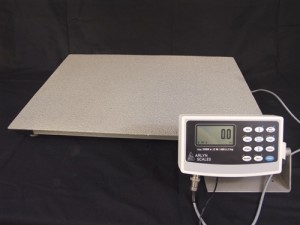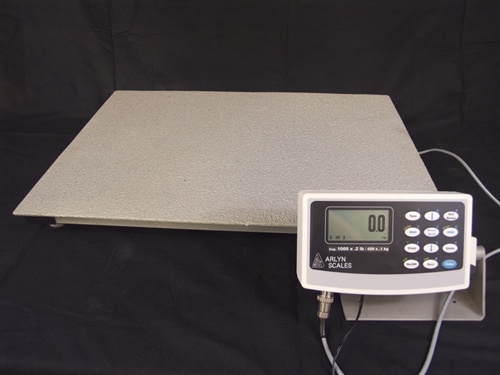 For more than thirty years, our scales had been has been manufacturing electronic scales and been a leader in the development and design of new technology for the weighing industry. Whatever your needs, you will be able to match them with the appropriate Arlyn scale or custom designed weighing system. All scales are available in stock at much lower factory direct cost to you.
Choose from their sensitive laboratory balances, super sensitive high resolution scales, industrial platform scales, corrosion resistant stainless steel drum scales, cylinder scales, floor scales, hanging scales, counting scales and more.
Many of these scales are available for very high precision measurements with our super sensitivity and surface acoustic wave (SAW) technology. Additionally, all industrial scales connect to a large graphics LCD digital scale indicator with a wide variety of options for measurement modes, readouts, electronic outputs, and computer connections and data calculations.
Our industry standard strain gauge technology is combined with stainless steel load cells for high accuracy along with ruggedness and durability. A strain gauge consists of a metal foil load cell that acts as an electrical resistor whose resistance changes with compression. The cells change in resistance is proportional to sample weight and can be determined electronically.
This electronic data is delivered as an analog output that is fed to an analogue-to-digital converter for processing by computer where the measurement can be combined with calibration, tare, zero point and other data for desired calculations. The results, measurement descriptions and other information can be digitally displayed or printed out.
Certain top loading balances from Arlyn Scales are available in Ultra Precision SAW models employing our new solid-state Surface Acoustic Wave technology. SAW scales still use metal load cells but include these devices that do not utilize stress or strain measurement but uses surface displacement to determine weight.
The amount of displacement required for measurement is very small. This difference in displacement represents a small fraction of the measurable stress on a load cell produced in a standard strain gauge by a similar weight difference. The result is a reduction in the error (precision) terms typical of standard load cells.
Digital Scale Indicators for Industrial Scales
Our digital 32 bit ARM Processor based indicators handle the recording and manipulation of each industrial scales output and any connection to your own computer systems and printers. Both the standard model and the stainless steel (NEMA 4x corrosion protected) option are water and shock resistant and include a bracket for mounting to a wall or bench top.
User can configure the display to show weight, tare information, measurements information, items descriptions, set points for batching and more depending on scale functions. Some optional features include:
Rechargeable Battery Pack
20mA Analog Output
Ethernet connection
USB port
RS-232 Computer/Printer Port
Label, Paper, and Card Printer
Windows Interface Software
High Resolution Industrial Laboratory Bench Scales
Our High Resolution Scales offer Super Sensitivity and SAW Technology for superior accuracy. Our 7100 series scales are optimized for a sensitivity of up to 20X that of similarly ranged typical scales.
Each scale includes a built-in large LCD dual display, zero button, automatic calibration, parts counting mode, check weighing function, automatic zero tracking, stability control, RS-232 interface and choice of weigh units. Choices of non-metric, metric and more are included.
A die-cast aluminum frame, stainless steel weighing pan and click type switches makes this a scale to last. With accuracies of 0.005% and internal resolution of up 0.5 ppm, models have capacities and resolutions of 300 x 0.001 g, 1000 x 0.001 g, 4500 g x 0.01 g, or 120 x 0.0001 g
Industrial Bench Scales with Strain Gauge Technology
Our series, 6200 Industrial Bench Scales utilize stainless steel load cells with industry standard strain gauge technology for accuracy, ruggedness and durability. Double Accuracy (2x) scales use similar technology but have been designed to optimize them for better performance at a minimal cost. Addition of SAW technology gives even higher precision.
Series 6200 capacities and resolutions ranging from 4 x 0.0002 lb. to 100 x 0.02 lb. standard, 10 x 0.001 lb. to 100 x 0.01 lb. with 2x technology and 10 x 0.0001 lb. to 200 x 0.002 lb. for SAW equipped scales.
Platform Scales with Industrial Technology (Aluminum or Stainless Steel)
Our 3200 Industrial Platform Scales use four stainless steel industry standard load cells placed within a welded frame that makes these scales resistant to shock and abuse of heavy use. A swivel mount is provided for rubber gasket mounting of the molded enclosure of the 1″ high graphics Digital Scale Indicator for added water resistance.
Scales are available in either 20″ x 27″ or 48″ x 48″ aluminum platform sizes and either 500 x 0.1 lb. or 1,000 x 0.2 lb. capacities and resolutions. For added corrosion resistance, these models are available with full stainless steel construction.
Floor Scales with Ramps and Large Graphics LCD Digital Display
Our floor scales and ramps are particularly well suited to the weighing of shipping pallets for multiple wrapped items/parts or a single large item requiring forklift handling. As with all our scales their rugged and durable construction is combined with the accuracy needed for shipping applications.
The included Digital Scale Indicator is swivel mounted for easy operation and every model comes calibrated and ready to use. Optional outputs for access to computer/printer systems allow integration with programs to calculate shipping costs and print labels, reports, and more.
Floor scales are offered in with several weight capacities and platform configurations. Platform sizes of 3 x 3, 4x 4Õ, 5 x 5 and 4 x 6 are all 2 7/8 high and capacities range from 2500 lb to 10,000 lb. Platforms of 4 x 4, 5 x 7, 6Õ x 8Õ and 7 x 9Õare 4 high for heavy loads of up to 20000 lb. Stainless steel construction is available in all sizes. Resolution for all models is 0.02%. Ramps available are 3, 4, 5 or 6 feet long.
Counting Scales with Quick Count Mode
Our state-of-the-art Series 820 Counting Scales allow you to by-pass the sampling process with the high precisions available in these time saving tools. Features ease the counting of parts with simple menu functions and a unique "Quick Count" mode that provides storage of weights per piece of up to 450 items with an accuracy based on 2-ppm internal resolution.
Each balance features embedded stainless steel load cells, a low profile easy loading platform and a movable display arm for easy operator access to mode indicators and unit choices. Scales are available with standard load cell resolution, Arlyn 2x optimization or SAW technology.
Standard available in 3 x 0.05 lb. to 100 x 0.02 lb. or SAW models from 10 x 0.0001 lb. to 200 x 0.002 lb. capacities and resolutions.
Ultra Precision Scales with Super Sensitivity
Our Ultra Precision Scales offer the superior accuracy the super sensitivity of our 7100 series and the capacity ranges of the 6100 Platform Scales. The Series SAW model scales provide optimized performance for a wide variety of high accuracy applications. Each scale has the features of the 7100 series that include a LCD dual display, zero button, automatic calibration, parts counting function, check weighing mode, automatic zero tracking and 7100 construction. Five models are available with capacities and resolutions from 10 lb. x 0.0001 to 200 lb. x 0.002 lb.
Large Ultra Precision Scales with Super Sensitivity
For larger scale applications but with all the same features; larger scales come in capacities and resolutions of 200 x 002 lb., 300 x 0.002 lb. and 500 x 0.005 lb.
Industrial Drum Scales with Ramp
Our Drum Scales feature a rail-less design to allow oversized loads and the high aluminum diamond plate platforms stand only 1 7/8′ high. Additionally, each scale includes a ramp. These features combine for a larger active weighing area and ease in loading and unloading.
The stainless steel load sensors within a welded aluminum frame provide durability and stability. The full functioned Digital Indicator with memory provides convenient menu choices for automatic and keyboard tare, units conversion, net /gross, zero and more. Scales are available in 500 and 1000 lb. capacities with 0.1 lb. resolution.
Cylinder Scales for Cylinders, Pails and Tanks
Our Cylinder Scales are designed to accurately weigh cylinders, pails and tanks with a capacity and resolution of 60 x 0.02 lb., 300 x 0.1 lb. or 400 x 0.1 lb. with a choice of a 9.25″ x 9.25″ or 14″x 14″ stainless steel platforms with embedded stainless load cells that are overload protected. Each scale is only 1 3/8″ high for easy loading and is available with a full functioned Digital Indicator and/or a 4-20 ma, 0-10 V output.
Our other scales include:
Crane Scales – Versatile High Capacity Hanging Scales
ArlynGuard Scales – Explosive Environment Scales: Intrinsically Safe for use in various classified hazardous locations
Corrosion Resistant Scales: Specially designed for weighing cylinders of corrosive liquefied gases and drums of corrosive liquids and solids.