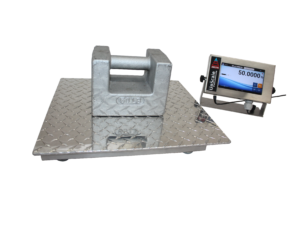 There are countless companies around the country that must weigh items on a regular basis. Regardless of the industry, accurate weight data is incredibly important for these organizations to ensure they can remain profitable. Incorrect weight data can lead to a wide array of different business predicaments, all of which typically revolve around a company being forced to unnecessarily spend more money due to inaccurate weight data.
At Arlyn Scales, we've been in the industrial scale business for more than three decades, and in this time, we've had scores of customers come to us due to inaccuracies with their current industrial scales.
One of the most common scales used across all industries is the commercial floor scale. These scales are extremely versatile and can be manufactured in such a way that they can stand up to the rigorous conditions found in certain industrial environments.
At Arlyn Scales, we manufacture a wide array of commercial floor scales. Our Arlyn Series 5200 Floor Scales are likely our most popular. There are several features found in these scales that set them apart from the competition.
Unique Features Found in Arlyn Series 5200 Floor Scales
While there are multiple scale manufacturers that would be happy to sell you an industrial floor scale, few put the time and effort into developing the highest quality product like Arlyn Scales. Below are just a few of the unique features found in our Series 5200 Floor Scales.
US Based Manufacturing, Design and Support
When you work with Arlyn Scales, you're working with a company that designs, manufacturers and supports all of its products from the US. Many companies may design their products in the US, but very often will attempt to save money by using overseas manufacturing.
We've found that by designing and manufacturing our products in the US, we're able to cut down on issues that could otherwise be missed in a scenario where manufacturing was done overseas. There's no doubt that some companies have been able to make overseas manufacturing work for them, but we've just found it to be much easier to maintain our arrangement where we design, manufacture and support all of our products in the US.
To our company, the support piece is especially important. By having all of our operations based in the US, we're able to provide an extremely high level of support to our customers. Many times, the individuals providing support are the same individuals involved in the design and manufacturing process, which allows them to have an extremely high level of expertise in all aspects of scale production and design. With overseas manufacturing, you're often dealing with experienced support team members, but it's close to impossible for them to be able to provide the same level of support, because they simply don't have the necessary exposure to the design and manufacturing processes.
Four Stainless Steel Load Cells
The quality of the load cell is extremely important to the overall accuracy and durability of any industrial floor scale. For this reason, our Series 5200 Floor Scales feature stainless steel load cells. These load cells can more easily stand up to overloading and shock loading and are also less susceptible to damage due to harsh chemicals. Because load cells are typically recessed under the scale platform, some manufacturers will look to skimp when it comes to the materials used. At Arlyn Scales, we understand the importance of a rugged load cell, which is why all of our load cells on our floor scales are manufactured out of stainless steel.
To add additional flexibility, we rely on four stainless steel load cells in our floor scales as opposed to just one. This helps to better distribute the weight placed on a scale platform, and also puts less stress on each individual load cell. All of our load cells are precision matched in groups of four to ensure accuracy.
In addition, our load cells are recessed in the corners of our scale platforms, which allows them to be lower profile, allowing easy loading and unloading.
Multiple Connectivity Options
While accuracy is incredibly important, access to weight data is equally vital in any industrial market. At Arlyn Scales, we understand that all of our customers use our scales in many different ways, which is why we offer a wide array of connectivity options. Below are the most popular ways our customers interface with our industrial scales:
USB – Our most popular connectivity method. Customers can simply connect their scale directly to their computer using a USB cable and instantly have access to weight data.
Ethernet / WiFi– Regardless of where your scale is located, if it has access to an Ethernet or WiFI connection, you can easily control it or gain access to weight data. In addition, if your scale is on a network with internet access, you can actually control it from anywhere in the world. Imagine the possibilities of being able to access weight data anytime, from anywhere.
Datalogging – Because of the ruggedness of our scales, many of our customers use them in less than ideal environments. These environments may not be ideal for computer equipment, which is why we also support our datalogging functionality. Simply plug in a USB drive directly into one of our floor scales and download weight data that can be accessed at a later date on your computer. The data will be exported in CSV format, which is easily opened in your favorite spreadsheet or database application.
Interested in Learning More About Arlyn Series 5200 Floor Scales?
If you're looking for more information regarding our Arlyn Series 5200 Floor Scales, don't hesitate to reach out to our team today by phone at 800-645-4301 or through our online contact form. Our scale experts are standing by ready to answer any questions you may have about our robust line of commercial floor scales.