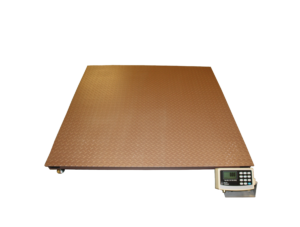 If you're in the market for an industrial floor scale for your warehouse needs, you likely have scoured the internet for the best deal. While there are countless companies that claim to offer a high quality warehouse floor scale, few can compete with the experience and options of the team at Arlyn Scales.
Why Purchase a Floor Scale from Arlyn Scales?
There is a whole host of reasons why purchasing a floor scale from Arlyn Scales could be beneficial to your organization.
US Based Design and Manufacturing
At Arlyn Scales, we've been designing and building scales for more than 35 years. During this time, we've done a few things quite differently from many of our competitors. One of those things is where our company's design and manufacturing personnel are based. Rather than shipping our manufacturing jobs overseas, we've been committed to keeping our design and manufacturing teams right here in the US. We're headquartered in Long Island, New York where we have both our design and manufacturing facilities located directly next to each other. This allows our teams to work together on every facet of the industrial scale design and manufacturing process.
Custom Industrial Scale Options
Because of our US based manufacturing, we're able to offer our customers the ability to completely customize their warehouse floor scales. This way you can show our team exactly how you plan to use your scale and we can design something that will meet your needs perfectly. We have customers across a wide array of industries and their uses of our scales are completely different. Don't feel like you're forced to choose an off the shelf scale when your scale uses are anything but cookie cutter.
Start a Conversation with Arlyn Scales Today!
Questions · Request a Quote · Support
Competitive Prices
You may think that our industrial scales are out of your price range due to the fact that we design and manufacture them here in the US. The reality is that because of our US based design and manufacturing teams, we're able to offer highly competitive pricing. Rather than have a quality control process that's hamstrung by thousands of miles, our QC personnel are able to work intimately with our design and manufacturing staff. This allows us to spot issues early on, before they even hit the production line, whereas our competitors may not catch these issues until they hear about them from customers. This tight control over quality as well as our factory direct business model allows us to offer high quality industrial scales at competitive prices.
Cutting Edge Technology
You may think that all scales are the same when it comes to technology, but this simply isn't true. At Arlyn Scales, we have 35 years of experience at our disposal, which we've used to develop a number of cutting edge technologies that are unmatched in the industry. A few of these that we'll highlight include:
SAW Scales – We've patented our Surface Acoustic Wave technology which completely changes the game when it comes to precision weight readings at high capacities. These scales measure displacement as opposed to stress or strain, allowing them to be much more accurate and less susceptible to common scale shortcomings such as over loading and shock loading.
Arlyn UpScale Touchscreen Indicator – Rather than continue to rely on the digital indicator that's been used for decades, we created the Arlyn UpScale Touchscreen Indicator, which is an Android powered touchscreen that offers a wide array of features at your fingertips. Easily control your scale from this user-friendly interface.
Cloud Connectivity – With one of our industrial floor scales, you can connect to your corporate network via an Ethernet or WiFi connection and instantly gain access to your weight data from anywhere in the world. All you'll need is an active Internet connection and you can connect and control your scale from anywhere.
Set Point Controller –Our set point controller allows scale owners to automate a wide array of tasks such as filling and dispensing and other batching functions. The set point controller can be programmed with 8 weight values, which can be used to transmit an electronic signal to a motor or device when a certain weight is reached.
Arlyn 5200 Floor Scale
The Arlyn 5200 Floor Scale is one of our most popular scales due to its versatility. With a capacity of up to 30,000 lbs. and stainless steel load cells, it will be able to handle most any type of material in your warehouse facility.
What Makes Arlyn Scales Load Cells Different?
Using stainless steel for our floor scales helps to ensure they're rugged and dependabledespite what you're weighing. Our load cells are recessed in each corner of our scale platforms, which allows our customers to get accurate readings even if an object is not placed in the direct center of the scale platform.
All of our load cells are precision matched at our factory to eliminatethe need for a summation board, which is one of the common fail points of any industrial scale.
Protective Coatings = Increased Durability
Another popular feature of our Arlyn 5200 Floor Scale is the ability to offer a zinc epoxy coating that helps protect scale platforms from rust and corrosion. Our competitors often use nothing more than a single layer of basic enamel or powder coatpaint as a 'coating' which quickly peels or flakes off leaving the metal completely exposed. Not only does corrosion show up in areas where metal is exposed, but it can also spread under the inferior coating as well. Our zinc epoxy coating helps to limit the spread of rust and corrosion.
Interested in More Information About Warehouse Floor Scales?
If you've been impressed by the features we've covered related to our warehouse floor scales, why not give us a call to learn more. We have a team of scale experts ready to answer any of your most detailed questions surrounding how you'll use our scales. To contact us simply pick up the phone and dial 800-645-4301 or fill out our online contact form. We look forward to working with you soon.