Arlyn UpScale
Touchscreen Indicator - Stainless Steel Optional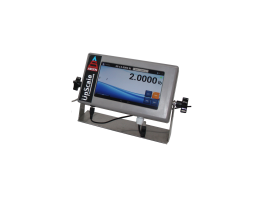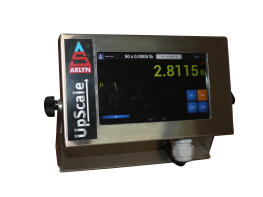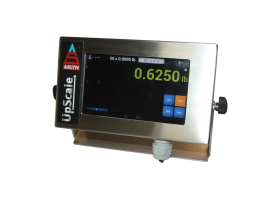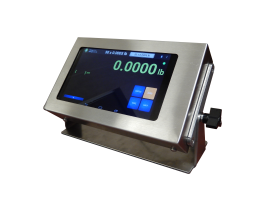 Overview
Large 7 inch High Definition IPS Color Touchscreen Indicator for Industrial Scales with built-in options, exclusively from Arlyn Scales.
See more product details
The Arlyn UpScale Touchscreen Indicator is a new state-of-the-art digital indicator available exclusively from Arlyn Scales. It is equipped with a 7 inch HD IPS Capacitive 5-point widescreen touchscreen display with a resolution of 1024x600 (
WSVGA
) pixels. The Arlyn UpScale is driven by a powerful Quad Core processor and comes with a spacious 8GB of storage. It is also equipped with 1GB of DDR3 RAM giving it more than enough power to multitask across simultaneous processes.
Color Touchscreen Display
No more pushing buttons to get things done. No need to worry about pressing the wrong button. All buttons on the screen are contextually aware. Also, they just need to be touched to get the job done.
Visually Driven Interface
We designed the Graphical User Interface (GUI) with User Friendliness in mind. Descriptions of tasks and buttons are so clear that there is no need to read the manual to perform simple tasks.
Water Resistant
Highly water resistant injection molded enclosure. Rubber gasket helps seal out moisture. Optional stainless steel enclosure also available.
Load Cell Connectivity
Compatible with 4-wire Load Cell connection (Excitation +, Excitation -, Signal +, Signal -). Comes with 5-pin DIN connectors or HDMI connection for ease of use. Wiring information available on request. Customized connectors also supported at additional cost.
Easy to See
Stainless steel swivel bracket allows the display to be seen from any angle. The bracket may be mounted in a convenient spot on a post, or desk or wall.
Large Internal Memory
Fast DDR3 1GB of Random Access Memory (RAM) and 8GB of Storage.
Communication choices
The modern industrial environment is interconnected. All Arlyn Digital Indicators are available with a wide variety of industry standard communication options including Ethernet, Wi-Fi, USB and RS-232.
High Accuracy
Fully Customizable Accuracy Control for Noisy Environments is available standard on this indicator through User Defined Software Filter, Stability Control, Zero/Motion Detect and Zero Tracking.
Available Upgrades
Analog: Analog Output 4 - 20mA
Ethernet: Ethernet TCP/IP Connectivity
WiFi: Wireless TCP/IP Connectivity
Label Printer: Label, Paper, and Card Printer (must purchase RS23 option)
Thermal Printer: POS Printer and Interface (Bluetooth/USB connection)
Flow Rate: Flow Rate Measurement Program
Memory Stick: USB Memory Stick Datalogging
NEMA: NEMA 4x stainless steel display enclosure
Battery: External rechargeable backup battery (20,000mAh)
RS-232: RS-232 Computer/Printer Port
Set Point: Set Point Controller (for Filling Operations)
Relay (AC/DC): Solid State Relays for Industrial Control
USB: USB port with free Windows based
Time & Date: Time and Date output. Built-in.
WinWedge: Data Collection Software (USB, RS232, etc.)
Specifications
Functional Specifications
| | |
| --- | --- |
| Units | Multiple Unit Support: Pounds, Kilograms, Grams, Ounces, etc. Supports User Defined Multiplier. |
| Tares | Tare Features: Automatic or Keyboard Tare (Quick Tare) Function, Database Tare Storage, Sorting, Instant Search |
| Accumulation | Weight Accumulation, Count Accumulation (for Parts Counting Features) |
| Other Features | Weight Average and Hold (for unstable Human or Animal weighing) |
| Parts Counting Option | Features Quick Sampling, Easy Sample Entry Interface, Unlimited Sample Storage, Sorting, Instant Search |
| Extended Accuracy | User Defined Accuracy Control includes Software Filtering, Stability Control, Zero/Motion Detect, Zero Tracking. |
| Remote Support | Arlyn Remote Access Troubleshooting (Customer Side Internet Access Required) |
| WiFi | WiFi Communication included (802.11b/g/n) with basic software package. |
| Communication | Optional Interface for RS232, USB, Ethernet, WiFi and Bluetooth (TBA) with basic software package. |
| AXChange Support | AXChange Web Portal For Data Logging and Scale Management Subscription Available (TBA) |
Internal Specifications
| | |
| --- | --- |
| Display | 7 Inch HD IPS Capacitive 5-point Multittouch 16:9 Touchscreen Display |
| Resolution | 1024x600 (WSVGA) |
| Processor | ARM Cortex (TM) A7 - Quad Core CPU |
| Memory | 1GB DDR3 |
| Storage | 8GB |
| Power Requirements | 117-240VAC, 50/60Hz - 24VDC Optional |
| Temperature Specs | Operating Range: 14°F to 104°F |
| Enclosure | Molded Plastic or NEMA 4x Stainless Steel |