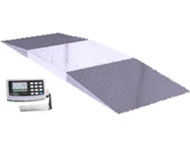 Arlyn Scales has been providing top notch scales and weighing solutions for the past 30 years. We work with every conceivable industry that uses scales such as the semiconductor, pharmaceutical, petrochemical, meat packing, agricultural, and scientific industries. Our superior technology and design explains why we continue to be a leader in our profession. Not only do we believe in building scales that handle heavy loads, but we create scales that are extremely accurate and have high capacities.
It is important in any industry, regardless of what it is, that customers can rely on the precise weight measurement of even the heaviest load. An example of this would be the waste management industry. Due to safety and health concerns, it is vitally important that the storage of waste does not exceed its designated capacity. Arlyn 5200 Floor Scales meet and exceed this highly desired and necessary application.
Arlyn produces our scales at our factory in Long Island, New York. Our manufacturing facilities are located right next to our offices. This arrangement allows us to ship our scales to you factory direct. This allows us to pass along to you the savings that would normally be eaten up by distributors and third party sellers. We also roll these savings into your scale by making sure it comes with superior features that are not often available in our competitor's scales at even twice the price.
Heavy Duty Durability
The Arlyn 5200 Floor Scale is designed to handle heavy weight over the very long life of the scale. We created this scale to be extremely precise at capacities up to 30,000 lbs. The features in our scales are also built with superior components. We machine our own load cells out of stainless steel. Between the design and the fact that we use four stainless steel load cells in our larger scales, you have a weighing solution that can take a beating and still give you an accurate measurement. Additionally, we coat our scales in a zinc rich epoxy that helps prevent corrosion and rust.
Multiple Stainless Steel Load Cells
You can't have a scale without a load cell. The load cell is typically machined with flexure sections that include thin metal, because it's what's required to make an accurate measurement. Shock loading (a load being dropped onto the scale platform from a height) and overloading can damage the cell due to its fragile construction. Arlyn Scales creates our load cells with stainless steel material to minimize this risk. Additionally, our 5200 is designed with four load cells that are bolted into protective pockets within the frame. These four load cells help extend the scale's life and also increase greater accuracy and resolution. We also offer these scales with a capacity of up to 30,000 lbs.
The zinc epoxy that we use to coat our scales is not just for decorative purposes. The competition's scale coating, typically standard enamel paint or powdercoat, is not nearly as strong as ours. A single scratch on their coating will compromise the integrity of the protective properties. Rust can form at the scratch and then develop under areas still covered by the coating. With our zinc epoxy, you will not have to worry about rust spreading throughout your scale due to the protective preferential oxidation characteristic of zinc.
Arlyn 5200 Floor Scale Benefits
Easy Access Design Ð Our 5200 floor scale has a lower platform profile than our competitor's floor scales. This enables the scale users to easily load and unload. Should your operation require ramps, it also means that ramps are far shorter and take up less space on the work floor. The scale's high precision digital indicator has been placed on a swivel mount and features large, LCD digits. This redesign enables quicker, accurate readouts for our customers, even when they are situated some distance from the indicator.
Platform and Weight Flexibility Ð Our 5200 Floor Scale has a number of platform size options with the largest being an 8 by 10 platform. The scale capacity starts at 2,500 pounds and tops out at 30,000 pounds. Should you desire it, we can manufacture the scale completely in stainless steel.
Personal Computer Local and Remote Access Ð

USB Ð Control of the scale via your personal computer can be easily set up with a simple USB connector cable. Once connected, you can completely control the scale. This also allows you to export weight data onto your PC using our USB Remote Software. You will be able to view and analyze the data in Microsoft Excel or Access or a variety of other Windows based programs.
Ethernet Ð This allows you to operate your scale from a remote location. Whether you are using a Wi-Fi or wired Ethernet connection, you will be able to export weight data and control the scale from wherever you may be located around the country or even the world.
Datalogging Ð A USB flash drive will allow a user to quickly download weight data. This is a great feature if you are operating the scale in a remote location. Once you download the data, you can export it to a PC and view the data in any application that is compatible with a CSV format.
Automatic Batching, Filling, and Dispensing
To help you create greater efficiency and ease in your weighing operations, Arlyn Scales offers an optional set point controller in the 5200 Floor Scale. This will give you significant automation choices when filling, dispensing, or batching a load. Customer feedback has been outstanding in both ease of use and increase of productivity with this optional controller.
Arlyn Scales: Heavy Duty Solutions for Heavy Duty Problems
Industries that load and process heavy weight batches need to utilize the best designed and toughest scales that are available in the market place. In such tough economic times, you need every edge possible. You can't afford to have down time because you're repairing your scales over and over again. Our 5200 Floor Scales are created to last.
Arlyn Scales did not become a leader in our industry by offering one simple solution for every problem that came along. We know that all our clients encounter challenges outside the norm and they require tailor made solutions to overcome those obstacles. We look at it as a basic element of customer satisfaction as well as a way to conduct research and development to create better scales for our clients in the future.
That's why we aim to provide some of the best customer service in our field. Our sales staff is both knowledgeable and personable. We will make sure you get the best scale for your money and that we make it the best scale for your unique application as well. Call us at (800) 645-4301 or get in touch using the form on our Contact Us page. We look forward to serving you!