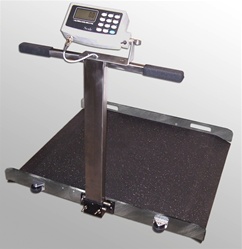 Drums are often used in industrial locations to store and transport various materials, like detergents and chemicals, etc. For inventory, safety, and shipping purposes, most facilities that handle drums require accurate measurements of the materials inside; therefore, these locations utilize industrial scales to achieve accurate weight readings.
Surely, in the world today, there are a number of industrial scales out there that can deliver the kind of accuracy industrial locations need when it comes to acquiring weight measurements—and they could probably do a fine job of accurately measuring drums; however, there is one company, located in America, that manufactures a series of drum scales that are incomparable to any other drum scale created by the competition. And that company is Arlyn Scales.
Long Island, New York is home to Arlyn Scales and it is where all of the company's magic happens when it comes to designing and manufacturing some of the best industrial scales on Earth. Arlyn Scale's drum scales are just one scale style of many created by the company, but the scales deliver highly accurate weight readings, are durable, and do not take up a ton of space—which are all features industrial locations search for when buying premium industrial scales.
Read on to find out more about Arlyn Scale's drum scales and what makes the scales the best in the industry.
Drum Scales by Arlyn Scales Don't Take Up a Ton of Space
Here at Arlyn Scales, we understand how important the conservation of space is in industrial facilities. That's why the #1 reason our drum scales are the best in the industry is they do not take up a ton of space.
Most standard drum scales are built to accommodate 55-gallon drums and a common platform size for drum scales is 20-inches by 27-inches. Arlyn Scales manufactures drum scales in the following platform sizes:
20-inches by 27-inches
30-inches by 30-inches
36-inches by 36-inches
The most popular platform size for drum scales that Arlyn Scales makes is 36-inches by 36-inches, but the platform size you choose depends on how you plan on transporting drums onto the scale platform. For example, if drums are going to be rolled by hand onto the scale platform, then a standard 20-inches by 27-inches should be fine. But, if you are going to utilize a drum cart or other wheeled device to move drums onto a scale platform, then the platform needs to be big enough to accommodate the wheelbase of the cart.
As you can see, drum scales are not extremely large; therefore, they do not take up a ton of space. It's important to keep in mind drum scales usually come with ramps, which make it easier for people to transport drums onto scales' weighing platforms. So, before you buy a drum scale, be sure to reserve ample space for the drum scale and its accompanying ramp. The ramps that come with Arlyn Scale's 36-inches by 36-inches drum scales are 36-inches by 18-inches.
Stainless Steel Load Cells Are in Arlyn Scale's Drum Scales
Anyone who has seen a drum can only imagine how heavy drums can be. So, it's easy to see how easy damage might occur to industrial scales when weighing completely full, and presumably super heavy, drums. That is precisely why Arlyn Scales uses stainless steel load cells in the construction of all of the drum scales we manufacture.
Some scale manufactures include aluminum load cells in their drum scales, but Arlyn Scales uses stainless steel because it is a stronger material and can better resist damage from possible overloading and shock loading. Using stainless steel load cells also allows the platforms on our drum scales to be lower than the drum scales created by other manufactures. This makes it easier to load drums onto the scale platforms.
Drum Scales by Arlyn ScalesDeliver Highly Accurate Results
Industrial scales designed to measure drums are unique compared to other industrial scales because they must accommodate the extra weight of drums in order to accurately measure the materials inside. Arlyn Scale's 3250 Drum Scales successfully achieve this and deliver weight readings within .1 and .2 pounds of a drum's true weight.
When you place a full drum on a 3250 Drum Scale, the scale automatically subtracts the weight of the drum from the gross weight of the entire object. A great feature of these scales is that they can store drum tare weights for future use.
Arlyn Scales offers our line of drum scales in 2 capacities: 500 and 1,000 pounds. Both of these scales are available with 36-inches by 36-inches platforms; however, if you want a different platform size, then just give us a call and we will make a custom platform size for you.
Arlyn Scales' Drum Scales are Resistant to Moisture and Chemicals
If you think about the kind of materials that are normally stored in drums, then just thinking about liquids escaping drums and landing on scale platformscan send shivers down your spine. The kinds of materials stored in drums are often corrosive, but even moisture coming into contact with regular industrial scales can be damaging. That's why Arlyn Scales designs our drum scales to be resistant to moisture and corrosive materials.
3250 Drum Scales by Arlyn Scales are tough in every sense of the word: they can successfully resist damage from collisions with heavy-duty equipment, moisture, and corrosive substances.
Drum Scales Can Connect to the Internet and Nearby Computers
For customers who are looking for easy-control or ways to collect data collected by their drum scales, there are a number of waysArlyn's drum scales can communicate with nearby computers and the Internet. Our scales can connect to the Internet via Ethernet, Wi-Fi, RS-232, and USB. This makes it simple for users to store data and analyze it on Microsoft Excel or Access, if desired. Moreover, when connected to the Internet or a nearby computer, users can control their drum scales from computers and see what's happening on the digital indicators on their scales.
Check Out 3250 Drum Scales by Arlyn Scales Today
Learn more about Arlyn Scales' drum scales today by visiting our website or give our team a call at 800-645-4301. On our website, you can view our 2 3250 Drum Scale options in more detail and choose the customizations you want for your application. Contact Arlyn Scales today if you have questions, comments or concerns. Fill out our online contact form or give us a call at the phone number listed above. We look forward to hearing from you!