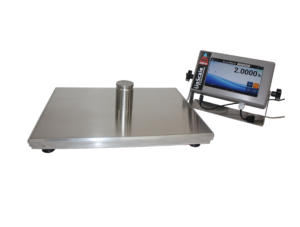 American, particularly in the field of technology, has a genius for miniaturization. There's just no better example of this than computers. The devices that once filled rooms with towering, humming machines and drawers upon drawers of ticker tape and punch cards now fit in everybody's pocket and offer a superior interface. When smartphones, laptops, tablets, calculators, and other electronic devices are being mass produced, it can be difficult to measure a given quantity of tiny chips of silicon, microprocessors, or any other small piece that makes these devices function.
In fact, when you do have a bulk quantity of some item like this, the best way to count them is to know the weight of an individual item and divide the bulk weight by this number. However, you can not do this without the proper type of scale. The right kind of scale for parts counting:
Offers precise, high-resolution weight measurements
Durable construction to endure high capacities
Smart programming to perform the necessary equations
Simple, one-step operation
Capacity to interface with any data storage and transfer requirements
If your industry needs to perform large-scale parts counting, this is one of the fastest and most reliable methods for doing so. This is an indispensable part of keeping your inventory accurate and organized, which can be a big practical challenge when you are working with a big variety of small parts. Inventory is directly related to profitability, supply chain, and production. If this part of your business is inaccurate, everything else can get thrown off as well at great cost to your business. In short, an accurate parts counting scale can help your business stay profitable by keeping your inventory, supply chain, and production process on track.
Arlyn Scales: Industry Leader in Precision Parts Counting Scales
For more than 30 years, Arlyn has been designing and producing top-quality industrial scales. With that much experience, we are in a fantastic position to fit our work to the needs of your specific industry. Our parts counting scales are a great example of the type of solution we have created with our scales.
A critical part of our quality assurance is the simple geography of our production process. We are based in Long Island, New York. Many other companies tend to outsource the bulk of their manufacturing processes to foreign shores. Our scales, on the other hand, are all designed and built in New York. This lets us maintain the highest degree of quality control in our production process. It also lets us stay flexible when it comes to answering questions about options for customization and applications.
Parts Counting Scales by Arlyn: A Quick Look At Functions And Preferences
Our Series 820 parts counting scale offers a range of adaptability in terms of managing your inventory of small parts of all kinds. As of now, there are two methods you can use the Series 820 scale to total up small electronics.
Quick Sample Method- Quick sample is one of the fastest methods for using this type of scale to correctly weigh minuscule items. It's a simple process. You begin by placing a known amount of items on the scale like 10, 25, 50, or 100 pieces onto the weighing platform of the scale. Once you have set out an average you are ready to begin your counting by part. Switch the scale into counting mode, and it will perform the equation of division necessary to find the number of items.
Sample Definition Function– This feature lets you enter the individual weight of an item and then have the scale determine the quantity of parts that have been placed on the platform based on this stored value. Here are some of the features of the sample definition function.
Include a New Sample- You can add a new sample to a scale's memory. This value is then given an automatically generated four digit number based on the previously entered sample. The scale than automatically creates a four digit number based on the last sample that was entered.
Adjust a Sample- This feature allows you to edit certain parameters of an existing sample. Here you're able to manually enter a portion of weight. You can also have the scale perform the measurement.
Activate a Sample- This feature allows you to find the sample that you'll use to count the necessary piece parts.
Remove a Sample- This lets you take away samples that are kept in the stored memory.
Here at Arlyn Scales, we have provided an incredible variety of industries with scales that help them perform their functions. This has been true in environments ranging from farms to factories.
Other Features Of the Series 820 Parts Counting Scales By Arlyn
Not only will these scales deliver a consistently accurate count of your small parts for electronics or any other purpose, you will be able to enjoy a number of setting options that will make your workflow easier and more streamlined. Here are a few of the features you can look forward to enjoying.
Flexible and Cutting Edge Connectivity Options
Once you have accurate readings of your weight, you're going to want to be able to transfer them and record them for future reference and analysis. Thanks to Arlyn's cutting-edge connectivity options, you can feed your data through WiFi, USB, or Serial hookups.
Arlyn Upscale Touchscreen Indicator
Not only do we offer you a traditional digital weight indicator, we have released a display system that is an Android power touchscreen. This unlocks a world of options when it comes to integrating functions, working with data, and keeping your workflow sophisticated and relevant.
Long-lasting Battery Pack
Should you ever be in a tricky spot where you need a scale to count parts even though it is not connected to power, this feature will help keep your work going.
Operate Your Scale in Harsh and Extreme Temperatures
This scale can stay functional in temperatures ranging from 14° F to 104° F, which generally covers any operating requirements a given industry may encounter.
Learn more by calling Arlyn Scales at 877-540-7934. You may also contact us online.