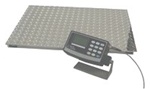 The industrial process of weighing is truly found industry wide. It is used in shipping and receiving. It is used for chemical formulation and drum filling. It is used for mixing, batching and dispensing. Parts counting is often done by weight, when identical items are being counted.
For every industrial application in which industrial scales are found, there are many different environments in which they may be used. The most common may be in a shipping department, or a loading dock. The scale may be subject to changes in room temperature, but it is a typical industrial scenario. Many scales are used in laboratories. Here, the scale is in an almost ideal environment. The temperature is very stable. There will generally not be large air currents. Vibration will also be minimized.
Out on the factory floor, the situation may be quite different. Temperatures may range from quite cold during the winter, to extremely hot in the summer. Fans may be running at full speed, so there can be major air currents that can affect the scale reading. Heavy equipment may be running in the vicinity, so vibration can compromise scale accuracy. And the standard factory power outlet may actually be a source of a major amount of electrical noise, which can result in instability of the digital indicator. But in general, an electronic scale will not be a source of danger in any of these cases. But there are some special industrial locations where any electrical device can, in fact, cause an unsafe situation. These are typically referred to as hazardous environments. There may be flammable liquids present. Or explosive fumes. There could be munitions or other types of explosive chemicals. In this case, standard scales may not be allowed in that location. The scales, as well as any electrical or electronic equipment may be required to be rated as safe for hazardous areas, or explosion proof. Often, these types of scales may be built into very heavy duty cabinets. There may be he additional requirement to purge the cabinets with an inert gas. These solutions can be quite expensive, and may also require regular maintenance at short intervals. It may also be very inconvenient to have to use these digital scales.
A preferred alternative is to select a scale that has been rated as Intrinsically Safe. This indicates that the device has been carefully tested by a recognized rating agency. To achieve this rating, the testing has to show that the scale will not cause a spark, or does not have enough energy to cause an explosion, even under more than one failure mode. Generally, the rating is applied to various, recognized hazardous ratings, such as Class I, Class II, or Class III. It can include Division 1, and a number of different groups including Groups A, B, C, D, E, F & G. One agency that provides these ratings is FM Approvals.
Arlyn Scales has a variety of different hazardous environment scale types (exclusively in the ArlynGuard line) that have one or more components tested and approved to be Intrinsically Safe. They include ArlynGuard C (gas cylinder scales), ArlynGuard B (bench scales and counting scales), ArlynGuard P (platform scales) and ArlynGuard F (floor scales). In all cases, they are powered by a special, rechargeable, C cell battery that is housed in a specially machined aluminum battery case. These scales will operate for approximately 20 hours. The scales are provided with spare batteries that may be exchanged, in a safe area, for additional operating time. A battery charger that is also used in a safe area is provided to recharge the used battery. Even though these scales use very little power, they still include electronic features that make them both accurate and easy to use.
The Intrinsically Safe digital indicator (Model MKE-5-IS(-C) Digital Weight Indicator System, which is FM Approved component as per Approval Standard 3600, 3610, 3611 and 3810, boasts a large graphics screen with clear block digits, which may be easily read from a distance. Tare functions with Net and Gross selections give the operator access to the data in different formats. A number of different unit types, including pounds, kilograms, grams and ounces may also be chosen.
The ArlynGuard B Counting Scales include a large number of memory functions which will capture piece weight values for recall at a later time. The scales are available in welded aluminum and steel construction, but may also be fabricated from stainless steel when necessary. In all cases, the load cells are made from stainless steel to provide excellent protection from shock and overload abuse, and to provide the most reliable operation.