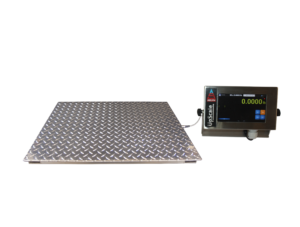 At Arlyn Scales, because of our experience in the industrial scale industry, we're often approached by our customers to offer unique and custom scales for a variety of needs. These custom scales require features that we've worked extremely hard over the past several decades to perfect.
One feature of our scales that we're extremely proud ofis our load cells. We use a variety of different types of load cells, depending on the scale you choose, but whichever type of industrial scale you purchase, whether it's a bench, platform, cylinder, or any other scale, know that we've invested countless hours to develop the ideal load cell for that particular scale.
What is a Load Cell?
A load cell is a transducer that creates an electrical signal that is directly proportional to the weight that is being measured. There are a number of different types of load cells, but at Arlyn Scales we primarily use strain gage load cells and our internationally patented SAW load cells.
A Bit of Background Regarding Arlyn Scales
Arlyn Scales was founded more than 35 years ago and has continued to innovate by offering the highest quality industrial scales at the most competitive price points. Arlyn Scales does a number of things differently than your typical scale manufacturer.
US Based Manufacturing –Instead of shipping our manufacturing jobs overseas, we have always kept both our design and manufacturing facilities in the US. We're headquartered in Long Island, New York, which gives our customers instant access to our team at any time.
Factory Direct Sales Approach –Because of our unique manufacturing process, we're able to sell factory direct to our customers, helping to reduce the cost of our industrial scales while still utilizing the latest technology. We don't have to rely on an extensive network of distributors who must mark up the products they sell, which quickly translates into additional costs for the customer.
Intimate Industry Knowledge – Many of our team members have been with us for decades and this experience is hard to replicate by other companies. Should you run into an issue with your scale, or have a question prior to purchase, you can simply pick up the phone and speak with the exact individuals who have built or will build the scale you're interested in.
Cutting Edge Scale Features – The high level of industry knowledge possessed by the team at Arlyn Scales has allowed our company to develop a number of "firsts" in the scale industry when it comes to scale features. Many of these new scale features revolve around the load cell.
Common Problems Solved by Our Custom Load Cells
Our industrial scales are used in a wide array of industrial applications, several of which require custom scales and load cells to provide the highest level of accuracy and reliability for the necessary application. Below are just a few instances where our custom load cells are used to meet the needs of our customers.
Weighing Livestock and other Animals
One common problem with weighing animals of any type is getting an active reading due to the movement that is simply unavoidable during weighing. At Arlyn Scales, we utilize four stainless steel load cells that are positioned in the corners of each scale platform to help remedy this issue. In addition, we have a function built into our agricultural scales that takes a number of weight readings in succession and comes up with an accurate average.
Our stainless steel load cells are also extremely rugged, which is beneficial in the veterinary and livestock industries where animal waste will undoubtedly come in contact with scale platforms and components. Stainless steel is much more durable, helping to prevent damage due to overloading and shock loading, which are both common scale problems with other strain gage load cells.
Precision Weight Readings at High Capacities
In the past if you wanted precision readings, you typically needed to purchase a force motor scale that was incredibly expensive and could only accurately weigh items around 25 lbs. and below. This created problems for industries where precision weight readings were necessary, but at much higher capacities.
To combat this common issue, Arlyn Scales has developed their Ultra Precision Scales, which are powered by our internationally patented Surface Acoustic Wave (SAW) technology. This technology utilizes SAW load cells, which measure displacement as opposed to stress or strain in the case of strain gage load cells. This allows our SAW load cells to be much more accurate because they can be constructed from a much thicker metal due to the fact that much less movement is required to provide an accurate reading. In addition, this ruggedness helps to prevent scale problems due to overloading or shock loading, and more importantly allows our SAW scales to offer precision readings at weights of 1000lbs., if not more.
Additional Scale Features That May Interest You
Aside from high quality load cells, we're proud of a number of other scale features that seem to be welcomed by our growing number of customers. A few of these include:
Arlyn UpScale Touchscreen Indicator – Gone are the days where you had to control your scale with a basic digital indicator. With our Arlyn UpScaleColor Touchscreen Indicator, you'll be controlling your scale with a fully powered Android tablet that puts all of our scale features right at your fingertips.
Communication Options – Accurate weight data is critical, but what you do with that data is often even more important. With each of our industrial scales you have the option of transmitting your weight data over all sorts of communication options including USB, Serial, Ethernet, WiFiand many more.
Custom Scale Designs – Not only do we offer a number of custom load cells based on certain applications, we also can design a fully customized industrial scale based on your needs. Simply give us a call to learn how we can take your current scale problems and turn them into successes with one of our cutting edge weighing instruments.
Ready to Finally Upgrade Your Industrial Scale?
If you've been putting off the idea of upgrading your industrial scale, now may be the time to finally take the next step. At Arlyn Scales, we're confident we can help you find the idealscale for your needs at a price that's within your budget. Give our team a call today at 800-645-4301 or contact us through our online form and we'll respond right away.