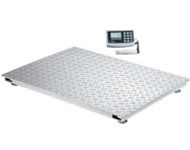 There are a variety of heavy duty scales for sale, but your business needs one that suits its individual needs. These scales are specially made for very heavy loads, but just getting a scale with a high weight capacity isn't enough. If you are thinking of buying or upgrading your current scale, then you should check these factors to ensure you buy the right one for your business.
Getting the wrong scale can set your company back thousands of dollars, and it will introduce a lot of downtime that will hurt your productivity.
Maximum Weight Capacity
All heavy duty scales for sale have a maximum weight capacity. Going above this capacity will introduce inaccurate measurements and the scale can be damaged by the extra load. Just going a few pounds over should not damage the scale, though measurements will still be inaccurate, but going 1000 pounds or more can cause the steel to bend or warp.
Your company needs a heavy duty scale that can handle your heaviest loads. At the same time, you should get a scale that can handle several thousand pounds more than your heaviest loads. For example, if your heaviest load is normally 20,000 pounds, then getting a scale for 25,000 pounds would be a good idea.
If you ever receive a heavier load, then this increased capacity ensures that you can still weigh it. This will also help the scale's longevity because the scale will easily be able to handle your normal loads without a problem.
Durability
Every industrial scale needs to be durable. You might have the most careful operators on the planet, but there is always the chance that an accident will happen. Someone may drop the load a little too quickly, or someone may bump into the scale with a truck or other piece of equipment.
Industrial settings need rugged equipment that can withstand any punishment. A fragile scale can break from the slightest accident. Most heavy duty scales use load cells made with tool steel and nickel. This alloy isn't very durable, and it tends to warp easily if anything goes wrong.
You need a scale that uses stainless steel. This is much stronger than alloy and will last much longer. Even if you don't anticipate any mistakes or accidents, getting a scale made from more durable components will improve the scale's longevity.
Over Load Protection
This deals with durability, but it is slightly different. If a load is heavier than scale capacity, then there could be damage. A fragile scale will not be able to withstand this additional weight, and it might break right there.
Scale over load may slowly warp the load cells, and this will lead to inaccurate measurements. You need a scale that has over load protection made with only the strongest materials.
Platform Size
The platform is the area where you place loads. You need a platform that is adequately sized to take on all of your loads. Placing a large load on a small platform, even if it can take the weight, can be hazardous.
This can potentially make the load unbalanced. Having an unbalanced heavy load is very dangerous, and this can lead to injury or property damage. You should consider getting a platform that is at least slightly larger than your maximum load size.
It's much like choosing the maximum weight capacity. It's better to be safe, and the safest thing you can do is to choose a platform that will definitely be big enough for all of your future loads.
If you have a difficult time finding a platform that is large enough, then contact us to request a custom order. Most superior scale manufacturers will be able to accommodate your needs.
Chemical Resistance
Does your company regularly handle strong or acidic chemicals? Many chemical manufacturers, or those that deal with strong chemicals, need to commonly replace their scales because they are not made for these loads.
The majority of scales are resistant to heavy loads but not strong chemicals. Weaker alloys and metals typically melt and rust very quickly in the presence of strong acids and other corrosives. At best, your scale will weigh loads inaccurately. At worst, the scale will fracture and break completely.
If you commonly deal with these chemicals, then you need one of our corrosion resistant scales that can withstand these substances. The scales are priced modestly higher, but they last much longer against strong chemicals.
Scale Coating
All industrial scales have a platform that is coated in a substance that is supposed to resist scratching. The majority of scales use enamel paint or powder coatings. These are fine for scales outside the industrial setting, but they aren't as rugged as other available coatings.
If you want the best longevity, then you need to choose a heavy duty scale that uses an epoxy and zinc coating. The other two coatings do not resist scratching very well, and you will find cracks in the platform in a few months or years. These scratches may not seem too bad at first, but this will shave years off your scale's longevity.
Moisture can easily penetrate to the scale's interior through these cracks. This causes the platform to rust rendering the scale useless. The epoxy and zinc finish will last much longer, and the compound naturally resists rust if any scratches manifest.
LCD Display
The last thing you need for the best heavy duty scale is an LCD display. These displays are very easy to read because they use large numbers. You can also choose between pounds and kilograms, and there is an option to easily subtract the container weight from the actual load.
Buy a Heavy Duty Scale Today
We are premium manufacturers of industrial scales, and we ensure that every feature is perfect for the industrial setting. If you want a rugged scale that can withstand punishment, last for years and deliver the most accurate measurements, then you need a scale from Arlyn Scales
If you have any questions or looking for further information, please do not hesitate to contact us. It is our pleasure to help you.