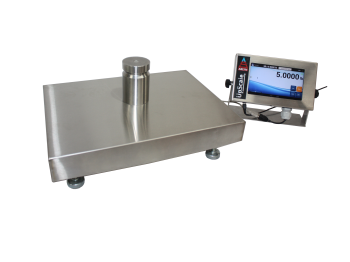 In the food manufacturing industry, weight is incredibly important. It's important to ensure that ingredient weights are accurate and it's important to ensure that the amount of finished food products that you're producing are accurate as well. If you're using an inaccurate scale you could literally be throwing money and potential food product away.
In addition to accuracy, safety is also extremely important in the food manufacturing industry. While most people may not realize it, but commercial food facilities can be seen as an extreme environment due to the small particles from food that can interfere with electrical equipment. Many commercial food facilities include areas with airborne dust particles, that if not managed properly can ultimately cause an ignition of these small particles, which can result in disaster. Because of this potential safety issue, at Arlyn Scales, we recommend our Intrinsically Safe Scales for commercial food facilities.
Arlyn Scales' Intrinsically Safe Scales for Food Manufacturing Companies
At Arlyn Scales, we've manufacturing a line of Intrinsically Safe Scales that are ideal for food manufacturing companies where airborne fine dust particles are present on a daily basis. Our ArlynGuard line of scales have been classified as intrinsically safe and can be used in the hazardous conditions listed below:
Class I, Divisions I & II, Groups A, B, C, D
Class II, Divisions I & II, Groups E, F, G
Class III, Divisions I & II
Below we'll categorize each of our Guard scales to give you a sense of their flexibility.
Guard B Scales – This line of bench scales has a capacity of 5-150 pounds and a resolution between .001 – .05 pounds.
Guard C Scales – These intrinsically safe cylinder scales feature capacities of 60-400 pounds with a resolution between .02 – .1 pounds.
Guard P Scales – If you need even larger capacities, our Guard P platform scales feature capacities of either 500 or 1000 pounds and resolutions of either .1 or .2 pounds respectively.
Guard F Scales – Our largest capacity intrinsically safe scales are our Guard F floor scales that feature capacities of between 2500 – 25000 and resolutions of between .5 – 5 pounds.
Important Features of Arlyn Scales' Intrinsically Safe Scales
 In addition to the need for an intrinsically safe scale, you also may be interested in learning about many of the other features that have caused our customers to continue to come back when they're looking for additional industrial scales over the past 3 decades. Below are just a few of the features that are most often requested by our growing customer base.
30 Years of Industry Experience
One of the most important 'features' of our scales actually has nothing to do with the scales themselves. At Arlyn Scales, we've been in business for more than 30 years. In this time, we've worked incredibly hard to develop the highest quality industrial scales possible. This has involved countless hours of research and development as well as conversations with customers to better understand what they need. Because of our unique focus on serving the customer above all else, we've been able to provide our customers with scales that meet, if not exceed their expectations.
US Based Manufacturing
At Arlyn Scales, we feel it's incredibly important to stay true to our customers and to our long-time employees, which is why we continue to be headquartered in Long Island, New York. While there is a chance that we could move our manufacturing facilities overseas and save a bit of money, we feel that this strategy would be short sighted. By designing and manufacturing our scales in the U.S., we're able to keep quality control issues in check, and continuously innovate based on the unique needs of our customers.
Fully Customizable Scale Options
Another reason why we've been able to be successful in the industrial scale market is because of our unique business model which allows us to be able to design and manufacture custom industrial scales based on the unique needs of our customers. This way you're not always buying an off the shelf product, but rather a scale that has been designed with your needs and your business in mind. While we offer plenty of off the shelf models, it's important that our customers realize that should the need for a custom solution arise, we'll be more than happy to answer the call and deliver the highest quality industrial scale possible.
Arlyn UpScale Touchscreen Indicator
If you take a look at most any industrial scale, you'll see a scale indicator that hasn't changed much in several decades. While this may be sufficient for many customers, a few years ago we began receiving requests for a more feature-packed scale indicator. Out of these requests, coupled with our top-notch design team, we developed the Arlyn UpScale Touchscreen Indicator. This completely redesigned digital indicator puts the full power of an Android tablet in your hands. Easily control your scale and have instant access to all of the pertinent settings needed to ensure you're using the scale to the best of its abilities.
Rechargeable Batteries
One of the ways that we're able to offer our intrinsically safe industrial scales is in how they are powered. Instead of being powered with a standard power outlet, these scales use a supplied 3800mah NiMH C cell battery. This battery can and should be changed and recharged in a safe area, but helps to prevent ignition risks in food manufacturing environments.
Learn More About Industrial Scales for Food Manufacturing Companies
We hope that you've learned quite a bit about industrial scales in the food manufacturing industry. If you're still unsure of whether an intrinsically safe scale is necessary for your application, or if another one of our industrial scales would be sufficient, simply give our team a call today at 800-645-4301 or fill out our online contact form and we'll follow up with you shortly. We look forward to assisting you in your journey to find the ideal industrial scale for your particular needs.