AxChange – Weight Tracking and Monitoring for Industrial Scales
Overview
AxChange allows you to monitor weights on multiple scales at your location. Being a cloud application, AxChange can be accessed on any device including your PC, iOS and Android devices. With real time weight tracking, customized alerts and hierarchical access control, AxChange can solve many issues brought about by weight application especially in a remote driven world.
Provide a quick overview of the companies' scales in the field.
Provide a platform to collect data from scales.
Provide a platform for analyzing data collected from scales.
Manage scales in the field
View scale status to make sure they are operational
View scale parameter settings for troubleshooting purposes.
Manage and upload new firmware
Manage and upload various scale data (tares, samples, setpoints, etc) into any scale in the field.
Provide administrative control over users logging into the website.
Provide accountability of those in-charge of scales in the field.
Ability for Arlyn (Service Provider) to manage all the scales in the world and make sure they are all operational within specified parameters.
Features
Real Time Weight Monitoring with

RemoteWeight® 
View the current weights of your tanks, drums, pharmaceutical equipment, water vapor containers and other appliances from anywhere in the world on any device. Remotely view any individual scale screen and control basic functions such as zero, changing units, net/gross view and tare.
Summarized Dashboard View
The AxChange Dashboard gives you a quick snapshot of the current status of scales in the field as well as logged weight data. Different Dashboard layouts are available to suit the needs of your application.
Critical Alert System
Receive critical alerts on text or email on a low or a high target weights. Our scale's Setpoint Output system allows you to automate processes to mitigate disasters or control the next phases of your application. 
Data Export & Reporting Features
View logged data from all the scales at your location and easily export data in various formats including Excel, CSV and PDF Report formats.
Versatile Scale Configurations
AxChange is directly compatible with the Arlyn UpScale Indicator. The MKE-5 Digital Indicator and Arlyn's Digital Load Cells.are also compatible with AxChange through an on-site PC data aggregator.
3rd-Party Scale Platform Support
AxChange also supports 3rd-party platforms equipped with Arlyn UpScale indicator as well as the basic MKE-5 Digital Indicator and Digital Load Cell amplifiers.
How It Works
Scale Connectivity
Scenario #1
Scales directly connected to the internet for weight transmission to the AxChange Portal.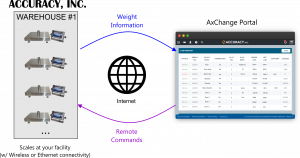 Scenario #2
Scales connected through an on-site software data aggregator (AxChange Data Unifier) connected to the AxChange Portal.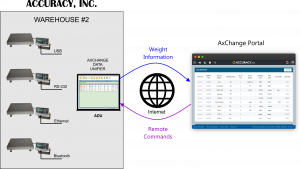 Data Collection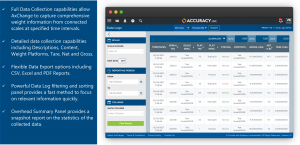 Live Weight Monitoring & Control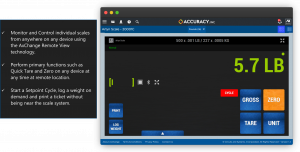 Administration & Access Control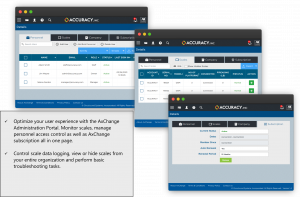 *Disclaimer: Some features mentioned on this page are still under construction or being tested and may not be available at the time of this writing.