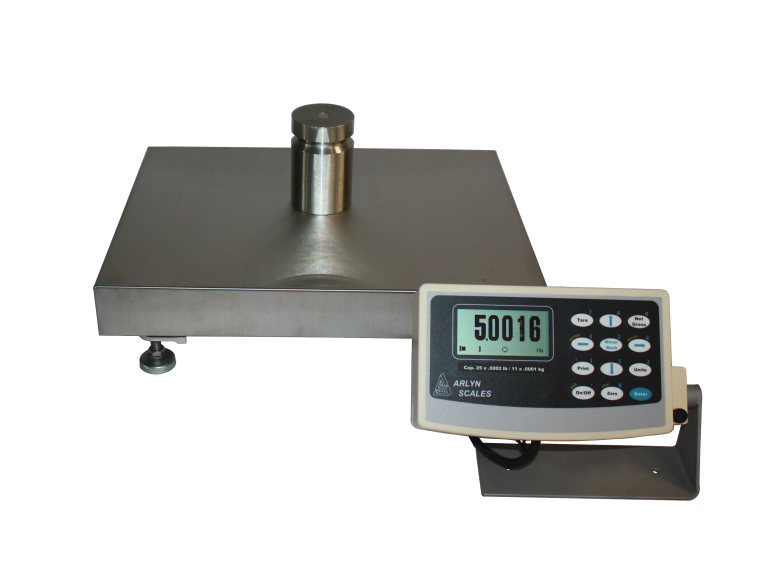 When you purchase a scale from Arlyn Scales, our company guarantees you will receive a high quality, durable, easy to use and precise weighing instrument. Arlyn Scales designs and creates a wide range of industrial scales ideal for a multitude of industries and weighing purposes.
When trying to determine which features on an industrial scale are right for your company's needs, understand that even the most standard versions of our scales offer a number of options to choose from. For example, most of Arlyn Scales' weighing devices come with the option of choosing between aluminum or stainless steel construction.
Aryln Scales provides our customers with the service of creating customized weighing devices to accommodate any specific needs a business might need. We also offer a range of additional options to choose from when choosing features to be included on your industrial scale. Arlyn Scales can help your company improve processes by creating an efficient and durable scale suitable for every type of industrial environment and weighing need.
Make Your Company Processes Automated and More Efficient
Once upon a time, when money did not factor into society—which it obviously does today—the phrase "time is money" probably didn't faze men and women; however, in 2016, time definitely means money. Just ask any businessperson or owner.
Companies make it a priority to do as much as they can in the shortest amount of time, because businesses want to make the most money possible in the shortest amount of time possible. Arlyn Scales understands this mindset. That is why we offer a selection of additional options available for our scales to make industrial processes quicker and simpler.
A. Set Point Controller
Arlyn Scales offers the Set Point Controller on all of our scales. Capable of programming up to 8 different weight values, the Set Point Controller is capable of completing automatic filling, programmable logic functions and mixing materials without any human involvement necessary.
One example of how to use the Set Point Controller is that a user of the scale will set 2 points: 1) a number near the target weight desired, and 2) the actual target weight wanted. Once the target weight is reached, an alarm will sound or an email sent to alert the user the process is finished.
The Set Point Controller is a useful feature for customers who need to empty or fill containers with liquids, because it helps users get the most out of liquid materials.
B. Flow Rate Measurement Program
If your company works with dispensing chemicals, the Flow Rate Measurement Program would be a great additional option to consider for your scale. Using ultra-precision sensors to measure small weight losses, the Flow Rate feature on a scale can determine and control flow rates of liquids.
C. Laundry Cart Weighing Kits
Are you in the laundry business? Arlyn Scales can install weight sensors into the construction of a customized scale, which would then be able to determine the amount of laundry in a cart sitting on the scale platform. Using Bluetooth, the measurement readings will be sent to an Android tablet.
Track Your Processes with Data Collection Options
Many companies wish to collect the data that industrial scales record, which typically includes measurements, time, and group and item information.
Arlyn Scales provides a selection of communication options. Our scales can accommodate a direct or indirect connection to a computer. Arlyn Scales supplies our customers with free software that will allow scale users to import weight data onto Excel or Access.
A. Ethernet
By choosing Ethernet as your scale's method of communication with a computer, your scale will be able to connect with a computer that is near or far away. With Ethernet, users can communicate with their scale remotely. In order to control your scale from any location, even offsite, all you have to do is connect your scale to your company's Ethernet and use Arlyn Scale's remote indicator software.
B. Wi-Fi
The Wi-Fi communication option offers the same conveniences as Ethernet, but wirelessly, without a cord or cable.
C. USB Port/Datalogging
Whether the location of your scale is unfit for a computer or you would like to plug your scale directly into the computer, Arlyn Scales offers a USB port option available on most of our scales. Users can plug in a USB drive or cable into the port, which will store data recorded by the scale. At their leisure, customers can take the drive to a computer and download the information on the USB drive. The data is stored in CSV format, which can be accessed by most database and spreadsheet applications, such as Excel. The scale records measurements, time, and group and item information.
D. RS-232
The RS-232 communication option allows a scale to directly communicate with a computer. It also allows the scale to communicate with other pieces of computerized equipment, such as a printer. RS-232 allows computers to send data and receive commands from computers, and allows for full remote capabilities.
E. RS-485
RS-485 is just like the RS-232 communication option but it can communicate with computers and computerized devices from over 4,000 feet away. And it can connect to a network of up to 10 different scales.
Additional Features to Improve the Usability of Your Scale
Arlyn Scales provides a selection of add-on options to improve the efficiency and durability of your scale. Including added safety features, upgraded indicators and extra features for convenience, our company offers a range of additional options for your weighing instrument.
A. Label Printer
With the RS-232 communication option, your scale will be capable of communicating with our label, paper and card printer.
B. Key Lock Options
With the Key Lock additional feature, your scale's front panel will be disabled until the correct password is entered. When the right password is keyed, the scale will remain unlocked until the scale is shut down.
C. UpScale-9 Touch Screen Indicator
Scale indicators generally feature a digital display with a few basic buttons for control. The UpScale-9 Touch Screen Indicator provides a 7-inch HD IPS Capacitive 5-point widescreen touchscreen display with a resolution of 1024 x 600 pixels. The touchscreen has contextually aware buttons, is user-friendly and waterproof.
D. MKE-5 Digital Indicator
Made from stainless steel, the MKE-5 Digital Indicator his a high precision push-button indicator capable of delivering highly accurate weight values. It is a fully functional keypad and displays easy-to-read results. The MKE-5 Digital Indicator is waterproof, comes on a swivel mount for easy viewing, and can store over 100 values for tare weights, piece counts, and other parameters. This additional scale option can communicate with a nearby computer via Ethernet, Wi-Fi, USB or RS-232.
E. Rechargeable Battery Pack
With the purchase of a rechargeable battery pack, you can take your scale anywhere. Charging the battery takes approximately 4 hours, and a fully charged battery will last over 20 hours. With a rechargeable battery pack, your scale will continue to work even if disconnected from power.
F. Time & Date
If you purchase the RS-232 add-on, you can also choose to have the option of time and date on your scale. Time can be displayed in 12 or 24-hour formats. The clock is set through the indicator's menu system and the clock's battery will allow time to be displayed for up to 10 years, even if the scale is not connected to power.
G. Stainless Steel Construction
Most of our scales can be built entirely out of stainless steel, which is a more durable than aluminum. Stainless steel is also corrosive-resistant.
Questions? Contact Arlyn Scales Today!
As a designer and manufacturer of high quality, durable and extremely accurate industrial scales for over 30 years, Arlyn Scales has everything necessary to make your new scale exactly what you need. If you are not sure which features would be useful for your company, give us a call today at 800-645-4301. Our knowledgeable and friendly staff would be more than willing to discuss all of our scale styles and additional options in further detail. You can view our entire selection of products by visiting our website. You can also send us your questions by filling out our online contact form