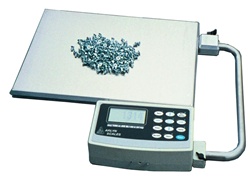 We offer inventory scales for large weighing jobs, along with several other industrial scale products. Check our products and view an extensive selection of industrial scales, animal scales and custom scales to suit any need.
Inventory control scales include counting scales, high precision scales, high capacity crane scales and livestock scales, such as our Automated Pig Sorting system. With each of our scales, the option of automated weight data collection may be added. Make inventory control an easy process with our weighing devices.
Automate weight data collection with several options, including Ethernet connectivity, USB port and data logging features. Import weight data into applications with specialized software. We are in touch with the needs of our customers. Just let us know how we may create a weighing solution for you.
Industrial Scales
We offer Industrial Bench Scales at a price well below competitors. The Standard 6200 scales implement top of the line strain gauge technology, along with load cells made of stainless steel for durability and accuracy. For those who require a higher level of accuracy, the 2x Double Accuracy scales are built for optimized performance with a small increase in price over the Standard 6200 model. We always provide customers with a high quality product for a lower price than our competitors.
From super sensitive High Resolution Scales to Ultra Precision Scales with Super Sensitivity and Surface Acoustic Wave (SAW) technology, our high performance weighing instruments are created for those industrial jobs that require a high level of precision and accuracy.
Corrosion Resistant scales accurately and effectively measure drums and cylinders containing corrosive materials without damaging the weighing instrument. Scales to weigh drums, such as the Industrial Drum Scale with Ramp and Stainless Steel Cells is a great choice for weighing large cylinders and drums that contain liquids, gas or solids.
High capacity crane scales effectively measure a hanging load and our rain gauge scales are protected with an encased power supply. Scales for any industrial use, as well as digital indicators and software, may be found at Arlyn Scales.
We also produce a complete line of counting scales. Count industrial parts quickly and easily with the Quick Count feature on our counting scales. Automatic calibration requires no setup or service.
New to our product line, wheelchair scales are now available for accurate, precise weighing of all sizes and types of wheelchairs. A 30×32 inch platform accommodates most chairs, and these scales have a capacity of up to 800 lbs. Ramps are constructed into both sides of the platform for easy mounting and dismounting the scales. Arlyn wheelchair scales also feature the Average Weight and Hold technology and are shipped with a standard non-slip rubber mat. Our wheelchair scales are Bluetooth enabled though USB and Ethernet connectivity are also available for data collection.
Animal Scales
Vet Scales
Our Animal Scales are perfect for the veterinarian's office, where larger animals may be conveniently and comfortably weighed. Veterinary scales, with a lightweight yet sturdy build, are perfect for weighing house pets or livestock. Select a capacity up to 500 lbs. or as low as 50 lbs. With a welded aluminum frame and stainless steel load cells, this lightweight vet scale is easy to ship and move. A non-slip rubber mat is included for the comfort of the animal.
Our Animal Scales includes a three-year warranty for parts and labor in three model types: The 620-Vet is great for measuring small animals, such as birds and reptiles. The 320-Vet is built for measuring larger animals and livestock. These scales include an Average Weight and Hold feature that will capture the average weight of the animal, and secure that weight on the indicator, even if the animal moves around on the scale.
The Combo-Vet combines the features of the 620-Vet and the 320-Vet for an all-in-one weighing solution. The platform sizes for the Combo-Vet are 22″ x 44″ and the 12″ x 16″. All Our Vet Scales are water resistant and have a large, easy to read digital display.
Livestock Scales
We also carry a line of large livestock scales, such as the Alpaca and Llama scales and the Automated Pig Sorter.
Our Livestock, Alpaca and Llama scales are very low-profile and are water resistant, like the smaller Vet scales. A large digital display shows weight numbers that are one full inch high. The display is mounted on a swivel device which allows viewing from any angle.
The Smart Sort automated pig sorter includes a USB port for saving weight data to a USB drive, RFID ear tag reading capability, and a color touch-screen with a menu-driven controller. With the most animal-friendly design of any pig sorter on the market, our automated pig sorter is rugged, yet easy to use. The pig sorter is constructed of heavy gauge tubular stainless steel with an open frame design.
Custom Industrial Scales
We customize a weighing solution for any industry or business. Our customized applications include:
Scales to monitor and control multiple ingredient mixing
Livestock feeders
Livestock control gates and chutes
Flow rate control devices
Liquefied gas tank monitors
Bin weighing devices for inventory control
USB, Ethernet and wireless connectivity available
Linux-based touch screen indicators
Remote indicator software
Internet connectivity for scales – read data through any web browser and have data emailed to a specified email address
We will work closely with any business or industry to develop scales that are customized to meet very specific needs. From scales with 2 lb. to 20,000 lb. capacity, all of our products are constructed with the highest quality materials. Rugged stainless steel load cells ensure precision, yet are tough enough to withstand extreme use.
We also develop specialized software that will import your weighing data into spreadsheets, databases or even other PC-based applications. Contact us to learn more about how we may develop a custom solution for your weighing needs.
Call us at our toll-free number: 1-800-645-4301 or mail us to learn more about our extensive line of weighing devices. Find out why we are the best and what Arlyn Scales is able to do for your business.