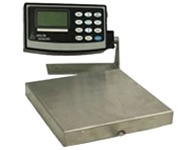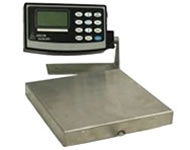 While some companies have a need for large industrial scales that are stationary, others require scales that can be moved from place to place. The problem with finding a suitable portable scale is that they often can be subject to issues with accuracy, and lack durability due to their light weight.
The scale experts at Arlyn Scales were never the type to let the status quo satisfy them. In fact, Arlyn Scales has developed a variety of portable scales that are not only lightweight, but also extremely durable and accurate, and able to stand up to the rigors of most industrial scales. In this article we'll showcase Arlyn's line of Surface Acoustic Wave scales, which are ideal for portable use.
Arlyn Scales – A Leading Provider of Cutting Edge Weighing Instruments
Arlyn Scales has been manufacturing high-quality industrial scales for more than 30 years. Located in Long Island, New York, Arlyn Scales designs and manufacturers all of their scales from within the U.S. When many companies are looking to cut costs by moving their manufacturing operations overseas, Arlyn Scales is committed to staying and growing our business right here in the U.S.
Manufacturing our scales in the U.S. offers a host of advantages, a few of which include:
Factory Direct Sales Model – Because we are in control of both the design and manufacturing of our scales, we thought it made sense to sell our products factory direct to our customers. By selling factory direct, we're able to eliminate distributors, which helps us to build a more intimate relationship with our customers.
Competitive Pricing – Because of the fact that we sell factory direct, we're able to pass on much of the savings to you, the customer. Because we have no need for an intricate distributor network, we can invest these savings back into improving our scales, and making them more economical for our customers.
Streamlined Quality Control Process – Another massive benefit of our U.S. based manufacturing is improved quality control. With our design and manufacturing team located in the same facility, we're constantly collaborating about ways to improve our scales. This allows our team to spot issues early and resolve them as opposed to other manufacturers who have to rely on an overseas quality control team to ensure their products are being manufactured to their specifications. Overseas manufacturing creates an inherent disconnect between the design and manufacturing teams, which is one of the reasons why we continue to design and build all of our scales in the U.S.
Cutting Edge Technology – One of the most important reasons why we've chosen to manufacture our scales here in New York is the fact that it enables us to feel more connected to our customers' wants and needs. By keeping a constant pulse on our customers, we're able to cater to their needs by releasing scales that are truly revolutionary in the industry. One of our scale lines that we're most proud of is the portable, Ultra Precision Scale, which we'll describe in further detail in this article.
Looking for a Portable Scale? Don't Discount Arlyn's SAW Scales
A few years ago, Arlyn Scales set out to design and build a revolutionary scale that would combine the ruggedness and capacity of a strain gage scale, with the accuracy of a force motor scale, but at a much cheaper price. To achieve this lofty goal, Arlyn Scales developed internationally patented technology that had never been used before in the scale industry. Instead of measuring stress like most scales, our SAW scales measure displacement. The amount of displacement required to provide an accurate measurement is about 10% of the stress needed to provide a strain gage measurement. Aside from the completely different way that SAW scales measure objects, there are a whole host of other advantages that should put these scales at the top of your list when it comes time to purchase a new industrial scale.
Portability
Arlyn Scales offers a range of portable SAW scales with capacities ranging from 10-200 lbs. This allows our customers to use SAW scales in a variety of applications where a scale may be moved from time to time.
Cost Effective
SAW scales are priced much less than force motor scales, and at about the same price as a high-end strain gage scale. This allows you to have the precision of a force motor scale, with the capacity of a strain gage scale – truly the best of both worlds.
Highly Durable
The secret behind our SAW technology is our SAW load cells, which are built out of a much thicker metal than strain gage load cells and is able to withstand abuse found in a variety of industrial environments. While many of our competitor's scales lose accuracy over time due to load cell issues, our SAW scales should stand the test of time while still offering highly precise and accurate weight readings.
Fast and Accurate
Thanks to our internationally patented weighing technology, our SAW scales can measure items three times quicker, and ten times more accurately than technologies from some of our competitors. Our scales offer a resolution to the thousandth of a pound, as well as capacities that dwarf other precision scales. Starting at 10 lbs., our SAW scales offer capacities all the way up to 1,000 lbs. This combination of resolution and capacity makes our SAW scales a great fit for a wide variety of industrial applications.
Interested in Learning More About Our Portable Scales?
If you're looking to learn more about our SAW scales and their portability, our scale experts are standing by waiting for your call. With 30 years of real world experience in the scale industry, there's little that our team can't handle when it comes to a unique industrial weighing application. Give us a call today at 800-645-4301, or through our online contact form on our web site. We look forward to building a long and fruitful working relationship with your company.