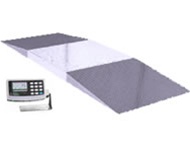 At ArlynScales we sell affordable, very durable, highly accurate floor scales that pallets can easily be rolled onto to get weighed. Pallets are commonly used in many manufacturing, industrial and shipping facilities to transport heavy loads from place to place on the work site. The nature of this type of business means that they must have a convenient way to weigh the heavy products loaded onto a pallet at any time. Since many products are bought, sold and shipped by weight, an accurate floor scale that is well-built and easy to use directly impacts the bottom line of many business concerns. Weight also affects safety. In the shipping industry, the capacity of a land, air or sea container is of high importance to those who must transport goods a far way. Whether traveling via truck, cargo plane, or shipping vessel, the maximum capacity of transport mechanism's load cannot be exceeded for obvious safety reasons. Trade regulations such as tariffs and taxes are also levied by weight, as are projected fuel costs. At ArlynScales, we take pride in designing and manufacturing the scales to the highest quality standards to give you a valuable piece of equipment that will be useful to your business for years down the road. Corrosive liquids such as chlorine, chloride, liquefied carbon dioxide or hydrogen, fluoride, sodium hydroxide, phosphate and caustic liquids are vital to many businesses. Thus, they need to be weighed adequately for sale. However, many floor scales on the market are not truly equipped to handle the abuse that comes with factory floor use. Since they are typically expensive items and because they are integral to the daily operations at most plants and they need to last a long time, you should not invest in one unless you are confident that it will perform for you over the long term. As for your scale, if you buy from ArlynScales, you will have the confidence of knowing that a stainless steel scale platform is naturally more resistant to the effects of spills. It is also easy to clean because it can be simply and conveniently washed down without fear that it will rust easily. If you routinely deal with more caustic substances, we can coat the scale platform with a special corrosive resistant epoxy. This will provide even more protection from chemicals and ensure that your scale lasts as long as you need it to. At ArlynScales, we design and manufacture our scales, so not only are they well-built, there is also no middle man to prevent you from getting them at factory direct prices. We make the load cells our floor scales of stainless steel for maximum durability. You will be hard pressed to find such a rugged material standardly used for this most critical component of a floor scale. However, the advantages are many.
You can roll pallet after pallet onto our floor scale without worrying that it will become damaged.
You can dump a heavy load even one beyond the scale's capacity without worrying that the load sensors that you on depend on for accurate measurements, will become permanently warped and ruined, (thereby necessitating a new scale).
Our floor scale capacities start at 1 ton, but can go up to 20 tons (and beyond in custom applications).
If you handle caustic liquids, you will be able to get a corrosive-resistant epoxy coating on the optional stainless steel platform of your scale for maximum chemical resistance.
Even if you don't get the extra coating, our standard coating for our steel floor scale is zinc rich, providing preferential oxidation translating to years of unaffected use.
Our floor scales are very low, only 2 7/8 inches high for ease of use.
You can get optional ramps for either side of your floor scale, negating the need to ever raise your pallets off the ground.
Your digital display can be made wireless, increasing safety at your plant by being able to read weights without being too near to the load.
Our display has a net/gross function to easily subtract the weight of the pallet from the actual load among many others.
If you regularly use pallets and a floor scales to weigh your products, pay ArlynScales a visit.