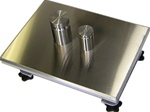 The weighing industry is constantly evolving. New challenges demand new solutions. The advent of the automated weighing system, due to technological breakthroughs, has allowed companies to increase their performance and savings. Changes in scale connectivity options enable companies to analyze weighing data and further drives scale development. Today's customers expect an almost instant return in performance and service. Scale industry companies will only survive if they keep developing and offering new solutions.
Arlyn Scales has led the weighing industry in design, development, and implementation of scale technology for more than thirty years. We're headquartered in Long Island, New York where we manufacture all of our electronic weighing systems and their internal components. We believe in exceeding our customers expectations in technology, quality, and value. That's why our scales have many additional features that only come at additional cost in our competitors scales. We also ship factory direct and pass the savings along to you.
In today's petrochemical, scientific, hazardous waste, and medical industries; there is an urgent and serious need for the most precise scales. Imagine the kind of issues you might encounter if you couldn't weigh the amount of petrochemicals that might go into paint or creating some type of plastic. This would be a waste of time, money, and effort that could cost you your business.
High accuracy applications need the most precise scale. To help combat these difficulties, we created our Ultra Precision line of scales using Surface Acoustic Wave technology.
Arlyn Ultra Precision Scales
For the last sixty years, the cutting edge of weighing industry technology was the strain gauge load cell. These load cells needed to be made with sections that included a thin piece metal to take an accurate reading. However, this increases the risk in shock loading and overloading and damaging the cell. (Dropping a load for a significant height is called shockloading and a load greater than the scale's designed capacity being placed on it is called overloading.) However, Arlyn Scales has incorporated a new technology called Surface Acoustic Wave (SAW) technology into our scales. Using SAW, we've created a superior load cell that goes into our Ultra Precision Scales. These load cells can be made out of a thicker metal, which provides much higher resolution and capacity limits. Unlike strain gage load cells, which measure stress and strain, SAW devices measure displacement. The required amount of displacement for measurement is quite small, which means less stress on the load cell.
Weight and Accuracy
When scales are designed for a higher load capacity, typically they become less accurate, but our scales offer unerring accuracy up to 500 pounds. Arlyn's Large Ultra Precisions scales with Super Sensitivity and SAW technology provide the same accuracy and toughness as our competitors at less than half the cost. And the resolution and accuracy is in the 1:100,000 to 1:200,000 ranges.
Setpoint Controllers
Arlyn is pleased to offer our customers an optional setpoint controller. This allows the user to automate a number of duties within an industrial facility. Using the setpoint controller allows you to set weight values on the scale to trigger an electronic notification that turns other pieces of equipment on or off. This process allows you to handle some of the more mundane tasks within a manufacturing facility automatically, which allows you to devote more of your budgeting man hours to jobs requiring hands on personnel.
Communication Options
Due to the rapid technological advances with interface connectors, we've noticed our customers prefer as much flexibility as possible in this area. This is why we offer a variety of connectivity options, the most popular of which are:
USB Ð Using a standard cable with a USB plug, you should be able to easily connect your laptop or personal computer to the scale. Then you should be able to utilize the free USB Remote Software to control and export weight data. We can also provide customers with a utility to export weight data into Windows programs such as Microsoft Access or Microsoft Excel. This will allow the customer to analyze data in spreadsheets and/or a database.
Ethernet Ð This is an excellent option for remote users who wish to maintain access to their scales. By using your Wi-Fi network or your wired Ethernet network, you will can connect and control your scale. Arlyn's Remote Indicator Software will allow the customer to access and control the scale with ease. You will also have the same ability to analyze and export data as mentioned above. This option allows facility owners to monitor scale activity outside of normal work and facility hours.
Datalogging Ð For those customers who do not need to connect to the scale via a laptop or PC, but still wish to export weight data for analysis on other platforms, Arlyn offers datalogging. Simply connect a USB flash drive to the scale to download your data in a CSV format. Once you have done this, you may import the data on to your PC or laptop and begin data analysis.
When One Size DoesnÕt Fit All
While we strive to meet customer demand, we understand that we cannot meet every unique need with our standard scale models. Here at Arlyn, we look at meeting the customer's needs as an opportunity for further innovation and a challenge to deliver greater customer satisfaction. Our business is not to tell you to make do. Rather, we hope you'll sit down with us, discuss your specific needs and expectations, and then let us work on a custom designed scale that is aligned to your business needs.
Arlyn Scales Ð A Leader in the Weighing Industry and Customer Service
At Arlyn Scales, we have worked hard to be an industry leader for the past thirty years. We produce a quality scale that breaks the mold at a price you can afford. Not only that, but we also pride ourselves on our excellent customer service. We are committed to working to meet your weighing needs. Our dedicated staff will be happy to answer any and all questions or concerns you might have. Fill out our contact form on the Contact Us page of this site or call us at (800) 645-4301 to get in touch today.