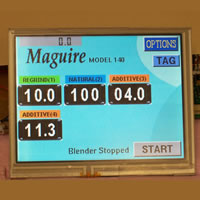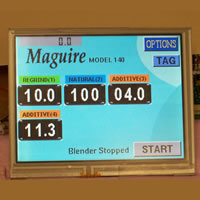 Arlyn Scales is a leader in design and development of technology within the weighing industry, and has been for over 30 years. Headquartered in Long Island, New York, Arlyn Scales designs and manufactures a collection of high quality, long-lasting industrial scales, which includes: floor scales, bench scales, platform scales, drum scales, and more.
Arlyn Scales designs the sub-assemblies used to make our scales. We create the load sensors, microprocessor instrumentation, and computer software. Our technology can operate conveyors, run feeders, batch and mix ingredients, and operate sensors and valves. Custom software applications accompany most of the equipment Arlyn Scales designs; therefore, users can transfer weight information to a local computer and analyze the data on an Excel spreadsheet or Access database.
When purchasing our standard scales, customers have the opportunity to choose between many customizable options. For example, shoppers can select the scale's construction material, platform size, and weight capacity.
For customers with specific needs—customers who cannot find a weighing solution within the collection of standard scales Arlyn Scales displays on our website—our company has the ability to design and build custom-made scales matching particular requirements.
Determine Your Scale Requirements
Industrial scales are used for a variety of purposes in a multitude of industrial settings. They can be found on farms, in school classrooms and laboratories, in manufacturing facilities, and many more locations. There are many styles of scales designed to fulfill specific purposes and there are numerous additional features that can be added to scales in order to improve the organization and efficiency of various industrial processes.
Before you purchase an industrial scale, you should consider all of the possibilities when it comes to accuracy, durability, corrosion resistance, capacity, platform size, and connectivity.
Accuracy
Scale accuracy varies from scale manufacturer to scale manufacturer. Depending on the style of scale, technology used within the scale, and materials used to make the scale, accuracy can be high or not very high. Therefore, before you purchase an industrial scale, decide how important accuracy is to your application and keep it in mind when looking at all of the scale options available.
Durability
Consider the environment your industrial scale will be in. You want the scale you purchase to last as long as possible and the environment in which it operates will affect the longevity of your scale. Depending on the environment, aluminum or stainless steel construction might be a better scale option for you.
Corrosion Resistance
To protect scales from corrosion, Arlyn Scales offers customers 2 options to protect scales from disintegration: Zinc Rich Epoxy for steel construction and Triple Epoxy with Mica Particles for stainless steel construction. If your scale is going to operate in a potentially corrosive environment, consider purchasing a stainless steel constructed scale with corrosion-resistant protection. Taking these defensive measures now will prolong the life of your scale.
Capacity 
Know the maximum anticipated weight of your application. Are you going to frequently weigh objects less than 5-pounds or do you need a scale capable of measuring up to 20,000-pounds? Make sure you purchase a scale that can endure the weight you wish to measure and avoid purchasing a scale with a capacity that is way too high for your needs.
Platform Size
You need a weighing platform large enough to accommodate the items you want to weigh. If the scale platform is too small, the material being measured could tip and the weight reading might not be as accurate as possible.
Connectivity 
Decide if you want connectivity ports installed in your scale. If you think it will be useful to analyze weight readings, consider all of the connectivity options available and decide which selection is best for your purposes.
Arlyn Scales' Standard Scales
On Arlyn Scales' website customers can find our entire collection of standard scales. Our scales have numerous features that can otherwise only be found on competitors' scales costing 3 to 5 times as much. For example, a majority of our scales have stainless steel load cells, high quality digital indicators, and connectivity options. The connectivity options we offer to customers include Ethernet, Wi-Fi, USB, Bluetooth, and RS-232.
With all of the scale styles and options we provide, there is a good chance you will find just what you need.
The Process of Purchasing a Standard Scale from Arlyn Scales
When purchasing a platform scale from Arlyn Scales, customers can choose between aluminum construciton—starting at $699—and stainless steel construction–$999. Buyers also choose the scale's capacity and readability: 500-pound capacity and .1-pound readability, or 1,000-pound capacity and .2-pound readability. Purchasers can decide between the MKE-5 digital indicator, which is a high precision push-button indicator, or the UPSCALE-9, which is a color touch screen indicator.
Arlyn Scales offers a range of standard platform sizes, including:
20" x 27"
22" x 44"
27" x 60"
30" x 30"
36" x 36"
48" x 48"
If your facility is in need of a ramp, we sell ramps that are 20, 30, 36, and 48-inches in height.
Whether you're buying a floor scale, bench scale, or any style of scale from Arlyn Scales, you have the opportunity to select the construction, platform size, capacity, and readability of your scale.
Specialty and Custom Industrial Scale Weighing Solutions
Arlyn Scales can work with you to design and manufacture the exact scale you need. Our company has created a variety of weighing solutions for various unique weighing processes already. For example, Arlyn Scales designed a device to weigh individual animals as a group of them walk towards the feedlot on a farm. The weighing device communicates to the operator if an animal has gained or lost weight since the last time it was weighed. The animal can then be directed towards a specific feed area depending on the result of their weight.
A few more examples of custom-made weighing solutions Arlyn Scales designs and manufactures upon request include:
Laundry Cart Weighing Kits
Manufactured with built-in weight sensors, the scale can determine the amount of laundry in the cart on the platform. Then via Bluetooth the weight readings are sent to an Andoid tablet.
Parts Counting for Inventory Control
With this customized feature, multiple bins on shelves are monitored and the number of parts in inventory is determined. A Wi-Fi connection communicates the data to a company's website. When inventory is low, an email alert is sent to the responsible person.
Batching Mixers
Arlyn Scales' Ultra Precision load cells can be used to mix paints, chemicals, and other ingredients.
With our Set Point Controller, scale operators can set up to 8 target weights at 1 time and use these targets to turn various pieces of equipment on and off. Commonly used for automatic filling, dispensing, or mixing, the Set Point Controller is useful for companies who need to perform batching.
Additional Scale Options
Available for purchase with any of Arlyn Scales' standard or custom-made scales, customers can choose to include various features designed to improve company efficiency and organization. The Time and Date feature, for example, displays time, day of the week, and date on the scale. The clock is set through the digital indicator's menu system and can be in 12 or 24-hour format.
Customers can choose to purchase an extra battery pack, which is an internal 6-cell, rechargeable NiMH battery pack. With one of these, a scale can operate for 20 continuous hours.
Datalogging is also an additional scale option Arlyn Scales provides customers. This option enables a scale to record weight in addition to time, data group, and item information. The information is saved on a USB drive, which is removed and can be read on a personal computer in Microsoft Excel or Access.
Make Your Custom Scale Today With Arlyn Scales 
Visit Arlyn Scales' website today to view all of our standard scales and additional options offered. If you don't find exactly what you're looking for, reach out to our knowledgeable staff today. Our team would be happy to learn more about your specific weighing needs and together we can determine the best solution for you. Call us today at 800-645-4301 or fill out our online contact form.