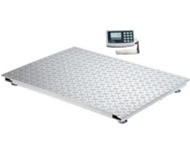 When it comes to scales built specifically to handle the corrosive nature of liquid gases, you need look no further. Arlyn Scales has been manufacturing scales and subassemblies for over thirty years in their New York based factories. Geared for industries that require specifically detailed scales, their weighing equipment is guaranteed for reliability, precision and accuracy.
Because we are a factory direct manufacturer, we can maintain the kind of quality control that is fast becoming a rarity. We have made a commitment to providing the best quality scales and commit to top quality in every aspect of the manufacturing process.
What It Takes
It is a scale's components that determine its ability to deliver accurate results. Sleek designs are a plus, but if the load cells are of an inferior material, or are not selected properly nor placed inside of the scale correctly, there will be trouble in the not too distant future.
The load cell business is an interesting one and with the competition at an all time high, quality can be dubious. When companies need to readdress their budgets, this item is often the first on the chopping block.
Our engineers know that the true essence of a valuable piece of weighing equipment relies fundamentally on the load cell selection and delicate placement.
Not All Materials Are Alike
There is certainly value in the manufacturing process for aluminum. It is lightweight, easy to tool, and comparatively inexpensive. However, it is not suitable for industries where the weight load is high and the nature of the substances to be weighed is corrosive.
The other option is nickel-plated steel. While this is a viable option, we take it one step further. We provide stainless steel load cells because we want complete dependability. Stainless steel load cells provide ultimate security when it comes to the weighing of corrosive materials. The nature of stainless steel is such that it provides a full temperature range for successful operational ability from fourteen degrees Fahrenheit to one hundred and four degrees Fahrenheit.
Our four compatible and equal performance load cells, placed in machine pocketed housing within the durably constructed stainless steel frame's four corners eliminates the need for a summation board and provides insurance from shock and overload damage.
We continually find that stainless steel is the material that stands up to the test of time when it comes to weighing liquid gas barrels. The platforms used in our Series 3200 Scales are constructed from stainless steel and have a triple layer epoxy coating containing zinc. The use of zinc provides protection against rust. We embed garnet particles in this super protective coating for further insurance against slippage.
Size and Functionality
We offer our Series 3200 Scales in various sizes and capacities. Drawing from industry standards, we offer platform sizes twenty inches by twenty-seven inches, thirty-six inches by thirty-six inches, forty-eight inches by forty-eight inches and sixty inches by sixty inches. Additionally, we offer the following weighing capacities: five hundred, one thousand, five thousand, and ten thousand pound capacities. For the most accurate reading possible, it is important to determine the size and weight capacity of your liquid gas barrels. It is advisable to keep within the weighing functionality and capacity of the scale to get the best performance possible. We also offer custom sizes and capacities upon request.
Super Performance
This dynamic scale provides ease of operation due to its low profile and its accuracy of one-tenth percent push button tare. This allows for procuring the most accurate weight of the liquid gas minus the cylinder's weight. For batching and formulation operations it is imperative to procure the most accurate weight possible each and every time.
Sophisticated Options
Communications technology is key in the manufacturing processes involving liquid gas. Our Series 3200 Scales come with a state of the art digital scale indicator, which is available in a stainless steel model as well. This MKE-5 32 bit RISC programmable, pre-calibrated device is water resistant and shock absorbent with several placement options.
RS-232 and RS-485 are popular protocols available with our scales. Transmitting data and commands bi-directionally from a single computer to the scale allows for remote capability. Within the scale's operational software is the capacity to print customized outputs such as detailed printer labels.
With our RS-485 protocol, you can use the bi-directional interface over the distance of up to four thousand feet. Additionally, this multidrop protocol allows you to tether up to ten scales together to form a network that can be operated from a single computer.
This protocol works in tandem with our Set Point Controller option for batching and formulations operations. Set Point option provides the capacity to set up to eight target weights and to utilize these targets to turn on mixers, feeders, valves and solenoids with the use of solid-state relays. One can input formulas that will control the output lines based on the cylinder's weight with the use of the set up menu. This precise methodology is time saving as formulas can be stored in the indicator's memory for future operations.
For simpler accountability, the Datalogging option allows for weight, time, data and group information to be saved on an SD memory card that can be read on any computer using Microsoft Excel.
With the indicator's seven built in unit conversions such as ounces, grams, pounds, kilograms, etc., this scale has maximum informational capabilities.
Due to our in-house manufacturing, we are able to offer customized scales, with your specific industrial requirements. Adjusting the scale's platform size and weight capacities are just some of the options that we offer. Producing a scale for your particular needs and your budget is our specialty.
Contact Us
To learn more about our platform scales and custom weighing solutions, contact us today! Contact us here or by phone at (800) 645-4301.