If your company weighs liquefied gases or manufactures semiconductor, you probably have needed cylinder scales. You need precision measurements to accomplish both of these tasks. Often, cylinder scales will be used for these industrial purposes. Using a cylinder scale, employees can monitor the amount of gas left in a cylinder. This lets them keep track of when they are supposed to replace or refill the cylinder. In fact, with updates to scale technology, you can even set up a cylinder scale to alert your employees when a given amount of material has dipped too low.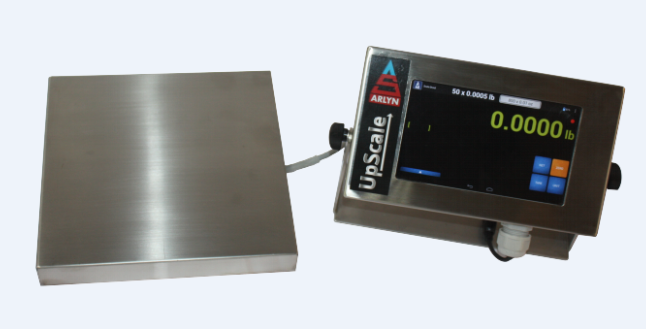 Arlyn Scales specializes in top quality industrial scales that are incredibly durable while being sensitive enough to deliver incredibly accurate measurements. Arlyn accomplishes this with our revolutionary use of Surface Acoustic Wave (SAW) technology. We also believe in designing our scales to fit into any infrastructure you have. You can find Arlyn Scales anywhere from farms to factories. No matter how your factory, production plant or other facility is set up, our scales offer you the connectivity and automation options you need to stay efficient and productive.
Arlyn Scales: Industry Leaders in Manufacturing Cylinder Scales
If you are looking for durable scales that can be prepared to withstand potential accidents involving the extreme pressures and temperatures involved with using liquefied gases, Arlyn scales can help you out. We have been a leader in the industrial scale space for over 30 years. Because we have been playing the game for so long, we have been able to develop a wide range of scales that meet the needs of our growing customer base.
Weighing Materials for Semiconductors with Cylinder Scales from Arlyn
The world today needs semiconductors more than ever before. All modern electronics like laptops, computers, and cell phones depend on silicon wafers. In fact, most automation services depend on silicon as well. Everything digital needs them. However, processing silicon requires liquefied gases, and extreme environments. Durable, accurate cylinder scales can make these things possible while minimizing damage to equipment, and maximizing efficiency and good data storage.
Details About High Accuracy Cylinder Scales from Arlyn
Cylinder scales are used frequently in semiconductor production. The scale lets you monitor the weight of the gases inside the cylinder. This is a more effective method of determining quantities of materials because the pressure will stay at the maximum until just before the tank is empty. Arlyn's cylinder scales are designed with this purpose in mind. The industry standard capacities are 60 pounds and 300 pounds. We construct our scales with a stainless steel load cell in order to make our scales more resilient under heavy loads, or sudden impacts.
Cylinder Scales from Arlyn Feature a Low Profile for Easy Use
Ease of workflow and employee safety should be top priorities whenever you are designing an industrial production process. Cylinder scales from Arlyn offer a low profile. This makes it far easier to load heavy materials onto the scales. When you are working with heavy, pressurized tanks of gas you can help prevent back injury or muscle strains and tears with low platform scales. When you have to weigh dozens of tanks in an hour for eight hours a day, you want the process to be as quick, safe and easy as possible. At 1 ⅜" in height, these low-profile scales are ideal for this task.
All Stainless Steel Construction for Sturdy Cylinder Scales from Arlyn
We construct our scales out of stainless steel. We are able to do so because of SAW technology, which lets us use a different load cell design from strain gage scales. Strain gage scales make their load cells out of aluminum. Aluminum does not spring back from impacts as well as stainless steel. Warps and dents in the aluminum can lead to inaccuracy in weight measurements. Stainless steel is more resilient, and the readouts you get from a SAW scale are more accurate.
Stainless Steel Cylinder Scales are Safer for Industrial Environments
Working with silicon and semiconductors in manufacturing environments means you will have to work with cylinders of gas under high pressure. Whenever you have a high-pressure situation, there is an inherent risk of rupture and combustion. You can protect your factory by using durable, sturdy production equipment such stainless steel cylinder scales from Arlyn. Not only that, you can get a special coating for your scale that will guard against ordinary scrapes and scuffs that are a normal part of placing heavy equipment on scales over and over again.
Great Connectivity Options for Industrial Cylinder Scales
No matter how your industrial environment is set up, you can find connectivity options for Arlyn's cylinder scales that work for you. Whether you need ethernet, WiFi, or USB hookups, we have you covered.
Arlyn Offers American-Made Scales for Greater Coordination and Customization Options
We also choose to base our company in the US for a good reason. Our Long Island, NY location gives us certain advantages over our competitor who chose to move their manufacturing plants overseas. Our US-based factory allows us to maintain tight quality control practices. We also are able to coordinate our sales teams with our manufacturing teams to answer any questions you may have about application, customization, capacity, or any other specifications. Not only that, we have been able to keep our thumb on the pulse of the scale industry and continually release brand new scales that shake up the industry, and improve the industrial weighing process.
Learn More About Getting High Accuracy Cylinder Scales for Your Factory
If you work with semiconductors, high-pressure gases, or liquefied gas, you probably need a cylinder scale to help you get accurate measurements of how much material you have left. For a durable, resilient, and precise cylinder scale, look no further than Arlyn Scales. You can get in touch with Arlyn by calling (516) 593-4465 or you may contact us online. We look forward to learning about your industry, and how we can help you make your process more efficient.