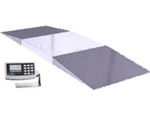 If your daily weighing operations cause your equipment to come into direct contact with corrosive liquids, gases, or solids, you're going to want a scale with superior protection. Corroded equipment causes safety issues and can seriously affect the accuracy of your measurements, which in turn affects your profitability. It also requires repairs and replacements that can cause serious down time and loss of productivity. And if you business relies on accurate measurements, inaccurate measurements caused by corroded equipment can seriously affect your credibility.
But how do you choose the right scale? Do you choose one with steel construction or stainless steel? How can you protect your scale's internal components? What other options do you have to protect your investment?
Arlyn's corrosion resistant platform and floor scales are absolutely the answer to all these questions. Let's explore what you get you decide to purchase directly from the factory.
Steel and Stainless Steel Exteriors
Your first line of defense in the battle against corrosion is the material used to construct the scale. We always recommend our stainless steel models for these applications because they can stand up to the corrosive nature of a variety of chemicals and liquefied gases. However, for less difficult environments, and for those on a tight budget, a steel scale may suffice, but definitely should avoid one from a manufacturer that coats it in a simple enamel paint.
A Special Triple Epoxy
The majority of scale manufacturers coat their corrosion resistant scales with a simple enamel paint. This is a serious mistake. That paint is easily scratched off and chipped. And once the steel beneath is exposed, it's vulnerable to rust and corrosion. Even if the paint is intact on most of the platform, the corrosion can still migrate under the paint to other areas of the scale unseen, which means you can have serious damage going on without even knowing it. Not something you want to find out when the platform fails.
So what does Arlyn Scales do different?
Well, when it comes to our steel models, we apply a zinc-rich epoxy coating that comes standard on all steel models. This prevents scratches and abrasion. But even if it does get scratched, the zinc reacts with the steel causing preferential oxidation. This means the exposed metal won't corrode and that it won't spread to other areas of the scale.
On our stainless steel models, we offer an optional (but recommended) triple epoxy that is extremely corrosion resistant, and that's infused with garnet, glass, and mica particles to help prevent scratching and abrasion to add years of useful life to your scale.
Stainless Steel Load Cells
When it comes to internal components, a lot of manufacturers will import aluminum or plated steel load cells for cost savings. However, this doesn't save you money in the long run, and it leaves the most important component of your scale vulnerable to corrosion from any liquid or gas that gets inside your scale.
Since we're a factory direct operation, we have complete control when it comes to the materials we use. This is why we opt for stainless steel load cells. They're far more durable and accurate than other models. We even coat the electronics in a thin layer of silicone for additional protection.
Explosive Environments
What if the caustic chemicals you use also pose an explosion risk? Then you need extremely specialized equipment that has been tested for compliance with the standards that OSHA lays out in the NEC.
Our ArlynGuard B, C, F, and P scales have one or more components that have been tested and approved to be Intrinsically Safe for use in an impressive range of hazardous locations including:
•    Intrinsically safe for use in Class I, II, III; Division I; Groups A through G
•    Non-incedive for use in Class I; Division II; Groups A through D
•    Suitable for use in Class II; Division II; Groups F & G
•    Suitable for use in Class III; Division II
Each ArlynGuard scale is equipped with one or more of:
•    Model MKE-5-IS(-C) Digital Weight Indicator System
•    Load Cell Models 620-300-IS, 620-100-IS, 620-50-IS, 620-25-IS, 620-10-IS, 520-10000L-IS, 520-5000L-IS, 520-5000IS, 520-2500-IS, 520-1250-IS, 320-500-IS and 320-250-IS
which are FM Approved components as per Approval Standard 3600, 3610, 3611 and 3810.
We can combine the features of our corrosion resistant scales with our explosion proof design to provide you with a safe scale that will last for years to come.
Factory Direct Pricing
Arlyn Scales is located right here in the U.S. Our factory is on Long Island, which means we're able to distribute our products quickly and efficiently. It also means we don't need to use any middlemen to get our products to you, which means there are no dealer markups or extra charges just because your scale changed hands. We keep our costs as low as possible, which means we can offer you really competitive pricing for a much higher quality product.
Custom Solutions
And because you're dealing directly with the manufacturer, you can also customize your scale any way you see fit without playing a game of telephone. We offer custom size platforms with no cost penalty. We can install any communication port you need including common options like Ethernet, Wi-Fi, USB, and a variety of analog ones. We offer complete OEM solutions as well. So whether you need a completely custom scale, weighing component, or accompanying software or instrumentation, we've got you covered.
Are you ready to find out which corrosion resistant scale best meets your needs? Then contact us today! We're here to answer any questions you may have and help guide you to the scale that best meets your needs.
Start a Conversation with Arlyn Scales Today!
Questions · Request a Quote · Support