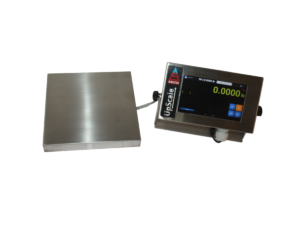 Scales and precise measurements are a key part of the automotive paint industry. Automotive paint is a complex substance with many different components. Precision is especially important in the paint mixing industry because any mistakes wind up being highly visible. You would never want to see two identical cars with supposedly identical paint jobs, but obviously different colors. This will almost inevitably result in complaints and refunds from the auto body, manufacturer, or paint shop you serve. Even worse, you could lose their business permanently. That's why successful paint production plants pay attention to every detail beginning with weight measurements.
Preventing manufacturing errors means implementing rigorous quality assurance practices. After serving numerous industries that use high-precision weight measurements, Arlyn can outfit you with scales that make your production process more precise and efficient. Whether you are measuring amounts of pigments, binders, toners or thinners for automotive paint, Arlyn can find solutions to improve your production process. Our scales use more precise technology, more durable construction materials, and software options that will integrate with your workflow.
The Precision You Need Thanks to SAW Technology
Arlyn's ultra-precision scales offer the resolution you need for any material. Our cutting-edge Surface Acoustic Wave (SAW) technology lets our scales out-perform strain gage or other comparable scales by a remarkable degree. This offers your production process the precision it needs to operate at its best. Not only that, our technology lets us build scales out of more durable and resilient materials than other models. This means our scales are better at withstanding accidentally dropped loads, or sudden impacts. Durable goods make a smart long-term investment for any production process. Most strain gage scales use load cells that are built out of aluminum. Arlyn's stainless steel load cells are made out of a much more resilient material.
Weighing Large Drums of Liquid in Paint Factories
Arlyn's large cylinder scales are designed for weighing heavy drums of liquid. These are common items in paint production plants. Whether you are weighing completed paint or one of the many ingredients for it, this scale is built with a low profile designed to make weighing such cylinders a convenient process. The low profile helps prevent injury to employees because they won't have to lift the drums too high. It also reduces the likelihood that a drum will fall and burst on the hard factory floor.
Safer Production Environments with Explosion Proof Scales
Paint production environments include materials that are flammable, explosive or give off toxic fumes. Abrasive liquids are another factor. Arlyn's inherently safe scales operate while using a low level of electricity, making them a low risk for igniting volatile materials. They are also constructed out of durable materials intended to withstand spills of corrosive liquids, or exposure to toxic fumes. These are all legitimate concerns for automotive paint manufacturers. An explosion-proof scale helps prevent injuries to your employees and damage to your infrastructure.
Our optional corrosion resistant versions minimize corrosion because of its stainless steel construction and a special chemical coating. This coating is a unique three-part epoxy material that prevents scratching and scuffing as well as chemical damage.
Efficient Data Sharing and Storage with Arlyn Scales
Arlyn Scales offers weighing tools that have integrated into a diverse range of industrial environments from farms to factories. One of the reasons we are able to provide smooth installation with your existing infrastructure is that our scales are equipped to transmit data in a variety of ways. You can share and store your data via Ethernet cables, WiFi, USB hookups, and much more.
You can pipe your data directly into your spreadsheets for superior organization and monitoring. Part of quality assurance for any industry involves keeping careful manufacturing records. However, practically speaking, this often means hours of data entry. Arlyn's data storage options can help you create a quick and effective process for transmitting and keeping the measurements you need.
You can log data using the USB memory stick, or quickly produce hard copies of any information you need with hookups to label and thermal printers. All of these come with time and date trackers as well, which is often a key part of tracking production processes. Using WiFi to transmit your data can cut down on the number of wires you have on your factory floor. This can make safer paths for foot traffic. It also reduces inconveniences for rolling carts, dollies, golf carts, small machines, or anything other wheeled equipment your plant may have.
Automation for Greater Paint Production Precision
Arlyn Scales can be implemented with automated dispensary systems to help improve your production process. You can become more efficient with both your time and the people you staff and hire when you automate dispensary work. Arlyn offers options that are sophisticated enough to account for viscosity and flow rate, which are both important factors in automotive paint production.
Not only that, automated factory features create new opportunities for opening multiple production locations. If your production process is going through growth, and you are looking for cost-effective ways to expand, automation may be the answer. All automation features can be fully customized to the unique needs of your production process.
How to Outfit Your Production Plant with Arlyn Scales
If you have any more questions about the materials we use to construct our scales, the chemical resistant coating, or the precision of SAW technology, we would be happy to hear from you. If you want to learn more about data storage, sharing or automation options for your materials, we are here to help. Call Arlyn Scales at 800-645-4301 or contact us online for more information. We are passionate about problem-solving when it comes to industrial weight measurements. We want to learn everything we can about your production process in order to recommend the best solutions. Our in-house manufacturing process makes us great at answering and delivering your customization requirements. We look forward to hearing from you!