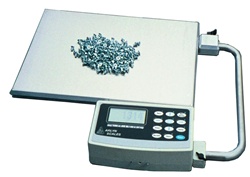 There are wide ranges of counting scales and you've probably come across many of them. The scales that you've come across have perhaps been average, lacked the specifications you desire or just haven't had what it would take to fit your need. The great news here is that though you can stop your search because we're sure you've found the best counting scale for paper right here at Arlyn Scales. If you are looking for value in a scale that is built to last then you've certainly found yourself in the right place. These scales are featured with many extras that can be found in competing scales that are almost three to five times Arlyn Scales prices. The state-of-the-art scales offered by Arlyn Scales offer precision counting ability designed to save you time. These scales come equipped with Quick Count mode for industrial use with lets you count parts without confusing menu functions and allows the ability to store the piece weight of up to 100 different items. This feature allows you to by-pass the sampling process. The Counting Scale with Quick Count Mode is standard with multiple unit choices including lb, oz, kg, troy, etc and mode indicators that make it easy to get the results you need.
If extreme accuracy is of great importance to you, you'll be happy to know that this economic part counting scale features precision counting ability. The internal resolution of the scale is 1 part in 500,000 for the assurance of extremely accurate results. Carefully chose the model most suited for your need as some models (such as the 820T, the SAW-L and the D-820L) can count parts as light as .0005lb which may be perfect for the weighing of paper. If you are looking for a scale that can detect weight even lighter you may want to ask about Arlyn Scales High Resolution Scale that utilizes Surface Acoustic Wave technology, optimized for better performance.
All of the Counting Scales with Quick Count Mode for Industrial Use are extremely durable and are equipped with a stainless steel platform with rugged aluminum understructure. They also have overload stops and molded display enclosure with rubber gaskets for water resistance and increased protection. There is a low profile platform of about 1 for easy loading and automatic calibration so there is no set up or dealer service required.
Be sure to invest in a paper counting scale that is durable and portable. This way your scale can conveniently be wherever you are. Also, you want to ensure that your paper counting scale has good repeatability so that you may avoid inaccurate data that could result in issues with pricing for rendered services. Fast stabilization time is also something to look for as it is more efficient and causes for less weighing delays.
If these scales seem of interest to you but your weighing needs call for more specific features, you'll be happy to know that Arlyn Scales customizes. There is no paper weighing need that can't be met.