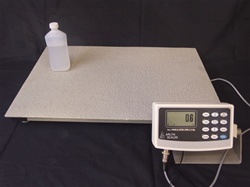 If your daily operations require constant contact with corrosive materials, you likely have a multitude of safeguards in place to protect the health and safety of your employees. But have you considered the effects these materials have on your weighing equipment?
Once a scale is exposed to corrosive elements, there's generally very little you can do to repair the damage. Measurements will often be inaccurate if the scale operates at all.
To prevent this kind of damage and downtime in the future, you'll need to choose more rugged scales that have been designed to resist these corrosive agents.
Is Your Scale Really Protected From Corrosion?
While a steel or stainless steel platform may be adequate for mildly corrosive environments, harsher environments require some additional protection, generally in the form of a corrosion resistant coating that's applied to the scale platform.
The primary purpose of the coating is always corrosion resistance, but there are other variables that make certain coatings preferable over others. For instance, the protective material must be able to bind tightly to the platform and resist the wear and tear of loads scraping against it.
And while the vast majority of scale manufacturers advertise additional corrosion-resistant protection on their scales, that's often not what you're really getting. It's generally just a simple enamel-based paint coating, which can be problematic for a few different reasons:
1.    It's fairly easy to scratch and will eventually flake away with repeated use.
2.    Once the coating is gone, the scale platform becomes exposed and just as vulnerable as if the coating was never there at all.
3.    Sometimes severe damage is hidden. Even if a damaged area doesn't look corroded, it's possible for the corrosive material to migrate beneath the coating and cause damage to covered areas or internal components. You could have a serious problem and not even know it.
Arlyn Scales' Epoxy Coatings
We use one of two specially-formulated epoxy coatings that provide a double layer of protection from corrosive elements and a sound platform for weighing any size load. For stainless steel scales, we use a polyamine epoxy. The advantages of our polyamine epoxy are many:
•    Excellent alkali and water resistance
•    Terrific acid resistance
•    Exceptional solvent resistance
•    Hard, abrasion resistant surface
•    Excellent corrosion resistance
•    Chemical and moisture barrier
Our polyamine epoxy coatings are resistant to even the most extreme caustics, organic and inorganic acids. They will protect the scale from most solvents as well as petrochemicals, alcohol, water and brine.
While many other coatings are affected by sunlight that strips the coating of its protective properties, our specially formulated epoxies are not as severely affected — even after years of exposure. Some discoloration of the surface and loss of surface gloss may occur, as well as some chalking or powdering of the surface, but the scale will ultimately remain protected, durable and provide years of trouble-free service.
On steel scales we use a galvanize type three part epoxy. The first coating is a zinc-rich epoxy that comes standard with our steel model platform and floor scales. Its sole purpose is to protect the scale from corrosion and abrasion.
The infusion of zinc particles is an additional protection in case the platform material ever does become exposed. If this happens, the zinc in the epoxy will react with the steel surface in a process called preferential oxidation, which protects the exposed steel and prevents caustic agents from migrating to other areas of the scale.
Additional Corrosion Resistant Features
In addition to our polyamine epoxy coatings and steel / stainless steel exteriors, we take additional precautions to protect our scales from corrosion.
Unlike other manufacturers who import aluminum or plated steel load cells to save on cost, we machine our own load cells using a special heat-treated stainless steel alloy. For especially corrosive environments, we apply an extremely thin silicon layer to the load cell for additional protection from leaks and fumes.
Not only does this protect the load cell from corrosion, it also makes the scale inherently more accurate and creates the lowest scale profile in the industry. When a load is easy to move on the platform (as it is with a low profile), the possibility of scratching and abrasion diminishes.
Explosion Proof Models
If the caustic chemicals you use also pose an explosion risk, we even manufacture a line of explosion proof scales that have been tested for compliance with OSHA standards.
These scales are specified as Intrinsically Safe for use in an impressive range of classified locations and can be used in Class I, II and III environments for both Divisions and all groups from A to G.
We can combine the features of our corrosion resistant scales with our explosion proof design to provide you with an inherently safe scale that will last for years.
Factory Direct Pricing
Arlyn Scales is located right here in the US. All scales and weighing components are manufactured in our Long Island factory, which allows us to ship our products quickly, efficiently and for less. We don't use any middlemen to get our products to you, which means you don't pay for any dealer markups or field extra charges simply because the product switched hands. You ultimately get a much higher quality product at a competitive price.
Working with the manufacturer has other benefits aside from just lower prices. You also have access to the team that manufactures your scale. This means you can speak with someone who knows exactly what you're talking about and can help you troubleshoot any difficulties you experience. We even offer custom design and fabrication services for companies that need a weighing solution unique to their business.
Don't waste time with dealers and middlemen trying to get the scale you want. Contact Arlyn Scales and we'll make sure you get exactly what you need for less.