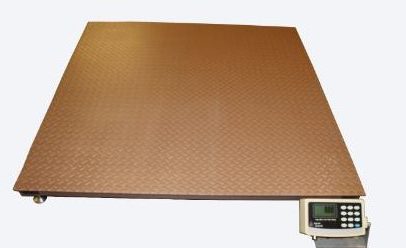 Palletized shipping has radically altered the way that products are moved and stored. Warehouses of all sizes now need industrial pallet scales because even those who weren't working with pallets in the past have now found themselves receiving shipments in this way. However, there are a few things to keep in mind before investing in a new piece of equipment.
Although warehousing facilities are designed to keep goods out of the elements, they remain a relatively harsh environment. Shipments are almost constantly being moved around on forklifts and the daily stress can damage industrial scales of any lesser breed. Keep the following points in mind as you consider what kind of hardware you plan to add to your warehouse.
Features to Look for When Buying Industrial Pallet Scales for Warehouses
Quality of the Load Cells
Regardless of where you plan to use a pallet scale, you need to have load cells that are durable enough to hold up to their exposed conditions. Many in the industry feel that load cells are the most important component to consider when judging an industrial scale. As a result, some manufacturers have decided to use aluminum or plated steel for their strain gauge load cells instead. While this might reduce upfront costs, they're not going to be able to stand up to the kind of abuse found in a warehouse.
All of the industrial models that Arlyn Scales stocks feature strain gauge load cells made from genuine stainless steel. This helps them to last longer, which will reduce costs over the long-term as they'll be more resilient and thus not need to be replaced as often.
Water Resistant Scale Platform
A well-kept warehouse shouldn't have to deal with much in the way of water damage, but a water resistant platform is still a good idea in many situations. For example, forklifts coming from the outside may track water indoors or shipments that have been left out for a while before loading into the warehouse could be dripping. Water resistant platforms are good to consider, as they are more resilient to the kind of damage brought on by coming into contact with pallets full of wet goods.
Lower Profile Scale Platforms
If you're using a platform scale in a warehouse, then you're probably weighing palletized objects that are large and heavy enough to make loading them difficult. Our industrial scales feature a low profile design that measures just 2 7/8 of an inch tall. Optional scale platforms are also offered if necessary. This design feature helps to make sure that the task of regular loading and unloading is never more difficult than it has to be.
Easy Calibration Process
Even the most accurate scale might need to be calibrated at some point in the future. Depending on the type of scale you get, it might need to be recalibrated after it's been moved as well. Vibrations, changes in air temperature and even RF interference from electronic devices can cause inaccurate readings. As a result, you'll want a scale that's easy to calibrate when necessary.
Arlyn Scales makes this process easy. Ensure proper placement of the scale and access calibration mode from the Set-Up menu. You'll then be asked to enter a test weight value. Find a test weight that's within the capacity restraints of the scale you're working with and make sure there's nothing else on the scale platform. When you're done, push the Calibrate button on the scale and place the test weight on the scale platform. The rest of the process is done automatically.
By investing in a scale with such a simple calibration process, you won't have to suffer any additional downtime or employee training if you find that you need to adjust it at any point in the future.
Large LCD Display Resolution
Floor scales equipped with digital LCD displays capable of showing large graphics make weighing objects on pallets much easier. You'll always be able to see the readout clearly because the type size will be bigger on this kind of screen. Graphically presenting data to an operator can help them visualize it as well, which can increase comprehension when checking the weight of an object.
Remember, all Arlyn Scales are offered with a wide variety of standard communications ports so you can transfer data off the screen and onto another device as well. RS-232, Ethernet and USB are all possible options.
Are You Ready to Learn More About our Industrial Pallet Scales for Warehouses?
We invite you to get in touch to learn more about the kinds of industrial weighing solutions we have available. Contact us online to learn more about the industrial pallet scales we have in stock. We can also discuss the possibility of designing a custom-made scale if you have any special concerns.