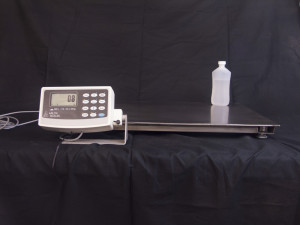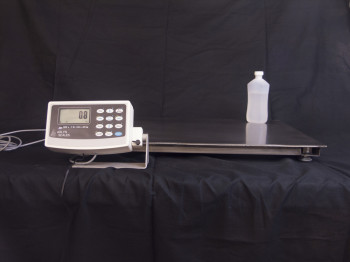 Not all scales are created equal, and this is highlighted when you are choosing a scale for weighing drums or cylinders of corrosive materials. There are many different corrosive chemicals used in industry, with some of the more common being sodium hydroxide, aluminum, sodium hypochlorite and members of the phosphate group of chemicals.
When safely stored in pails, drums or cylinders, these chemicals are safe, but all of these chemicals can lead to problems on a standard scale if they are spilled. This is why Arlyn Scales has developed a series of scales designed to withstand the tough pressure that sometimes accompanies the use of corrosive materials.
We understand that it is not only spills that can damage regular scales, but fumes from corrosive gases can also affect this type of equipment. Gases like ammonia, sulfur dioxide, carbon dioxide, chlorine, hydrogen and chloride are also common in the industry and present their own problems for scales.
Rugged Scales with a Unique Protective Coating
When designing a corrosion-resistant scale, we knew that we needed to start with a tough construction. Arlyn's corrosion resistant scales are built using welded stainless steel for a tough and rugged framework that will stand up to punishing situations.
In order to provide the best chemical resistance, we have developed a unique three-part epoxy coating, which we apply over stainless steel. We mix garnet particles into the epoxy coating in order to provide added protection against abrasion and scratches to the surface.
For added durability and reliability, the load cells of these scales are fabricated from a heat-treated stainless steel alloy that is specially chosen for this design. This combination of materials chosen for rugged and durable construction and a specialized coating to protect against chemical hazards ensures that your scale will provide you with years of trouble-free and reliable service.
Series 320, 5-4410-CR: This scale is our largest corrosion resistant model with a platform size of 60" by 60". An enormous capacity of 10,000 pounds and a resolution of 2 pounds make this a great scale for most heavy applications. As with all Arlyn scales, you can choose between the MKE-5 & UPSCALE-9 digital indicators depending on your usage needs.
Process Integration When You Need It
If you are dealing with corrosive chemicals in your manufacturing process, you could greatly benefit from the automated process of adding these chemicals so that you do not need to involve the intervention of your employees to do the job. This is not only more accurate than manual additions, but it's also safer for your employees.
This is why these scales are available with integrated set points and control relays. In order to control filling operations, the scale can include set points that will control up to eight relays to open and close valves within your operation. These relays can either be AC (117 VAC) or DC (24 VDC) and they're able to control your batching or automatic filling operations triggered by the weight of the material left in your canister or drum.
These scales also include many different communication options to allow for controlling the scale through a computer or to download weight information for processing. Options include Ethernet, WiFi, RS-232, and USB, among others.
Explosion Proof Options for Hazardous Situations
Some operations that include corrosive chemicals are also considered hazardous due to the potential for explosions. For these applications, Arlyn Scales has designed scales that are intrinsically safe for many hazardous locations. These hazardous situations include Class I, II, III, Division 1, Groups A, B, C, D, E, F & G and Class I, Zone 0, AEx ia IIC (T3 Ta=60C). Scales are also suitable for use in Class II, Division 2, Groups F & G, Class II, Division 2 indoor hazardous (classified) locations.
Even with these hazard ratings, explosion-proof scales are available with sensitivities as high as 0.02 pounds with an internal resolution of 1 part of 500,000. In addition to these safety features, the scale has no moving parts and is low profile, in order to allow easy loading and unloading. The scale controls are easy to use and include an automatic keyboard tare (with more than 100 memory locations,) multiple unit conversions (kg, oz, lb, troy, etc) and net/gross display modes.
ArlynGuard C, C 40: With a platform size of a 9.25" by 9.25" standard (also available in 14" by 14"), this is a rugged cylinder scale for heavy usage. It boasts a 400-pound capacity with a resolution of 0.1 pounds on the unit. This model is ideal for use with the set point controller to monitor and control additions to your process from a cylinder.
Along with the cylinder scale, Hazardous Environment Scales are also available as platform scales with platform sizes up to 36" by 36" and capacities of 1,000 pounds and Floor scales with platform sizes up to 6′ by 8′ and capacities up to 20,000 pounds.
The Best Designs for Corrosion-Resistant Scales
Along with corrosion resistant scales, Arlyn Scales provides many different scales for industrial, veterinary & unique customer uses. Arlyn Scales has been a scale manufacturer leading in the design and development of technology for the weighing industry for over 30 years.
Along with our superior design ability, we also save you money by shipping products factory direct so that we can eliminate price markups from dealers. When you are dealing with Arlyn Scales, you are directly dealing with the best in the business.
If you are ready to find the right scale to perform your unique task, give us a call and talk to one of our dedicated service team members. If you are local to Long Island, NY call us at 516-593-4465. National customers can call us toll free at 1-800-645-4301.
We can also be contacted on our website. One of our team members will get back to you as soon as possible to answer all your questions. We are ready to serve you with the knowledge and expertise you need in order to choose the right scale for your task at hand.