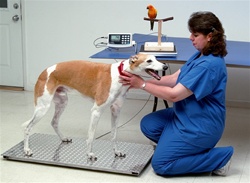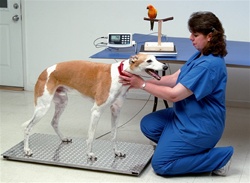 Dogs, like other animals, present very specific challenges when you are trying to record an accurate weight. You might need a scale for a kennel, a veterinary office or a farm, but you will always have the same challenges when weighing canines. The challenges are basically twofold: dogs don't like to stay still to be weighed and sometimes, they will make your scale prone to getting wet, especially when they are afraid.
Because of these challenges, you need a scale that is designed for rough use without losing accuracy or precision. Additionally, you will need a scale that is designed for protection against liquids, since a standard scale can easily be damaged when it comes into contact with liquids.
You will also need technology that can give you an accurate weight in spite of the animals' insistence that they be allowed to move. The veterinary and animal scales from Arlyn Scales meet all of these requirements, and they can easily be transported, as well.
Arlyn Veterinary Scales: Best Value for the Money
If you have ever been in the market for a veterinary scale, you will quickly find that many are made with lower cost materials like sheet metal, in order to keep the price low. However, a low price does not always offer the best value when you are looking for an accurate tool to improve your business.
To find a scale that will last for many years, even in taxing environments, turn to a manufacturer who designs scales to meet the needs of the most punishing industrial conditions. They should be able to use this knowledge to develop an exceptional veterinary scale.
Arlyn Scales builds their veterinary scales using load cells made from a special stainless steel alloy and a fully welded metal frame that is corrosion resistant, therefore, creating the most robust and rugged scale on the market. We are so convinced that our 620 Vet Platform Scales will perform without a problem that we have extended our original warranty period to three years for these scales.
 620 Vet Platform Scales: The Arlyn Scales 320-Vet series of scales is built to last. Three models feature capacities of 500 pounds and resolutions of 0.1 pound. Their platform sizes are of 20" by 27",  22" by 44" and 27" by 60". Three smaller scales with platforms of 12" by 16" and capacities of 50 pounds, 25 pounds and 10 pounds, respectively, are also available. These smaller scales have considerably better resolution than the 500-pound scales. All veterinary scales manufactured by Arlyn Scales have operating temperature ranges of 14°F to 104°F and can provide unit conversions of many different measurements, including pounds, grams, ounces, kilograms, and more. Scales also include a 32-bit micro controller, automatic calibration, and a self-test functionality. They come with a standard 1-inch LCD easy-to-read display featuring 1-inch digits and high-resolution graphics. An optional upgrade is the UpScale 7-inch color LCD touchscreen that is fully customizable.
Why the 320-Vet Scale Is Perfect for Animal Weighing
The first benefit of the 320-Vet scales is its low weight and portability. Even with a 500-pound capacity, this scale just weighs 24 pounds. It includes a welded platform, making it extremely easy to move around a farm or office and easy to store when not in use.
For added ruggedness, the scale is made with no moving parts in order to provide the best overload capacity and superior shock load capability available in the industry. The stainless steel alloy load cells are embedded into the welded frame for better durability and resilience.
For the particular challenges of weighing animals, the 320-Vet scales include moisture protection in the form of a rubber gasket that seals the display housing and offers additional protection for the load sensors against contaminants and water.
To solve the problem of animals moving around while being weighed, the Arlyn Scales designers have included a feature called "weight average and hold" that provides an accurate weight even when the animal insists on moving. This functionality takes a number of measurements in succession and performs a series of calculations to find an accurate average weight for the dog.
Upgrades Available for Added Usability
Even the most well designed scale might need some modification to be useful in your unique application.  That's why we've developed a number of features that are commonly used in the industry.
Along with optional displays, there are several options to improve the connectivity between your computer and your scale. The scale can come equipped with an analog output 4, Ethernet TCP/IP or Wi-Fi wireless connectivity to make it possible to transfer weight measurements directly to a computer for recording.
Other options include a label printer and thermal printer as well as data-logging capabilities to make it easy to record weights even when your scale is not connected directly to a computer or network.  With datalogging you can simply plug a USB drive into your scale to record weight data while in the field.
Scales for Weighing Animals—Veterinary or Livestock
No matter what animal you are weighing, from a dog to a cow, you will always find that they can present the added difficulty of moving when you are trying to gather accurate weight measurements. Arlyn Scales has developed our veterinary scales to meet the needs of the growing number of farmers, veterinarians, researchers and other professionals that must consistently weigh different types of animals and livestock.
Arlyn Scales has been a leader in the design, development and manufacturing of technology for the weighing industry for over 30 years.  During this time, we've developed both the knowledge and experience to help our customers find the right scale for any type of task, including weighing fidgety animals.
Our manufacturing facility is located in Long Island, NY, but we have the ability to ship our quality scales to any location. By shipping products factory direct from our manufacturing facility, we can eliminate price markups and delivery delays that can come from sourcing through dealers.  Aside from receiving our products faster, we're also able to offer scales with the latest technology at lower prices due to our factory direct business model.
Call us now if you are looking for platform scales for weighing dogs or other large animals. We can be reached locally by phone at 516-593-4465, and national customers can call us toll free at 1-800-645-4301. We can also be contacted online and one of our dedicated service professionals will answer your questions via email. Regardless of which method you use to reach out to our team, we're confident that we can help you find the scale you need at a price that is well within your budget.