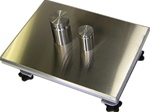 There is a series of designed, developed and manufactured solutions for electronic weighing. These systems were produced to aid a series of industries in their distinctive applications.
When it comes to precision scaling, each industry's needs are specific. Livestock, agricultural, chemical and food processing all have their requirements. Farmers do not count ears of count. The product is scaled. Chemicals need to be formulated under stringent guidelines. Each industry needs to be addressed differently, provided with the proper weighing equipment to fit their unique circumstances.
For the best results, the latest technology and designs should be implemented in any scaling product under consideration, offering superior quality at the utmost value. The scales need to feature the necessary extras and features, making the device user friendly and accurate. Depending on the industry, they should be approved, certified and follow regulations dictated by any and all bodies of authority.
Counting, processing, packaging, formulating and mixing are all tasks that cannot be performed diligently without the proper equipment. Take the time to do some research, finding and utilizing only the best electronic scales will make tasks streamlined and stress free. Whether it's heavy capacity pallet weighing or the most intensive laboratory balance, put a product with a solid reputation on the line, guaranteeing the best results all the time.
Overall, regardless of the industry or the scale needed, options have to be durable, easy to operate, be versatile and offer accurate results. They should have clear, readable screens with the capacity to store needed information. They should have the capability to print out or forward that information easily.
If finding the right electronic scale seems daunting, don't worry. Contacting a reputable vendor can solve issues. They will happily answer any questions and advise on how to locate the exact item that will maximize production and save time.
Scales
Platform Scales
Electronic platform scales are utilized to measure the weight of heavy, large objects. Therefore, sturdiness is a vital factor. One of these scales has to stand up to rough handling over long periods of time. Look for base structures constructed of dependable materials like aluminum and stainless steel. While these scales are practical for almost any industry that tracks weight of large objects, they make excellent solutions for medical scaling, post office weighing and shop counter weighs and scientific, industrial and commercial uses.
Floor Scales
Floor scales are a solid choice for freight companies, warehouses or other industrial business that requires reliable low profile scaling. They are definitely best for pallet weighing, livestock weighing, drum and chemical weighing. They come in a number of sizes and capacities. Keep in mind that tare and counting functions can be extremely helpful so be sure it's included.
Explosive Environment Scales
Never will choosing the right scale be so important. These scales should meet classified hazardous environment regulations. They have to be approved for use in intrinsically risky circumstances and certified for maximized safety. There are a range of classifications designed to meet specific conditions. Class I, II and III, Division 1, Groups A through G. Know exactly what the business requires. The handling of potentially harmless gases, liquids and chemicals each has their standards.
Ultra Precision Scales with Super Sensitivity
These scales promise a better performance in precise scaling. Most offer up to 20x the sensitivity and accuracy of the average electronic scale. To ensure concise information, it should offer varying weight units (g, kg, lb, etc.). These products are excellent for any industry where accurate parts counting are critical, or for batching, formulation and mixing. This could include the farming, food production and scientific communities.
Counting Scales
Counting scales need to return remarkable accuracy. Otherwise youÕre wasting valuable time and losing money. It should have ease of use with menu functions that aren't confusing. At minimum there should be the ability to store information on piece weight that can save you time. They're excellent for pharmaceutical, factory inventory, document distribution, shipping and receiving and wherever accurate counts are a day to day task.
Veterinary Scales
Veterinary scales come light weight with an accurate industrial build. Despite being smaller in size, they should use the same construction utilized in any other heavy duty, low profile industrial scales. They're great for weighing small animals, birds and reptiles. To avoid potential abuse, they should have no moving parts. They should include a non-slip mat for the safety of any animal placed on it. It should also have shock resistance to prevent miscalculation if the animal is moving.
Livestock, Alpaca and Llama Scales
These are specifically engineered for the weighing of larger animals in farming communities, zoos and such. Like the above electronic scales for smaller animals, it should have a Weight and hold feature, allowing accurate reading even if the animal is moving. A very low profile is paramount. Nervous animals won't step onto the scale if it's too high. It would be handy if it were water resistant as well.
Wheelchair Scales
Wheelchair scales need to promise ease of use for both the wheelchair bound and caregivers. It should provide convenience that allows portability. That can include, but not be limited to, fold up handrails and casters. For the utmost technology, look for devices that store scale memory of model wheelchairs. That allows the convenience of gauging patient weight by selecting the wheelchair model that they use.
Drum Scales
The best drum Scales are engineered with a rail-less design. That allows an overhang for larger active weighing. Every model should include a ramp for on- and off-loading. It should have lots of features that make easy operation a snap. These scales are perfect for any industrial situation where drums of varying sizes have to be inventoried. If loading is mostly done by hand, be sure to get a sturdy model that can withstand shock loading.
Bench Scales
Bench scales are perfect for the food industry or any other business that requires portion control of its inventory. It's also excellent for checking the weight on a finished package. It should have clear actuators to make formulation accurate and easy to read, whether by operator or automatically.
Cylinder Scales
For use with cylinders, pails and tanks, these models are engineered for accurate measurement of weight with a capacity of 50Ð300 lbs. Dealing with various sized pails, tanks and cylinders will require an extremely low profile, which cylinder scales will have. Depending on the industry and use, look for cylinder scales that handle the likes of liquid and gas.
Rain Gauge Scales
These special scales are used to record depth of rainfall. They come with drums that are usually about 50 centimeters in height. The scale is set up on the ground with the drum set to avoid splashing of water. The rain water falls into a funnel and runs into the measuring drum. Once the rain has ceased, the counter indicates how much water has fallen. The rain gauge compiles information useful for meteorologists, farmers, gardeners and even campers and hikers.
Crane Scales
Crane scales are attached to overhead cranes or lifts and utilized for material weighing and handling. Often they are used where there's barely any headroom. They are precision scale devices used for load and force measurement. They're a viable solution for any industry that needs weighing but may not have an area for floor scaling.
High Resolution Scales
High resolution scales are optimized for better accuracy and performance. They can provide anywhere between 10x to 20x better results than the typical scale. This is important when mixing chemicals in a laboratory, counting parts in a factory or measuring precise amounts of feed. They may be small in platform size. That will make it difficult to accommodate larger loads.
Corrosion Resistant Scales
These scales must not be able to handle only heavy loads, wear and tear, but potentially harsh loads. A good coating material will be necessary throughout, something that exhibits sturdy resistance to chemicals overall. It should also be regulated to be safe for use in situations where others can be exposed to chemicals, acids and other harmful elements.
Automated Pig Sorter
Automated pig sorters are the best way to determine weight ranges and qualifying more pigs for packer's accurate weight bonuses. They are fundamental in saving on feed costs with its ability to customize rations for weight groups. The best sorters will be in available with a number of sorting modes. They provide cost efficiency, reduction in injury and ease of recording data.
Arlyn Scales
We have used thirty years of experience and applied it to every conceivable industrial scaling solution out there. We keep track of the latest advances in the technology and improve upon them in our own devices, all the while never forgetting the basic principles of scaling: accuracy, platform capacity, sensitivity and durability.
We can match the best scaling product to any situation at the best pricing. Contact us today and let our engineers demonstrate how to maximize scaling performance and save any business money and production time.