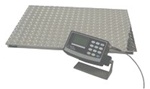 Arlyn Scales designs and manufactures scales that may be used in all weather. Each component of an Arlyn Industrial scale utilizes the highest quality workmanship, engineering and design. Each component is engineered to integrate seamlessly into the scale unit because each piece is designed for the perfect fit.
Arlyn Industrial Scales
Each component of our weather resistant industrial scales are resistant to moisture and high or low temperatures. Weighing platforms are weather and water resistant and the touchscreen digital control box is entirely encased in plastic to protect the electronic components from moisture and extreme temperatures. Arlyn also designs and manufactures industrial scales that will withstand corrosive environments such as wastewater treatment facilities. These scales are built not only to withstand water and temperatures, but will withstand harsh, corrosive chemicals, as well.
Industrial scales are utilized for several applications including weighing drums and containers to standardize their content weight. Industrial scales are also used for weighing pallets of stock and various large item loads. Industrial scales are also used at facilities that operate using weight, such as recycling facilities. Many industrial scale applications require that the scales are durable and hold up under all weather conditions. Some applications, such as scales for meat packing plants, need to maintain the utmost accuracy when in subzero temperatures.
Our Animal Scales
Our animal scales are also constructed to be water and weather resistant and will retain accuracy under field conditions. Llama and Alpaca scales are often utilized in the elements so your scale needs to be protected from moisture and temperatures. Our Llama and Alpaca scales have low profile platforms that are water resistant and comfortable for the animal. We also design and manufacture veterinary scales of all sizes. Livestock and veterinary scales must resist moisture and be durable enough for field use. We have a reputation for building the most durable and long-lasting scales on the market today.
Our industrial and animal scale platforms are constructed with rust resistant aluminum. The load cells are made from heavy gauge stainless steel. Most of the competitionÕs scale platforms are constructed of stainless steel sheets. These sheets make the units heavier to move and transport than lighter weight aluminum platforms. Arlyn scales all ship with the following features:
Limited Warranty on Parts and Labor
No Moving Parts
Sealed Load Cells and Display Housing to Resist Moisture
Large Numeral Display
Accuracy
With any of our scale units, you receive a guarantee of quality and the knowledge that your scale unit is well constructed and made in the USA. Compare our scales to the products distributed by our competitors. We offer cost effective solutions for any scale application. We will also build customized scales to accommodate any industry or work specific needs.
Digital Scale Indicators
Each of our weather resistant scale units ship with the digital scale indicator fully enclosed in a sealed housing compartment to protect the display from the elements and from shocks. The digital display is a high-resolution indicator that may be configured to show several readings in various units of measure, such as tare information and weight. Setting up the unit using the digital indicator is incredibly simple.
Additional software may be installed to supplement the functionality of the digital indicator. With the Windows-based application, data may be exported into spreadsheets or other data management applications. The indicator includes a simple, menu-driven interface that is easy to learn and use. .
The digital indicator may be mounted on a wall or on the top of a bench. The digital indicator displays one-inch high numerals that are easy to see from a distance. The indicator also enables automatic calibration. Arlyn Scales is known for having the easiest to use and most versatile digital indicator available with any scale unit.
Arlyn Load Cells
We design and manufacture the most durable load cells for our all weather scales, as well as all other types of scales. Made of heavy gauge, high quality stainless steel, our load cells are rugged, durable and the most accurate available.
Arlyn Scale Options
We offer several options available on all weather and other scales. Ethernet is available to connect the scale unit to a Local Area Network (LAN). Control and monitor the scale unit from any computer connected to the LAN running our Remote Indicator application. All of our scales can also have a USB port installed, if needed with the USB Remote software provided free of charge from us. Data may be saved directly to a USB stick and imported into spreadsheets and other applications.
Data logging is also available. For those who need weight data preserved with time and date stamps, this option will save the data to an SD card inserted into the digital display. An optional battery pack may be purchased to provide the digital display with portability for up to 20 hours per charge.
Set Point Option
The set point option enables the user to set up to eight target weights and use these values to enable or disable other equipment. Mixers, feeders and many other devices may be controlled using set points. Automated mixing and filling systems utilize this type of technology for weighing and mixing ingredients.
Arlyn Scales for Any Application
We design and manufacture other types of scales in addition to weather resistant industrial and animal scales. We distribute:
Ultra Precision Scales using Surface Acoustic Wave Technology
Counting Scales
Explosive Environment Scales
Wheel Chair Scales
Rain Gauge Scales
Crane Scales and Hanging Scales
Cylinder Scales
Drum Scales
High Resolution Scales
If you need a scale unit for weighing small items, we manufacture the ultra precision and counting scales. For applications that require weighing individuals confined to wheelchairs, we manufacture the new wheel chair scale unit. No matter your needs or specifications, we design and manufacture the perfect scale for the job. We will also customize a scale for any industrial or commercial application. Call or contact us by our online forum for more information. Remember that when you select Arlyn Scale, you select the highest quality; most rugged and durable scales available.