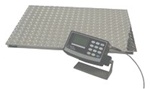 Scales for measuring metal can prove invaluable to their owners. One man's trash is another man's treasure and even a source of income. When you can weigh the amount of metal, then you can decide its worth and what to sell to interested buyers.
There are many people who make a living by buying scrap metal that other people consider junk. Such junk can include condemned cars, household electronics, damaged apparel, and old equipment. Scrap metal is sold by weight, and accuracy is important. Therefore, special types of metal scales are needed to get an accurate weight on scrap metal.
Heavy-Duty Metal Scales
Metal scales must be durable and hold a large amount of weight. These scales must also be affordable so that the businesses that need them are able to procure them. If the cost of equipment is too high, then it eats into the profits. You want to find enough scraps to earn a relatively high rate of return to your investment in equipment,
Most of the time, scrap metal is weighed inside the vehicle which brings it to the scales. The metal scales are actually a very large platform scale. The vehicle containing the scrap metal drives onto the platform scale.
One weight measurement is taken of the vehicle with the weight of the scrap metal also included. Once the metal is unloaded, another measurement is taken. This measurement will include only the weight of the emptied vehicle. To get an accurate measurement of the weight of the metal, the weight of the empty vehicle is subtracted from the weight of the combined vehicle and metal.
The metal scale must be able to support a lot of weight because the vehicle must actually drive onto the platform scale. The metal itself may also contain a large amount of weight. However, whatever the metal weighs is combined with the weight of the truck. This results in an even larger amount of weight.
If the metal scales are not designed from durable and high-quality materials, the scale may degrade over time. This creates more costs for the operators. Therefore, it is important to find scales that are able to support the large amounts of weights that will be required.
Because metal scales are such large versions of platform scales, they can easily become so expensive that the average business is unable to afford them. Therefore, metal scale creators must ensure that costs are kept to a minimum. Arlyn Scales manufactures the highest quality scales at the lowest possible price. Even if a scale is the best scale that was ever made, it is still worthless if no business can afford to buy it.
The Best Scrap Metal To Sell
Different types of metal are worth different amounts. However, the same scale can be used for all. Whether you are heading to the dump or wanting to sell any scraps laying around your business facilities, it's good to know which types are more valuable and have a harder harvesting process.
Gold is the most well-known type of valuable metal to find, and one of the rarest. Some computer parts and electronics would use gold, as would certain antiques and jewelry pieces. While you won't necessarily find expensive jewelry in a garbage dump, you may find old electronics that have enough gold to extract and resell.
Silver scraps work as well as a metal to resell, whether in jewelry or cutlery. Scrap metal buyers will offer more for it than jewelers will, so you can earn a relatively higher return on your finds. With that said, don't forget common sense on this one; if a silver piece looks ancient, then try not to melt down the historic value. There have been cases where Roman silver plates earned more from various governments than they would have as scrap pieces, so check with local ordinances about that.
Another valuable option is pure, nonferrous lead. The substance is fairly toxic and is hard to find these days due to the health risks. As a result, it is quite valuable to interested buyers. Lead can also prove heavy, so you want equipment that can move it without endangering any human operators or truck drivers.
If you prefer to go with a safer or more common metal, then another option for scavenging is stainless steel. While it is fairly common, various alloys increase the price. Keep your eyes peeled for steel that contains chromium, chrome, iron, or nickel molybdenum. Levels of nickel within the alloy will determine the grade and value of the steel in question. Removing oil and grease will also increase the value.
Another good common metal is copper. It's often used for wiring electronics and can be found in most devices. In addition to finding it within junked machines and such in a garbage dump, you can also find them when one of your appliances decides to stop working or when replacing a pipe.
Brass is quite similar in that you can find it everywhere, due to its lightweight qualities and flexible design. You can repurpose it from trophies, pneumatic parts, and antique ornaments. Brass is also commonly found in industrial parks,
Find Your Stainless Steel Scales For Scrap Metal At Arlyn Scales
Whether it may be for weighing scrap metal or other purposes, if your business is in need of metal scales, allow us to help you. Arlyn Scales provides high-quality products at an affordable price. The scales that are found on our website are designed to withstand the pressures of the large amounts of weight that are required in weighing scrap metal.
Let us help you to find the metal scales to suit your purposes; reach out to us to contact one of our representatives. No matter what your reason for needing these types of scales, we will be able to help you find the perfect scale. Choose us today! You'll be glad you did.