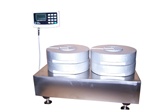 Arlyn Scales provides US-made scales that are very appropriate for the shipping industry. The company's platform and floor scale lines have capacities of 500 and 1,000 pounds (Series 3200 platform scales), and 2.5k-, 5k-, 10k-, and 20k-pounds capacities (Series 5200 floor scales). All the scales use heat-treated stainless steel load cells that produce accurate results, and these results can be fed into computers through wired or wireless connections. The scales can also be incorporated smoothly into automated shipping hubs, and if your needs go beyond the standard models, you can order custom-made scales.
All components of Arlyn Scales are manufactured in New York. We are a factory-direct operation that saves you money by eliminating distributorship overhead, and we stand behind our products with industrial warranties. Even the prices of our custom scales will pleasantly surprise you.
Load Cell Durability
The load cells in our standard scale models incorporate strain gauge technology that measures weight via electrical resistance. As weight is applied to the scale, four matched load cells that are located at each corner of the scale pan experience very slight amount of bending, similar to how a diving board bends when someone stands on it. This distortion changes the resistance characteristics of the load cell, and the analog signal is sent from the Wheatstone bridge configuration. An AD converter then changes the analog signals to digital. Load cell durability comes from the stainless steel construction, the placement of the load cells, the mounting of the load cells in machined chambers, and the sealing of load cells with silicone.
Stainless steel load cells can take more abuse from forklifts or pallet jacks than those made of steel or aluminum. Some other large scale manufacturers use only one load cell in the center of the scale pan, and this allows lateral forces to distort weight results. The lateral forces also contribute to wearing out the load cell. By mounting the load cells in machined chambers, the frame of the scale protects them. This design also lowers the scale profile to less than three inches. The silicone seal prevents water from seeping into the load cells, which would damage the electrical components.
The load cells are designed to handle overloading and shocks that would damage other makes of scales. The scales are made to give unfaltering service for many years and in harsh conditions.
Scale Weight Display and Control
Each of our products comes with an LCD digital indicator that features one-inch high graphics that are easy to read, even from a distance. This allows operators to be farther away from the scales while still being able to read the weight information. Control of the scales is done through a menu-driven controller that is designed to be very intuitive.
Scale Automation
Major shipping hubs today require high levels of automation, and Arlyn Scales products allow for this by incorporating computer connections, such as RS-232, RS-485, USB, and Ethernet, either wired or wireless. Weight data is delivered to connected computers as CSV files, which are easily read and processed by most spreadsheets and databases. Arlyn Scales provides free software that brings the data into Excel spreadsheets and Access databases, so this could be a good starting point for developing a new automated shipping system.
Smaller shipping companies will find immediate benefits from Arlyn Scales products. The free software will start the process of incorporating business computer systems with shipping, thereby shaving valuable time and effort off the daily shipping routines. Automation will lower the chances of human error, while the low profiles of the scales will help with loading heavy weights. The scales can be ordered with ramps to further simplify the loading task.
Scale Materials
Arlyn Scales products are manufactured with three kinds of frame and pan materials. Aluminum is good for transportability and for storage of the scales on their sides when not being used. Steel is good for durability, and stainless steel scales are the most durable. All scales are welded together rather than bolted, which eliminates the chances of fasteners loosening or breaking.
Custom Scales
If none of the standard Arlyn Scales models meet your exact needs, we can work with you to design a custom solution. Established shipping hubs will likely find this service invaluable for fitting custom scales into existing package- or freight-handling systems.
Networked Scales
The RS-485 connection option allows up to 10 scales to be interconnected. Very heavy freight shippers may find this option of value, but the applications that can be created from networked scales are not limited to heavy freight. Any number of shipping situations can benefit from this technology, such as a shipment consisting of many parts that need to be sent all at once.
Weight Units
Arlyn Scales products support up to 15 different weight units, for example pounds and kilograms. Tare weights can be specified for determining the amount of product in a container. Additionally, weight units can be transformed to volume units when the liquid product's specific gravity is added to the scale's onboard intelligence.
Arlyn Scales is Here to Help
To learn more about our scales or for guidance to the option that best suits your needs, contact us today. We can be reached by phone at (800) 645-4301 or through the form on our Contact Us page. Whether you simply want to ask a few questions, are interested in making a purchase, or want to discuss the specs for a custom project, our friendly representatives are standing by to assist you.