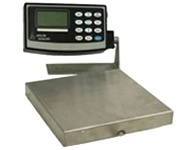 Low profile weigh scales are useful for a variety of applications because of their adaptable and durable designs. You can frequently see these scales on farms and in factories, laboratories, government installations or even veterinary offices.
In today's industrialized world, scales are essential for many types of activity from farming to manufacturing, and research and development. Low profile scales have load cells that are low or even with the floor or ground making them easier to use for many applications.
For example, a low profile floor or platform scale is great for use on the farm or in a veterinary office. Because the platform is near the surface of the floor or ground, it is easy for animals to step on to them for weighing. Additionally, the low height makes it less dangerous and stressful for the animal during the weighing process.
The low profile of these scales provides an advantage for activities that involve manually loading items. If the scales are too high, then it takes more work to load objects onto them. In some cases, high platforms may require using a mechanical device for loading because of the difficulty involved.
Arlyn Low Profile Scales
Arlyn Scales has a great selection of low profile scales available for industrial, agricultural, medical, scientific and other uses. Arlyn Scales is a nationwide leader in the weighing technology industry with most of its products available for online purchase.
Among some of the low profile scale products that Arlyn offers are platform scales, floor scales, veterinary scales, livestock scales and wheel chair scales. The company designs and develops the entire product, including all sub-assemblies, in the United States.
Livestock and Veterinary Scales
Arlyn offers the Series 320A low profiles scales for use in weighing livestock, alpacas, llamas and other animals. The scales have a rugged design perfect for use outdoors and in all types of weather.
The stainless steel load cells of the Series 320A sit embedded into an aluminum frame with no moving parts. The scales are durable and capable of operating in temperatures ranging from 14¡F to 104¡F. The water resistant electronics feature a 32-bit microprocessor and one-inch high graphic LCD display with annunciators. The onboard computer is capable of self-testing and automatic calibration.
Series 320A scales have a 500 lb. capacity and 0.1 lb. weighing resolution with the 320-ALP sporting a 22 x 44 platform while the 320-LLA has a 27 x 60 platform.
Floor Scales
A floor scale generally will have three types of load access – pallet jack access, forklift access and flush pit access. Pallet jack access scales can be provided with ramps on the two ends that make it possible to wheel objects onto the scale.
The flush pit access scale sits in a depression in the floor or ground that makes the weighing platform level to the rest of the surface so that it is easy to slide objects onto the platform. The forklift access scale requires lifting objects onto the weighing platform.
Arlyn offers ready-made floor scales with LCD large graphics displays in many size and capacity combinations, although the factory can fabricate floor scales in all other conventional sizes and capacities. The largest ready-made floor scale is the 5-7920 model with a capacity of 20,000 lbs., a five pound weighing resolution and a 7 x 9 x 4 platform.
Wheel Chair Scales
A wheel chair scale allows a person in a wheel chair to access the platform for weighing. The scales should have a low profile with a ramp for easy mounting of the platform. They must also have accuracy, durability and low cost..
Arlyn Scales offers a high quality wheel chair scale with grab bars and casters. Expertly designed and manufactured with precision and care, the Arlyn 320-WC Wheelchair Scale offers the following features:
Grab bar for safety while standing
Entrance and exit ramps with gentle incline for easy access onto the large 30 x 32 weighing platform
800 lb. capacity with 0.2 lb. weighing resolution
High tensile strength stainless steel load cells
Large one-inch high block graphic display
Non-slip rubber mat on platform
Rechargeable battery pack and AC adaptor
Durable, lightweight welded aluminum frame
Motion Compensation that filters out subject motion for accurate weighing
Bluetooth wireless connectivity to transmit data to Electronic Medical Records Systems
Tare memory for storing wheelchair weights
Automatic calibration
Portability: side casters, fold-down posts and lightweight aluminum frame construction
The 320-WC ships factory direct allowing Arlyn Scales to offer the product at prices about 50 percent lower than comparable wheel chair scales. The company also provides low cost UPS shipping to reduce overall customer expense. Unlike some other wheel chair scales that require special truck shipping, the 320-WC features a special design for cheaper standard parcel postage.
Automated Pig Sorter
Another example of an excellent Arlyn low profile scale is the company's innovative automated pig sorter scale. The scale's design allows farmers to reduce time and effort in weighing their pigs saving money and increasing profit in the process.
The pig sorter scales have a special setup that reduces stress on the pig while improving safety. The scale allows the formers to customize feed by weight group to lower waste and feeding costs. The accuracy of the automated pig sorter is the best in the industry and the scale's other features include:
Color touch screen with operational menus
USB memory stick data logging
Internet connectivity
RFID ear tag reader
Multiple painters for sorting level marking
Two to five-way sorting capability
Safe design that prevents accidents
Stainless steel load cells with 500 percent overload capacity
Rugged construction with corrosion resistance
Easy to learn and use with special training mode setup
Easy to maintain and service
Customers Trust Arlyn Scales
With more than 30 years of experience in the weighing industry, Arlyn Scales has a national reputation for designing and manufacturing the highest quality equipment. The company makes all of its products including subassemblies in the United States and it ships the products to the customer straight from the factory.
Because We use its own marketing department to sell the products, the company is able to save on commissions to dealers. These savings allow us to undercut competitors prices by wide margins. The company specializes in producing all the major scale components including the load scale sensors, electronic instrumentation, computer software and the scale hardware.
We back our products with a special three-year parts and labor warranty.
To find out more about our low profile scales, please check checj=k them online. All of our ready-to-ship products are available for online purchase through safe, verified Volusion shopping cart technology. The SSL encrypted transaction forms ensure that all your private information including credit card number is private and secure.
Alternatively, you can call one of our expert representatives to discuss your needs in detail in case you are unsure of exactly what you require. Our toll free telephone number is 800.645.4301 and our scale professionals are available Monday through Friday from 8am to 5pm EST. You can also call us at anytime via our regular business phone number, 516.593.4607. From the website, you can write us using our online contact form.