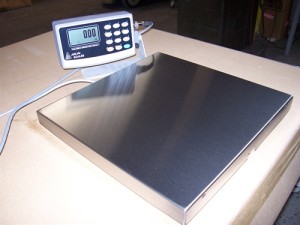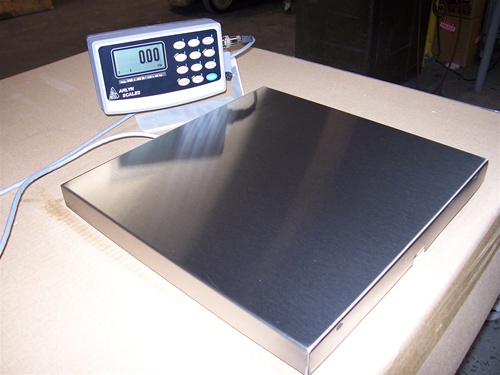 It's not often that a company becomes a market leader in a certain industry due not only to their experience, but also due to their ability to set themselves apart from their competitors with custom-made products. Arlyn Scales has become a market leader in industrial scales serving the manufacturing, pharmaceutical, agricultural and production industries. With over 30 years of experience in the industry, we have developed proprietary technology that is unmatched in the marketplace.
Different Types of Industrial Weighing Solutions
When choosing a scale for your application, it is important to determine the type of material from which your scale will be constructed.  Other companies may offer a less expensive scale but it is often created from inferior materials.  One of the most important parts of a scale is the load sensor.  We manufacture our load sensors in-house using stainless steel to ensure that the scale's inner workings are rugged.
Platform Scales Ð Constructed from either welded Aluminum or welded Stainless Steel
Floor Scales Ð Constructed from Steel or Stainless Steel
Cylinder Scales Ð Stainless steel frame with a stainless steel platform or an aluminum frame with a stainless steel platform
Bench Scales Ð Featuring aluminum frames with stainless steel platforms
Ultra Precision Scales Ð Our flagship product featuring an aluminum frame around a stainless steel platform
Protective Coatings for Industrial Use
Because of the various uses for our scales, it is not enough just to have the best scale on the market.  Early on we realized that we also have to combat corrosion and rust to ensure that our scales will last as long as possible.  With many of our customers using our scales to measure chemicals and other materials, or using them in a moist or wash-down environment, which could cause harm to the scale's platform and/or its interior, we have developed two different of protective coatings to combat corrosion and rust.
Zinc Rich Galvanized Epoxy
This protective coating comes standard on all of our steel floor scales.  Many of our competitors use an inferior enamel or powder coat paint. This is easily scraped off, allowing rust to set in and spread to other areas of the scale including parts of the platform where the paint is still intact, and also the load cells or other interior parts. This spread will ultimately affect the performance of the scale. With our zinc rich epoxy, however, it is much more difficult to scratch the scale's surface.  And even if the scale's surface is scratched, the zinc in the epoxy preferentially oxidizes to prevent rust growth.
Triple Epoxy with Mica Particles
Our triple epoxy coating is our most robust protective coating and is available for an extra cost only on our stainless steel models.  If you opt for this coating, it makes your scale extremely resistant to corrosion.   The coating consists of a polyamine epoxy base that is resistant to many solvents and chemicals, which makes this type of coating a great choice for the pharmaceutical industry as well as other industries where chemicals or corrosive materials are handled on a daily basis.
Custom Weighing Solutions
Arlyn Scales' offers a wide variety of standard scales which covers the majority of our customer's needs.  As our business has grown, we have seen the need for custom scale applications.  We have met this demand with a variety of custom scale implementations based entirely on our clients needs.  We offer simple voltage or current loop devices along with much more complicated digital devices.  Some of our applications even utilize graphical touchscreens that are surprisingly easy to use.  These touchscreens are powered by Linux, a robust operating system utilized by large companies around the world.
We offer a wide variety of custom weighing equipment that can help to automate the monitoring of valves, sensors and even control the mixing or batching of various materials.  Think about being able to automatically refill materials based on the readings of your industrial scales.  This allows you to be much more efficient with how you handle materials within your organization.
We've also created solutions for clients in the agricultural industry, including our Automated Pig Sorter, which allows the gates to feed pens to be controlled based on the weight of the pig. These measurements can also be sent to a variety of different PC and Cloud Based Web applications based on your specific needs.
What Sets Arlyn Scales' Apart From The Competition
The most important part of a scale is the load cell.  A load cell, in its simplest terms, converts force into an electrical signal.  The most common type of load cell is a strain gage load cell.  When you place something on the scale's platform, a piece of metal within the scale bends small amounts, and the measurement of this movement determines the weight of the item on the scale.
When you remove the item from the scale, this piece of metal should return to its original position.  If this does not happen then you will have inaccurate readings in the future.  This is one of the fundamental faults of a strain gage load cell.  It becomes inaccurate after rough use because it is difficult for the load cell to return to its original position.  Despite these inaccuracies, the strain gage load cell has been the most popular scale over the past 50-60 years until we introduced Surface Acoustic Wave (or SAW) technology into our line of Ultra Precision Scales.
The bending flexures of a strain gage cell must be fairly thin to generate accurate readings.  A thin flexure is more susceptible to damage from shock loading and overloading as well as normal wear and tear. With an ultra precision scale, the load cell is much thicker because the amount of movement required to take an accurate reading is much less than what is required from a strain gage scale.  This thicker load cell diminishes the chances of the scale being damaged due to regular wear and tear, shock loading or overloading. But due to the underlying technology, the readings have ten times the resolution. Because of this increased precision, Arlyn Scales' ultra precision scales are able to offer much more accurate readings (up to ten-thousandths of a pound) and last much longer than scales that use strain gage load cells.
Contact Us
Arlyn Scales is the market leader in industrial weighing solutions.  Whether you need an off the shelf model or a custom designed solution, we can help you every step of the way.  Feel free to contact us via our toll free number at (800) 645-4301, or through the form on our Contact Us page for more information.  Arlyn Scales offers the latest technology, superior quality, and utmost value to our customers.  We look forward to hearing from you today!