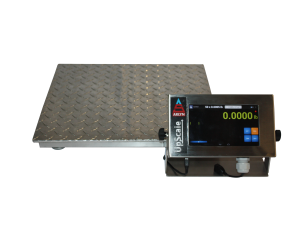 Many measurement applications require extremely precise measurements with great accuracy. To get the precision you need, you will need a scale with high resolution that will work in the most extreme industrial settings.
This can be extremely difficult unless you are willing to spend an exorbitant amount of money. To avoid this, Arlyn Scales invented the Surface Acoustic Wave (SAW) technology scale to provide a highly precise instrument that is useful in a variety of industrial applications and is available at a reasonable price. But how exactly does this technology work?
What Are the Other Main Technology Options?
In order to understand the benefits of the SAW technology, it is first helpful to understand some of the limitations of the two most prevalent scale technologies available: strain gage load cell technology and magnetic force restoration (MFR) technology scales. Here is a bit about each of these types of scales for you to review:
Strain gage load cells are very popular for performing in most industrial applications. These devices can be very durable, rugged and reliable when properly made, however there are limitations to the accuracy that can be measured with these scales.
Scales with strain gage load cells can be accurate to around 0.1%. Scales with this accuracy level may range from fairly small capacities of 1 lb or less, up to scales of 20,000 lb or more. But overall accuracy cannot really be improved.
On the other hand industries have turned to MFR scales when they want high resolution and accurate measurements. By eliminating load cells and using electromagnets to counter balance the measured items' weight on a scale's platform, these scales can give extremely precise results.
Some problems with these units is their maximum capacity limitation of around 50 pounds and their vulnerability to drifting accuracy when there is a change in vibration or temperature. Finally, these scales can be very expensive and complicated to operate, which presents a challenge for many companies.
What Is SAW Technology and How Does It Work?
SAW technology scales are able to overcome the deficiencies found in the standard strain gage load cell scale or the MFR scale. These inferior technologies have been around for quite some time, and people have a lot of experience in using them, but as can be seen above, there are some shortcomings that are inherent in these technologies. The design of the SAW scale offers precision measurements, the ability to use them in industrial applications, and a price that is comparable to a higher-end strain gage scale.
With the SAW scales, the strain gage load cells are replaced with much thicker load cells, which are more resistant to damage by shock or overloading. The use of SAW technology with these thick load cells means that the amount of bending required to achieve an accurate measurement is reduced to one tenth of that needed by traditional load cells.
Arlyn's patented Surface Acoustic Wave scales utilize technology that is similar to what has been used in fabricating semiconductor circuits. This allows the scales to produce a highly precise output.
Below is an example of one of our most popular SAW scales:
Series SAW-H Industrial Bench Scales: This easy-to-use bench scale has a capacity of 200 pounds with a resolution of 0.002 pounds (or 90 kg X 1 g). The unrivaled accuracy of the SAW Ultra Precision scales is partnered with a state-of-the art graphics display system that is easy to read rather than a simplistic and hard to understand numeric readout.
This allows the operator to focus on taking measurements rather than fumbling with a difficult-to-use machine. In order to provide easy connectivity, the scale is available with a wide variety of industrial standard communications options including Ethernet, RS-232, USB and Wi-Fi. The overload ruggedness of the Serious 6200 SAW scales is > 500 % rated capacity, and the scale sizes range from 6" x 5.5" up to 12" by 16".
Why Should You Consider SAW Scale Technology?
SAW technology scales are indeed like no other. Surface Acoustic Wave scales are available in capacities of up to 500 pounds, and these high capacity scales are twenty times more accurate than traditional Strain Gage scales.
In addition, they are less than 1/3 the cost of an equivalent Magnetic Force Restoration scale. With a SAW scale, the measurement resolution and accuracy are in the range of 1:100,000 to 1:200,000 and the measurement stability is superior when dealing with temperature drift, air currents or vibrations for nearby machinery.
When looking at robustness of the scale, the large load cell block in the SAW scales is extraordinarily rigid, which provides a very high level of overload capacity and shock tolerance without damaging the scale. For a high resolution measurement in an industrial environment, the SAW scale can't be beat.
If your industry needs to have high-resolution measurements, but you're conscious of price constraints, then considering a SAW scale is in your best interest. Some industries that can benefit from this increased measurement precision are laboratories, paint mixers, semiconductor manufacturers and chemical facilities; basically any industry where a small amount of imprecision in a weight reading can cause catastrophic results.
Arlyn Scales: Your Best Place to Turn for Quality SAW Scales
At Arlyn Scales, we pride ourselves on our motto of "latest technology, superior quality, utmost value," and we keep this in mind with every scale we design and manufacture. We have been a scale manufacturer leading the design and development of technology for the weighing industry for over 30 years.
We have learned a great deal about customer service and meeting the needs of our customers and are always here to help you. We can be easily contacted online and our dedicated service staff will get back to you as soon as possible to answer all your questions.
If you are local to Long Island, NY, you can also call us at 516-593-4465, and national customers can call us toll free at 1-800-645-4301. No matter what measuring task you are looking to accomplish, we have the knowledge and expertise to find the right scale to suit your needs.