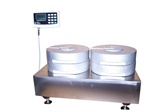 With headquarters located in Long Island, New York, Arlyn Scales has become one of the leading manufacturers of factory-direct standard and custom scales for good reason. With our experienced designers and engineers we have been manufacturing state-of-the-art equipment for over thirty years. Accommodating all facets of industrial weighing solutions, and, if we don't have the right product for your needs, we will design it to your specifications.
Exceptional Value and Quality
Using leading-edge technology with a concentration on exceptional value and quality, we supply our custom scales with features that normally would be found on equipment costing up to five times as much. Because we ship directly to you, we also eliminate dealer mark-ups, helping to save you money as you receive the highest quality merchandise in the marketplace today.
Covering a Variety of Industrial Requirements
Because the weighing process is used in all industrial settings for a myriad of applications, we have made sure that our inventory includes scales that cover a variety of requirements. This also holds true for our specially designed data delivery systems, which configure ideally with our customized Bin weighing equipment, utilizing electronics to accurately deliver information on weight and other particulars.
Inventory Control
One of the areas in industrial production that has received a great deal of our attention is inventory control. We realize that keeping precise account of your product is fundamental to successfully running your business. We also are aware that staying on top of your inventory data at every moment is tantamount to maintaining your good reputation when it comes to supply and demand.
Adding Automated Weight Data Collection Components
Whether you need scales for weighing large, small, or minute materials, we will supply you with the exact system suitable for your needs. Our own inventory includes calibrated counting scales, high precision standard scales, high capacity crane scales, livestock scales such as our cutting-edge automated pig sorting system, and much more. Our corrosion resistant parts make it easy to weigh, measure, and monitor drums and cylinders containing corrosive materials without causing any damage to parts. In every one of our weighing devices, you can add an automated weight data collection component as necessary.
Our Customized Bin Scale System
We have developed a specific bin scale weighing system that provides accurate, reliable, and easily applied weighing solutions. Put simply, each of our counting scales holds the inventory of a specific piece of merchandise in your warehouse. Each scale comes with an interface that reads the specific number of items placed on it, allowing users to instantly note when this amount dips below a pre-programmed level. At this point, the parts distributor is alerted in order to deliver more items so that your stock is never depleted.
Monitoring and Controlling Scales
Our custom bin weighing solutions are all automated and easily incorporated into any type of weighing system, allowing you to maintain precise records of all inventory. Additionally, the system is able to monitor and control more than one scale at a time and can do this remotely, allowing communication to and from anywhere in the world.
Tailoring Applications to Your Need
At Arlyn Scales we will tailor any type of scale application to your specific need. Our ability to develop instrumentation technologies based on tried and true cutting edge models is what is putting us at the head of the pack when it comes to evolving systems and practices. Well beyond the point where workers counted out each and every component to keep track of inventory, we have travelled past the possibility of human error to a universe where accuracy has become practically foolproof.
Rugged and Precise Weighing Sensors
One of the features that is responsible for the precision you will find with our custom bin weighing solutions has to do with the rugged, stainless steel load cells that function as weighing sensors. Their ability to handle product loads ranging from two pounds to 20,000 pounds gives them enormous capacity. Our ultra-precision SAW (surface acoustic wave) sensors can also be implemented, handling loads from ten to 500 and even 5,000 pounds.
Digital Indicators
Other elements incorporated in our scales include simple voltage or advanced loop devices, as well as digital indicators , including a Linux-based color touch screen that makes it easy to accomplish all tasks relating to data control. Using RS-232, RS-485, USB, Ethernet, or Wireless Ethernet, you can easily monitor and control all of your applications, helping you to cut down on time while you up the ante on your company's efficiency. With a quick count feature on all of our counting scale systems, all calibrations are automatic, requiring no extra set up or service. Add to this our built-in alert system that notifies you when stock is down, and you have the most advanced weighing system in the marketplace today.
Accurate and Dependable Technology
For accurate and dependable management of your inventory, creating easy warehousing protocols, counting the smallest imaginable parts, or measuring liquids or gasses, our bin systems fulfill the highest technical weighing requirements. Our specialized scale technology is designed to help you improve and maintain efficiency and productivity, whereby you enhance the reputation of your company as you eliminate human error.
Customer Satisfaction
At Arlyn Scales, our mission is to create products that are simple to operate while handling the most complex operations. For us, customer satisfaction is the most important element in our relationship with our clients, which is why they come back to us for all of their weighing needs.
Finding the Right Solution
If you don't see what you need in our catalogue, our engineers and designers are ready, willing, and able to help you find the right solution. Each time we meet with a customer who has a unique requirement, we take it as a challenge and opportunity to further advance our products so that we can continually stay ahead of the curve.
For more information on how we can help you configure a better inventory control with our custom bin weighing solutions, please contact us via our online form or by calling 800.645.4301.or send us a fax at 516.593.4607.