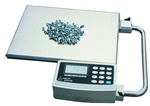 Without the right tools, you can spend a lot of time and effort in managing your operations, with the headache of efficiently maintaining inventory control. In order to properly plan and schedule for production, ensure that orders are attainable and accurate, and know that you will be able to meet all of your necessary delivery commitments, you must have an accurate assessment of your inventory. This is where counting scales come in.
You could count every single piece in your inventory on a regular basis, but this would be time consuming and waste a considerable amount of valuable resources. If you want to minimize the time you spend on operations management, but still have an accurate account of what materials and parts you have in stock, investing in a high quality counting scale may be just the improvement you need.
How Do Parts Counting Scales Work
A counting scale will basically measure the weight of a batch of parts. Using the known weight of an individual part will give you a count of how many are represented in the batch. The known weight of an item is calculated by weighing a small sample of parts with a known quantity, and then calculating the weight of one part.
While this may sound easy, it is something that you want to get right. Having an accurate scale that can do the work properly is a great time-saver, especially with smaller parts. When it comes to smaller items, you need a scale that has extreme precision and accuracy—one that's designed with the resolution you need to determine the right count of parts.
At Arlyn Scales, we have put a lot of effort in perfecting this design because it matters. Our scales' high precision and highly advanced digital algorithms, allow for implementing a quick and easy process.
Series 820 Parts Counting Scales for Heavy Industrial Use: Depending on the capacity and resolution you need, as well as the platform size of the scale, you'll find many different sizes to suit your needs at Arlyn Scales. Capacities and resolutions range from 3 lbs. x 0.05 lb., to 100 lbs. x 0.01 lb. Platform sizes are available in 7" x 5.5", to 12" x 16".
Arlyn Counting Scales: Excellent Accuracy and Easy to Use
By using a precise stainless steel load cell, Arlyn scales provide excellent accuracy with batches as large as 100 pounds. Along with offering precision, these scales are extremely rugged with a robust stainless steel platform and machined aluminum frame.
For additional protection, four overload stops are integrated within the scale itself. Moisture protection is provided by a molded display that is sealed with a rubber gasket. The scale can be used right out of the box and does not require any calibration service or dealer setup to function properly.
In most instances, the Arlyn Scales' "Quick Count" feature turns counting parts into a one step process that does not require a complicated menu selections and functions. The large internal memory of the unit allows you to store a piece's weight from a batch of many different items so that you can recall these weights later. You won't need to perform the sampling process a second time. This can save time and effort in an ongoing inventory maintenance process.
SAW Scales: For Greater Accuracy and Precision
For those occasions when you need the highest accuracy for counting very small parts, one of Arlyn's SAW counting scales are the answer. Using Arlyn's patented SAW technology, these scales are much more precise than a standard load cell scale, increasing precision by a factor of ten times or even more. And all of this at a cost much less than most other high precision scales.
Series 820 SAW Counting Scales: With platform sizes from 8" x 10", to 12" x 16", these scales are handy tools for many weighing applications. With the patented SAW technology, these scales give extremely precise measurements with capacities and resolutions from 10 lbs. x 0.0001 lb. (4600 g x 0.05 g), to 200 lbs. X 0.002 lb. (90 kg x 1 g). With such accurate results, it is easy to accurately count even the smallest parts.
Top Quality Customer Service for Top Quality Weighing Equipment
When you are looking for a scale to get the job done, you need an accurate and useful tool that will make getting the job done, a simple and efficient task. At Arlyn Scales, we understand that. For over 30 years, we have led the industry in the design, development and manufacturing of top-notch scales and weighing equipment that do more than just tell you an item's weight—they simplify the overall process.
We believe that we can help improve your procedures by providing the right tools that are easy to use and read so that you can spend your time doing something other than fighting with your equipment to keep up with your inventory levels. Our dedication to this is best captured in our company motto: "latest technology, superior quality, utmost value." This creed is designed and built into every scale we make.
If you have any questions, we would be more than happy to help you find what you need. Are you local to Long Island, NY? Just give us a call us at 516-593-4465. National customers can call us toll free at 1-800-645-4301.
We can also be contacted online and will get back to you as soon as possible to answer all your questions. When you are ready to find the right scale for your parts counting needs, we are standing by ready to help.