Remote Indicator Software
Remote Indicator (beta) is a Windows based application that allows customers to monitor their scale at a local or remote location. This allows our customers to check in on the scale without being physically present near the scale. Remote Indicator not only supports wired connections to our scales (i.e. RS-232, USB, RS-485, etc.), but the software also supports scales connected to your network such as Ethernet TCP/IP and WiFi.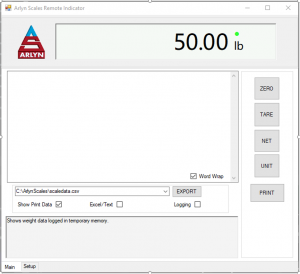 The Remote Indicator software has evolved over the past 20 years with multiple versions released over time. The new Remote Indicator not only carries the improvements over to new heights, but we rebuilt it from the ground-up to provide a new and improved experience to our customers.
Features and Benefits
Your Scale – Remotely
The Remote Indicator Main Screen allows you to view the scale weight data without being in front of it. The Main Screen also allows you to remotely send commands to the scale such as "ZERO", "TARE", "NET" and "UNIT". You don't have to be near the scale's front panel to operate the scale.
Data Collection
You can configure Remote Indicator to collect weight data from the scale in real time. This data can then be exported to Excel Spreadsheets or Comma Separated Value (.CSV) files.
Key Wedge – Send Weights to other Applications
Use the Remote Indicator Software to send Weight data directly into your 3rd-party application fields such as LabView, UPS WorldShip, FedEx Ship Manager, etc.
Supports Many Connection Types
Remote Indicator supports serial connectivity (such as USB, RS-232, etc.) as well as TCP/IP and Wireless connectivity (Ethernet, WiFi, etc.).
Demo
Remote Indicator can be downloaded at the Software Downloads page along with other available documentation. Please read the manual on Remote Indicator to obtain a 30-Day Free Trial.
License Information
You can purchase a perpetual license that includes all minor software updates for the current stream and up to 3 support instances per year on the scale Configuration Page. Remote Indicator only works with our Arlyn Scales Product Line. If you do not own an Arlyn Scale, Remote Indicator will not work for you. For further questions and licensing, contact our Sales Department at (800) 645-4301 or email us at sales@arlynscales.com.
"Beta" Acknowledgment
Remote Indicator is still in the "Beta" stage of development. This means that Arlyn has determined for all intents and purposes, it is ready for release. However, it may have minor bugs and/or may have user experience issues. Therefore, we invite our customers to give us feedback on any issue they might face with the software in good faith, so we may continue to improve it to satisfy our customers' more immediate needs.