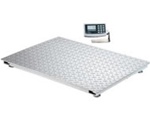 If you work in an industrial environment with limited or zero access to power but need to take weight measurements in the field, a portable, low profile scale is of the utmost importance. And unless you have a forklift or some other kind of automated lifting equipment available to you, chances are you'll have to get your loads onto and off of the scale manually. This means that the height of the platform is critical, especially with heavier loads.
Arlyn Platform Scales
Thanks to our unique load cell design, Arlyn's Series 3200 Platform Scales are your best option for a low profile, portable platform scale. In either 500 or 1,000 pound capacities, we offer a variety of platform sizes so you can find one that will fit in the vehicle you use to transport it to the field and take up as little room as possible. No matter what size platform you choose, you'll be able to take advantage of the lowest profile available for a high precision industrial scale Ð 1.875 inches.
While we offer the 3200 model in both aluminum and stainless steel, we generally recommend aluminum for portability. The only time this changes is if you're working in a wet, wash down or otherwise damp environment as stainless steel will protect your scale from the elements and prevent corrosion.
Arlyn's Load Cells
Whether you choose aluminum or stainless steel for the body construction of your scale, all of our platform scales feature four stainless steel load cells that are housed within the scale's frame (This is how we achieve such a low profile). This is much different from the load cells in other standard scales, which generally use aluminum or regular steel in an effort to cut costs, leaving the scale vulnerable to all kinds of damage.
However, the load cell is one of the most important internal components of your scale. It's responsible for the accuracy of your measurements and the longevity of your scale. Stainless steel construction increases the accuracy of each load cell. It also makes them more durable so that they can absorb shock and day to day abuse. They can be easily transported without having to be calibrated and will provide you with years of trouble free use.
With an internal resolution of 1 part in 500,000, these scales achieve an accuracy of 0.1 pound for the 500 pound capacity and 0.2 pound for the 1,000 pound capacity.
Digital Indicator
With an intuitive, graphic interface, operating your scale is a cinch. Water resistant and easy to see Ð even at a distance or in direct sunlight Ð our full function keypad enables alphanumeric data input and clearly displays accurate weight values.
Power Where You Need It
An optional internal, six cell, rechargeable NiMH batter pack and a peak detect charging circuit installed within the digital indicator means you get all the same functionality without the plug, making it perfect for portable use. These platform scales can operate for over twenty hours on a single, four-hour peak charge.
Data Collection
Setting up a USB or Ethernet connection or staying within range of your Wi-Fi device is simply impossible if your scales are out in the field. This is why we offer a datalogging system that allows you to collect weights on a USB flash drive. Thousands of weights and their accompanying data can be stored on the drive and uploaded to your PC when you're able to access it.
Buy Factory Direct
Unlike other scale providers, we don't source parts from a manufacturer. We are the manufacturer. We're also the distributor. This allows us complete vertical control of our production processes. And while we manufacture all of our scales in our Long Island factory, we also manufacture our load cells, which means you get a higher quality product than other providers can offer.
We're also able to offer these higher quality scales at extremely competitive prices because we ship factory direct. There are no middlemen between you and the manufacturer, which is where costs increase significantly. And since we save so much, we're also able to invest in our scales, which have features found on scales that cost three to five times as much.
Our business is founded on our ability and willingness to provide our customers with the superior quality, the latest technology and the utmost value.
Contact Us Today
If you're interested in learning more about our platform scales or which model will provide you the results and portability you need, contact us today. We're here to answer your questions and guide you through the selection process.