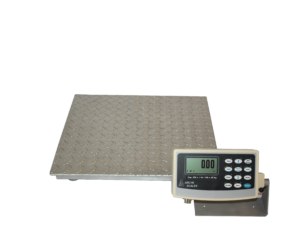 So, you've made the decision to purchase a new platform scale, and you likely think your decision making is over, right? Well, not exactly. When it comes to platform scales, there are a wide array of scale manufacturers, as well as scale features and materials that you need to consider before purchasing a new industrial scale.
At Arlyn Scales, we've been designing and manufacturing platform scales for more than 30 years. In this time, we've worked extremely hard to develop high quality scales. We currently sell both aluminum and stainless steel platform scales and in this article, we'll dig into which material would work best for you as well as some other key features that we think are vital if you're looking for a new industrial platform scale.
Deciding Between Aluminum and Stainless Steel Platform Scales
Depending on how and where you're going to use your platform scale will help to offer insight into whether you should purchase a scale made from aluminum or stainless steel. We offer both scale materials, and our scales with aluminum platforms are obviously less expensive, but they may not stand up to the most rigorous environments.
Our fully stainless steel platform scales are much more rugged and can even be outfitted with a unique three-part epoxy coating which provides corrosion resistance in environments where caustic chemicals are present.
Load Cells Always Constructed Out of Stainless Steel
One reason many of our customers continue to come back to us when it's time to purchase a new scale is because of our robust, and rugged load cells. Regardless of whether you purchase an aluminum or stainless steel platform scale, the underlying load cells will always be manufactured out of stainless steel. While some manufacturers will cut corners by manufacturing their load cells out of inferior metals that can't stand up to the rigors of most industrial environments, we've consistently manufactured all of our load cells from stainless steel.
In addition to using stainless steel load cells, we also use four load cells in each of our platform scales for added reliability and accuracy. Each load cell is recessed under one of the four corners of each scale platform. This approach offers much more accurate readings and less susceptibility to shock loading or over loading, which are both common with other strain gage scales from other manufacturers.
Why Purchase a Platform Scale from Arlyn Scales?
As mentioned above our rugged materials are just one of the many reasons to choose Arlyn Scales for your next platform scale. Below are a few other examples of what sets our scales apart from our competitors.
Scales Customized to Your Unique Needs
Many of our competitors would prefer that you purchase one of their off the shelf scales because they're often manufactured overseas and therefore can be difficult to customize. At Arlyn Scales, we welcome a challenge and welcome the chance to work with our customers to deliver the exact scale that meets their unique specifications.
If you're looking for a fully customized platform scale, feel free to reach out to our design team to learn about the potential capabilities we can provide.
Low Profile Platforms
Because our platform scales are used to weigh heavy objects, and occasionally even animals, we understand that the platforms themselves need to be as low to the ground as possible. The lower the platform, the easier it is for scale operators to load heavy objects onto our scales. All our scale platforms are less than 2" tall, which makes them extremely versatile regardless of how they're used.
US Based Manufacturing
What was once a given, is now almost an afterthought – US based manufacturing. While many scale manufacturers long ago began outsourcing their manufacturing overseas, Arlyn Scales has remained committed to our long-time employees and customers and has therefore opted to continue to operate solely out of our US based design and manufacturing facility in Long Island, New York. We look at this strategy as one of our key competitive advantages. We're able to stay agile and make quick decisions that do not have to filter through worldwide distribution channels and we're also able to remain close to the design and manufacturing processes to spot inefficiencies and areas where we can continue to improve on a daily basis.
Arlyn UpScale Touchscreen Indicator
One of our newest features that we're excited about is the Arlyn UpScale Touchscreen Indicator. This revolutionary display indicator is powered by an Android tablet that allows our customers to seamlessly control their scale as if they were using any touchscreen device. Quickly control all aspects of our scales with the flip of a finger. This touchscreen device has been a long time coming, but we feel it truly changes the game when it comes to the ease with which our customers can control our industrial scales. It's our mission to say goodbye to the traditional display indicator forever and replace it with our Arlyn UpScale Touchscreen Indicator.
Large Capacity Options
Whether you choose our stainless steel platform scales or our aluminum platform scales, these scales both offer capacities of up to 1000 pounds with platform sizes up to 48" x 48". Should you be looking for smaller models, we also offer a platform scale with a 500 pound capacity with smaller platform size options.
Wide Range of Connectivity Options
No scale is complete without the ability to interface with other computer equipment. At Arlyn Scales, our platform scales include a variety of communication options including USB, Ethernet, Wi-Fi, Serial, and many others. Reach out to our team today to learn more about the versatility of these interface options.
Contact Arlyn Scales Today to Learn More About Our Platform Scales
Whether you purchase an aluminum or stainless steel platform scale from Arlyn Scales, we're confident that you'll be pleased with your decision. If you have any additional questions about our scales, or the buying process don't hesitate to reach out to us today by phone at 877-540-7934 or through our online contact form.