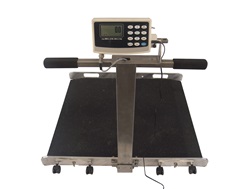 When you think about different uses for a scale, the first thing to perhaps come to mind is weighing yourself after having one too many French fries. You are also likely to think about weighing items in a warehouse or for shipping purposes.  What you may not realize is that there are a variety of other places that utilize scales on a daily basis.
When choosing a scale for your unique application, it's important to choose a device that meets your needs and is also within your budget.   Many times, purchasing a scale from a large distributor can result in heavy markups and additional headaches should your scale ever need service.  By working with a factory direct scale manufacturer, you can prevent many of these headaches and save money at the same time.  Another benefit of working directly with a scale manufacturer is that you can have a scale custom designed based on your unique needs.
At Arlyn Scales, we've been designing and manufacturing scales in our Long Island, New York facility for more than thirty years.  Because of this factory direct manufacturing process, we're able to offer our clients scale options unheard of from our competitors.  We manufacture all of our scales and sub assemblies in-house from our U.S.-based facility, which allows us to apply our expertise to even the most unique weighing needs of our clients.
SURPRISING PLACES WHERE YOU MAY NEED A SCALE
A few of the more surprising places that our scales have been used in the past include:
1. CARGO AREAS OF SMALL AIR FORCE PLANES
All airplanes must carefully monitor their cargo weights, but this is especially the case for small airplanes.  Air Force planes have solved this problem by using a scale specially designed with a battery pack that is able to withstand extreme temperatures found during high altitude flights.
2. SCALES FOR LIVESTOCK
When it comes to weighing animals, scales must have special features not found in standard industrial scales.  Arlyn offers a proprietary technology called our, "Weight Average and Hold" function that offers an accurate weight even when an animal is not standing still.  Our livestock scales also offer additional features that are conducive to weighing animals of all sizes, including:
•    Low profile platforms that make it easy for animals to be loaded on and off the platform.
•    Our scales are resistant to animal waste and other corrosive elements because our load sensors are coated and fully protected.  Our display housings are also gasket sealed to prevent damage.
•    Our animal and livestock scales are extremely accurate to the nearest 0.1 lb.
3. SCALES FOR PIG SORTING
When it comes to pig farming, weight is directly related to a farmer's profits.  It is the goal of every pig farmer to have the healthiest pigs to bring the most income from meat buyers.
The process of accurately weighing pigs can be extremely time consuming, which is why Arlyn Scales came up with our Automated Pig Sorter.  Our pig sorter allows you to ensure your pigs are properly sorted when being weighed.
The Arlyn Automated Pig Sorter can easily be installed in the path where the pigs walk to enter the feeding pen.  We offer models with two, three, or five-way devices, allowing you to better monitor your pig's weight and direct them to the necessary supply pen that will offer the appropriate feed.
The scale itself is enclosed with metal fencing materials and features two gates—one on each end of the scale.  One gate allows the pig onto the scale and immediately closes.  The second gate doesn't open until an accurate weight has been measured.
This process takes a bit of getting used to on the part of the pigs, but allows pig farmers to have much more accurate weight measurements.  We even offer multiple modes that allow you to gradually train your pigs in how to properly use the Automated Pig Sorter.\
4. WHEELCHAIR SCALES
Patients who aren't able to maintain a certain body weight can often be susceptible to diseases and other health related complications.  When patients are confined to wheelchairs, the process of weighing becomes more complicated.  At Arlyn Scales we've developed the 320-WC scale, which outperforms the competition.
Our scales offer easy-to-use ramps with a small incline that makes it extremely easy for an individual or caregiver to maneuver the chair onto the scale platform.  We also utilize grab bars for patients that may be semi-mobile to stand on their own.
Our scale's platform is less than two inches tall and the small incline of the ramps poses no tripping hazard for patients.  Our wheelchair scales also offer a capacity of 800 lbs. with a resolution of 0.2 lb. with a patient in their wheelchair.  The scale has a large internal memory storage capacity allowing hundreds of weights of various wheelchair models to be stored.
5. CORROSION RESISTANT SCALES
Certain industrial applications require a scale that can be used with a variety of corrosive materials.  The material being weighed may include highly corrosive chemicals and even liquefied gases where spills or fumes may destroy standard industrial scales.
Arlyn's line of Corrosion Resistant Scales are built from rugged, stainless steel with a unique 3-part epoxy coating to offer additional chemical resistance.  Garnet particles are added to the epoxy coating to further protect the scale platforms from abrasion and scratching.  Our load cells are built from a special heat-treated stainless steel alloy to protect the internal components of our scales.
CONTACT ARLYN SCALES FOR YOUR CUSTOM SCALE NEEDS
As you can see, we've manufactured a wide variety of scales for all types of industries.  We're confident that no matter what your weighing needs may be, we can come up with a solution that will meet your needs.  For more information on our custom scales give us a call today at 800-645-4301.