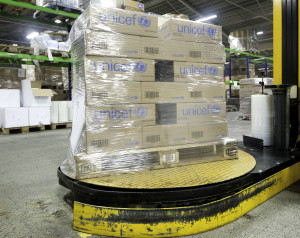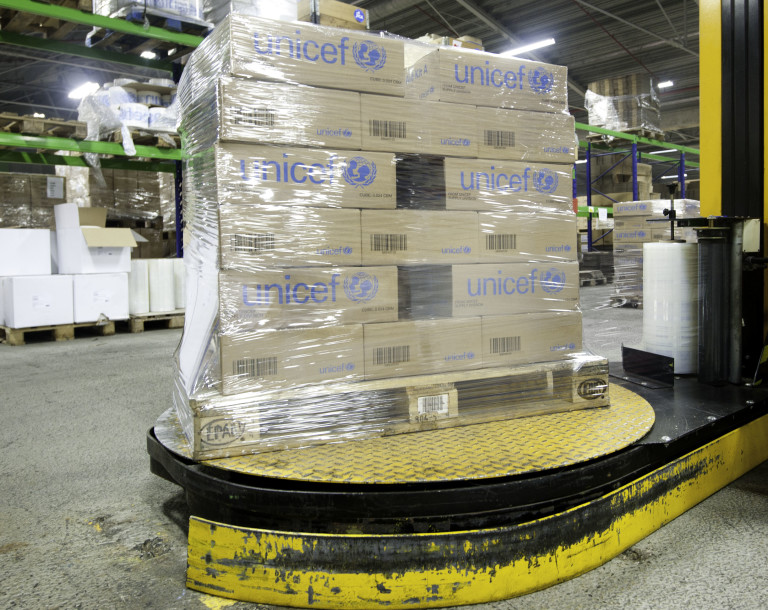 The warehouse environment can be pretty extreme. From inconsistent temperatures, moisture and corrosive materials, finding a weighing scale that's durable and accurate can be a particular challenge.
Arlyn Scales manufactures floor and pallet scales specifically for these types of industrial conditions. We use only best of class components including stainless steel load cells, advanced digital algorithms, superior electronics and specially formulated epoxy coatings.
ACCURATE AND DURABLE LOAD CELLS
Machined using heat-treated stainless steel, our load cells are capable of weighing heavy loads and large pallets accurately and without damage. We place four of these sensors into protection pockets within the scale's frame, which stabilizes the platform and reduces the overall profile of the scale. This ensures that loads can be weighed quickly and safely. For scales purchased with an on/off ramp, the low profile also reduces the length of the ramp so it takes up less space on the workfloor.
NO SETUP OR MAINTENANCE REQUIRED
Because there are no moving parts, no dealer setup or service is necessary. We match the output of our load cells prior to their installation for better accuracy. Our automatic calibration feature eliminates the need for a summation board, which is the biggest cause of scale failure.
ACCURATE, INTUITIVE AND EASY TO USE
Our digital indicators are equipped with advanced digital algorithms that compensate for temperature changes, air currents and vibration caused by other machinery. This makes them much more accurate and reliable than competing scales.
The full function keypad allows alphanumeric data input. The large graphic LCD display shows numbers one inch high, which makes weights easy to see from a distance or from an angle.
The swivel mount can be mounted on any convenient surface, such as a desk, pole or wall, for easy viewing as well.
CORROSION RESISTANCE
Most scale manufacturers use a simple enamel-based paint to protect from corrosion, but it's actually pretty ineffective because it's easy to scratch off. And once it's gone, the scale's just as vulnerable as though it were never there at all. Even if only one small area of paint is removed, the corrosion can migrate beneath the paint and cause damage in unseen areas.
We use one of two specially-formulated polyamine epoxy coatings to provide a double layer of protection from corrosive elements and a sound platform for weighing any size load.
Our epoxy coatings provide excellent resistance to alkalis, water, acids, solvents and chemicals. The hard, abrasion resistant surface prevents scratching and chipping of the epoxy, which further protects the scale from corrosion. Because the epoxy bonds with the platform, corrosive agents cannot migrate beneath the coating.
And while many other coatings are affected by sunlight that strips away their protective properties, our specially formulated epoxies are not as severely affected, even after years of repeated exposure. The surface may become discolored, lose its gloss or chalk / powder, but the protective qualities of the coating will remain intact and give you scale years of additional useful life.
Our steel model scales feature a zinc-rich epoxy. Even if the coating is gouged to the scale platform, which is highly unlikely, the zinc in the epoxy will react with the steel surface in a process called preferential oxidation. This forms a protective layer that encloses the steel and prevents caustic materials from migrating to other areas of the scale.
Our stainless steel models can be purchased with an optional three-part galvanized epoxy. Infused with garnet, mica and glass particles, this coating provides the ultimate corrosion resistance and protects the scale from abrasion.
WIDE VARIETY FOR THE PERFECT FIT
Our floor and pallet scales are available in a variety of capacity / resolution / platform size configurations to ensure that you're easily able to find the scale that fits into your warehouse's existing setup. If you need a uniquely sized platform, we can fabricate it for you at no additional cost.
COMPUTER COMPATIBILITY
Documenting your weight data is simple with our options for I/O ports. Choose from USB, which allows you to import data directly into an Excel or Access file on your PC; WiFi, which allows you to wirelessly upload data to your PC through your local network; Ethernet, which is a hardwire connection into your local network; cloud computing, which allows you to process massive amounts of data without hard drives or dedicated servers; and other common interfaces like RS-232, RS-485, USB and analog outputs.
FACTORY DIRECT
We've cut out the middlemen and ship our products directly from our Long Island factory. This means lower initial costs, lower shipping costs and faster delivery. You pay for the scale you need and nothing more.
We also offer custom design and development services should your warehouse require a completely custom weighing system. We gladly invite OEM interest.
Order your Arlyn floor scale now or contact our support team today with any questions you may have.