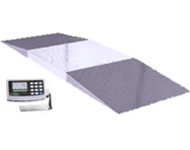 Digital floor scales are used for a number of different purposes. They are often used in businesses, manufacturing facilities and even in homes. The design and weighing capacity of the scale are the most important factors in choosing a digital floor scale. Digital floor scales are available in a number of different weighing capacities, forms and sizes.
Digital Floor Scales
Digital floor scales are used to weigh a broad range of objects. In most cases, the size of a scale is related to its weighing capacity. Digital floor scales that are used to weigh very heavy items are typically much larger than those used to weigh smaller things. It is essential to find a digital floor scale with the sufficient measuring capacity and size to suit consumer needs. To find an appropriate digital floor scale, consumers should examine these scales and the benefits that they offer.
Digital Indicator Feature
It is important to consider the quality of the digital indicator when looking for a digital floor scale. The digital indicator should be programmable and capable of high-resolution display. Consumers should look for a digital indicator with at least a 32-bit RISC processor. The display should be capable of showing an object's weight, description and tare data. Most digital indicators can record textual information and numerical data entered by a keypad. Some digital indicators also have the ability to create portion counting reports and designs for printed tags. Digital indicators can also be made of stainless steel for additional resilience. Digital indicators add to the functionality of floor weighing scales. Digital indicators can be attached to walls or even the tops of benches. With this, users can easily view weight readings. Our digital indicators are housed in plastic enclosures that are shock absorbent and water resistant. Our digital indicators are also incorporate unit conversion features for added functionality. They also have an easy menu interface and multiple platform options. Our digital indicators have 480 available memory locations to keep tare and part calculation readings. These indicators also come with software that allows data to be transferred to computers or other connected devices. With this, weighing data can be incorporated into databases or spreadsheets. The data can also be printed out.
Result Accuracy
Digital floor scales can yield highly accurate weighing results. This is why digital scales are used in so many industries. Scales that are made with steel alloy load cells are guaranteed to provide precise outcomes with high accuracy standards. Accurate weighing results are vital for many companies. Because of this, buyers should always go for scales that come with certified trademarks. This ensures consumers that the digital floor scale that they buy comes from a quality manufacturer. Our digital floor scales come with a certified trademark to assure buyers that their scales will last for a long time and provide precise results. With current technology, a number of scales with new advanced tools are being produced. These scales can be used to show extremely precise results. Operator mistakes and carelessness can be avoided with scales that provide exact weigh computations every time. With the help of advanced digital floor scales, weight calculations are always precise.
Capacity
The capacity of digital scales can vary tremendously. Smaller digital floor scales often have weight capacities that start at 2,500 pounds. Industrial companies often use scales that have a capacity of over 20,000 pounds. Our digital floor scales are customizable. They can provide digital floor scales that will suit any weighing applications. We are experts in providing high-tech options to accommodate all weight capacity needs. Our digital floor scales can weigh heavier items because their floor scales are structurally sound.
Size
Digital floor weighing scales also come in a large variety of sizes. Choosing the right scale size is essential in maintaining measurement accuracy. Industrial companies often require digital floor scales that are capable of weighing large items. Companies that make smaller products usually prefer scales with smaller platforms and lower capacities. It is important for companies of all sizes to obtain the right kind of digital weighing scales to suit their needs. Low profile digital scales will help workers load and unload the scale with less effort. This will help operators weigh objects quicker.
Durability
Our floor scales are manufactured for durability. We make sure that we only use high quality materials in their digital floor scales. We use jointed steel to help our digital floor scales achieve maximum performance. Our floor scales are also coated with a special epoxy that contains zinc particles to ensure quality. This is known to be an effective defense against rust. The load cells in these digital scales are enclosed with heat-treated stainless steel. This will protect the weighing equipment from moisture and keep the load cell secure when goods are loaded and unloaded. Harmful substances are often present in manufacturing environments. We make sure to keep their digital floor scales protected against all types of damage. Many older digital floor-weighing scales are fragile, and they should be handled with care. Some of these scales are highly sensitive, and they cannot stand heat and harsh substances. Today, there are many durable and robust digital floor scales on the market. Arlyn Scales guarantees that their digital indicators are properly protected to keep them secure during routine operations. They are also equipped with sensitive electronic tools that are useful in weighing operations. Arlyn Scales makes sure that their weighing equipment is user-friendly and manageable. Our digital floor scales are made with first-class materials that are known to be robust in all types of heavy duty weighing processes. They work well in even the most challenging environments that would damage other digital floor scales. Arlyn Scales' weighing equipment is suitable for all types of manufacturing businesses. There are many kinds of digital floor scales available to facilitate production activities that involve weighing goods. They are offered in a number of sizes with different load capacities. The scales are also designed with four load sensors that are placed in each corner of the platform. The design will enable the even distribution of weight for accurate results. In this way, production becomes more efficient and operational. Companies will be able to produce more goods and increase their profits. Arlyn Scales are trusted in many industries because they are portable and easy to use. The scales can also be stored when not in use, and they take up a minimal amount of floor space. Digital floor weighing equipment from Arlyn Scales is known to be more cost-effective than any other weighing tools on the market today. Buyers who would like to know more about our products can get find all of them here at our online store.